September 2018 Nor'Easter
The Northeast Iowa Council has officially welcomed girls in the Cub Scout program in packs throughout the council. We are so excited to welcome them to "The Cub" and can't wait to see all our Cub Scouts get started!
Scouts BSA
The Boy Scout program officially changes to Scouts BSA and welcomes female troops starting February 1, 2019. We've had a lot of interest from families and want to have everything in place for the new troops when February 1st hits.
Right now we are starting to identify Scoutmasters and committees for these troops, along with chartered organizations. If you know of a business or organization that would like to sponsor a female troop, please contact us at 563.556.4343. In addition, if you, or you know someone who, wants to become a leader for a female troop, please contact us right away so we can get you started on the training so you can hit the ground running.
The Popcorn Sale officially begins Saturday, September 22nd.
Popcorn is a great way to fund your entire year of Scouting! Last year, 50 units averaged $2,500 in profits and prizes for their program expenses.
Once again the Northeast Iowa Council is committed to support your unit to maximize your popcorn fundraising campaign.
New Items
White Cheddar – Enjoy the cheesy goodness of white cheddar with a subtle hint of black peppercorn. (3.5 oz)
Chocolate Covered Pretzels – Lightly salted crunchy pretzels dunked in milk chocolate. (16oz)
Popcorn Commitment Forms
Have you turned in your units Popcorn Commitment Form yet? Be sure to do so ASAP! Forms can be found at: http://www.scoutsiowa.org/popcorn-time/
Important Dates
September 18 | Popcorn Kickoff South—Country Junction Supper Club, Dyersville 6:15 p.m.
September 20 | Popcorn Kickoff North—Johnson's Supper Club, Elkader 6:15 p.m.
September 22 | SUPER SATURDAY—POPCORN SALE BEGINS
October 22 | Popcorn & Prize Order Due to the Council
November 3 | Popcorn Distribution
November 26 | Payment due to the Council
Prizes
There are so many ways for Scouts to earn prizes.
Earning a Nintendo Switch – A Nintendo Switch will be given to the Top Selling Weekend Winners (September 22-23). The top selling Cub Scout in the Council and the top selling Boy Scout in the Council will receive a Nintendo Switch. For specifics on how this contest works, see prize winner sheet (http://www.scoutsiowa.org/popcorn-time/)
Earn an Amazon Echo Spot – Each Scout will receive a different ticket for each can of Chocolate Covered Pretzels, Classic Trio, Cheese Lovers 4-Way, and Chocolate Lovers Tin they sell. The tickets will be put into a drawing for a chance to win one of four Amazon Echo Spot's provided by Pecatonica River Popcorn Company (this is in addition to the prize level gifts).
Prize Level Gifts – Prizes from flashlights to silly string shooters, tents to Legos, there are prizes at every level that arebound to excite your Scout. See all the prize options at: http://www.scoutsiowa.org/popcorn-time/.
Bonus Prizes – In addition to all the above prizes, if your Scout sells over $2,000 in popcorn, they get to choose from 8 different amazing bonus prizes. Check them out here: http://www.scoutsiowa.org/popcorn-time/.
That means if your Scout sells $2,500 in popcorn they could earn a Hexbug Vex Boxing Robot and a Hoverboard, in addition to possibly earning an Amazon Echo Spot and a Nintendo Switch!
One prize packages for both Cub Scouts, Boy Scouts, Crews & Posts. Popcorn prizes will be sent directly to the unit popcorn chairman's house. Talk about service! This will offer you the opportunity to recognize your Scouts immediately after they settle their popcorn account. Brochures were mailed to your Scouts in September.
Why your unit should sell popcorn?
The Northeast Iowa Council Product Sale is an important part of your Scouting experience. It provides necessary funding for the great programs you receive from your Unit and the Northeast Iowa Council. It is also an opportunity to reduce the cost of Scouting to your family by paying for camp, Scouting equipment, awards, registration fees, high adventures, pinewood derby cars, blue & golds, etc. Participating in the Popcorn Sale teaches valuable life lessons; responsibility, follow through, customer service, setting goals and working to achieve them, earning your own way, etc. As a parent, you have the opportunity to teach life lessons while accompanying your Scout on his/her entrepreneurial journey. The Prizes are great too!
Why should my Scout sell popcorn when our unit already has other fundraisers?
The proceeds from the annual popcorn sale are shared between your unit and the Northeast Iowa Council. The sale is a significant fundraiser for the Council and allows us to keep costs down for your Scout to attend camp and provide quality programs for over 2,300 local youth. So, your participation provides important funds for programs benefiting your Scout, whereas your Unit's fundraiser does not cover any Council Camp subsidies, program support, training for Scouters or maintaining a Council Trading Post. The popcorn sale also provides unique experiences in marketing, distribution, customer service and personal skills.
Does my Scout earn any money on the sale?
Each unit develops their own plan on how those funds are allotted. Most units set aside part of those funds to be used at the discretion of individual Scouts (for Scouting expenses) and the rest for use by the unit as a whole. Units cover program expenses like Scout advancements, derby prizes and cars, Blue & Gold event, den program expenses, camping fees, family events, etc. Ask your unit's Popcorn Chair how your unit divides the money and how it can be used.
Are sales areas assigned to individual units?
No, it's first-come-first-serve, so get out there early and often. Remember that even though a neighborhood has already been canvassed, there are still opportunities from people who were not home, or reorders.
Can parents help with the sale of items?
Yes! But don't lose sight of the goals of teaching your Scout entrepreneurial skills. Parents can be influential at their places of business and social groups. Work with your Scout to develop a plan on maximizing his/her sales while teaching him/her valuable skills.
Encourage your Scout to establish an independent achievable goal (Example: Selling 10% more than he sold last year should be achievable.) Be encouraging to continue on until he/she reaches their goal. Have him/her share his/her goal with the unit leader.
Help your Scout by making a list of the "Perfect 10" Customers:
10 sales to family and friends
10 sales to Mom's friends, work, clubs, etc.
10 sales to Dad's friends, work, clubs, etc.
10 sales to closest neighbors
That is your first 40 sales! Average of $20 each or $800 in less than a week!
Don't forget local banks, businesses, service clubs, etc.
Help your Scout use the online order form for those family members who live far away.
Remind those buying that popcorn can be used as gifts for teachers, co-workers, neighbors, babysitters, beauticians, relatives, etc.
When contacting your customers from last year ask them if they have any friends or family that have not been asked to purchase popcorn and would like to purchase this year to give you a call, you would be glad to take their order.
You can take an order form to work.
Remind your Scout to tell the customer his/her goal, what prize he/she is trying to reach, and what fun things the unit has planned. (Example to pay for camp, high adventure, etc.).
Remind your Scout that when asked, 4 out of 5 people will buy. Only 20% of consumers have been asked to purchase popcorn; 80% have never been asked.
Your Scout should always wear Class A uniform when selling popcorn.
All customer checks should be made out to your unit (never to the Scout or Parent).
Please remember the Scout Law. A Scout is … Trustworthy, Loyal, Helpful, Friendly, Courteous, Kind, Obedient, Cheerful, Thrifty, Brave, Clean and Reverent
Be cheerful! Reminder to Always say "Please" and "Thank You" and SMILE!
Camp Reservations
Did you get the week and campsite you wanted this year? Don't delay units are already signing up.
We had 15 out of council units in 2018 and we probably turned another 6-8 units away because the week they wanted was already reserved. BE PREPARED AND SIGN UP EARLY!
New Trading Post Hours
As new families get ready for their Scouting adventures, we are expanding our Trading Post hours.
Fall Hours: September 10 – October 26
Monday – Friday 9:00-5:30 PM
We hope to see you!
New Order of the Arrow Leadership
Congratulations to this year's Order of the Arrow leadership team!
Lodge Chief | Adam Runde
Vice Chief of Administration | Beau Benzing
Vice Chief of Activities | Will Wehrspann
Treasurer | Joe Printy
Secretary | Colin Scofield
Exploring Programs Kick-Off
One of the best secrets of the Scouting family is the Exploring program! Exploring is a career exploration program that gets youth connected with area businesses so they can experience hands-on what you actually do indifferent careers. And our 2018/2019 programs are beginning to kick off! Check them out!
Radio Broadcasting
Radio Dubuque
September 13
Register | More Info
Facebook Event
Conservation & Wildlife Management
Swiss Valley Nature Center
September 19
Register | More Info
Facebook Event
Diesel Mechanics
Truck Country Dealership
October 10
Register | More Info
Facebook Event
Engineering & Technology
John Deere Dubuque Works
Applications Due September 21st
Apply | More Info
Facebook Event
Law Enforcement
Dubuque Law Enforcement Center
September 19
Register | More Info
Facebook Event
Thank you to all those who have taken basic leader training for their registered position. Since this time last year, we have an increase of 8% of leaders who are trained. Remember that by recharter time, all Scoutmasters, Cubmasters, Advisors and Den Leaders must be fully trained.
A second thank you goes to those volunteers who took time to provide Boy Scout training at Camp CS Klaus this past summer.
Lastly, don't forget. If you haven't taken the new Youth Protection training, please do so before October 1st.
Top Trained Units: (Highest Percentage of fully trained leaders)
Congratulations to our two 100% trained units!
Packs:
Pack 32 Dellaykee 100%
Pack 40 Dellaykee 70%
Pack 50 Dubuque 63.6%
Troops:
Troop 94 Dubuque 79.5%
Troop 14 Dubuque 76.9%
Troop 39 Dellaykee 66.7%
Troop 5 Dubuque 66.7%
Top Crew: Crew 61 100%
Contact your district executive to see how your unit stacks up!
Broadcasting Exploring Program – September 13, 20, 27, October 4, 11
This is a great way to learn about the communication industry. You'll have the ability to see and hear about various career positions within the field. In addition to the traditional radio careers (DJ, announcer, producer, sales), radio is connected to many other careers such as voice acting, podcast producing, and journalism.
READ MORE
OA Section C3A Conclave – September 14-16
If you like brotherhood, training, and a whole lot of fun then you should come to the OA Section Conclave! Held at Howard Cherry Scout Reservation.
READ MORE
Iowa Hawkeye Football Scout Days – September 15, October 20, November 10, November 23
All Northeast Iowa Council Scouts (Troops, Crews, Packs, and Posts) are encouraged to bring the entire family and enjoy big savings off the regular price of game tickets. These discounted offers are open to all Scouts, their friends and families.
READ MORE
Popcorn Dinner South – September 18
Find out all you need to know for this year's popcorn sale, sample all of this year's flavors, and gain some great tips to ensure your unit has a successful year!
READ MORE
Law Enforcement Exploring Program – September 19
This program to provides students with information about careers in all types of law enforcement, answers any questions you may have regarding the profession, and has you participate in hands-on projects demonstrating law enforcement principles.!
READ MORE
Conservation & Wildlife Management Exploring Program – September 19
If you have an interest in science, wildlife, and/or outdoor education & conservation, then we have the perfect program for you! Join us to gain a behind the scenes look into the career fields of conservation and wildlife management.
READ MORE
Popcorn Dinner North – September 18
Find out all you need to know for this year's popcorn sale, sample all of this year's flavors, and gain some great tips to ensure your unit has a successful year!
READ MORE
Engineering & Technology Exploring Program – Applications Due September 21
John Deere Dubuque Works is excited to offer a program to provide students with information about careers in many types of engineering, answer questions you may have regarding the profession, and allow you to participate in hands-on activities demonstrating engineering principles.
READ MORE
Crew 48 Open House – September 22, October 7
Crew 48 is an adventurous crew that has done many great adventures. We go camping and hiking throughout the year in addition to large trips. Join us and be a part of the current adventures and help us plan future ones!
READ MORE
Overcoming Additions: True Stories – September 24
Scouting is more than going camping or learning knots, it is about becoming a leader and making ethical choice. Join us as three speakers share their stories of overcoming drug and alcohol addictions and drug overdoses.
READ MORE
Roundtable Meetings
Dellaykee – October 2
Dubuque – October 4
This event is open to all volunteers. Catch up on everything happening in the District! Discuss events, options,and issues. You can promote current activities and events, ask questions and learn about resources, and participate in training opportunities.
Order of the Arrow Vigil Weekend – October 6-7
Vigil Members, come celebrate with the Vigil Candidates at Camp Klaus for a special evening. Our candidates are Rich Lange, Adam Mueller, Beau Cline, and Terry Flynn.
READ MORE
NYLT & Wood Badge Scholarship Steak Dinner – October 7
Please join us for a great Steak Fry and an afternoon of Scouting fellowship as we help raise money for the next NYLT and Wood Badge scholarships! READ MORE
Diesel Mechanics Exploring Program – October 10, November 7, December 5
Do you like taking things apart and putting them back together? Thinking about a career that isn't behind a desk? A Diesel Mechanic or Auto Technician career may the right choice for you!
READ MORE
Dubuque Camporee – October 12-14
First Aid & Scout Skills will be featured as Scouts rotate through 8 different stations.
READ MORE
Dellaykee Fall Spook O'Ree– October 19-21
Many activities include Haunted Lodge, Camp-Wide Scavenger Hunt, Climbing Tower, COPE, Shooting Sports, and Pumpkin Chucking.
READ MORE
Troop 11 Open House – October 22
You are invited to our annual "Open House" for Webelos & Parents. Feel free to bring a friend. Even if you have never been, or are no longer involved, in Scouting you are welcome and encouraged to visit our Troop and give Boy Scouting a try!
READ MORE
Special Fall Hours: Sept. 10 to Oct. 26th
Monday thru Friday 9:00-5:30 p.m.
Winter/Spring/Summer Hours
9:00-5:00 p.m. Monday-Friday
New Items:
New Council Strip Patch – $5.00
Cub Scout Hair Bow – $4.99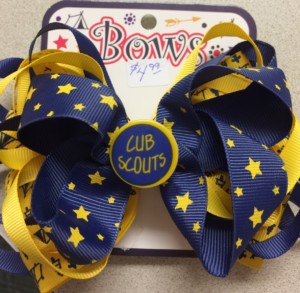 Sunglass Animals Tee-Shirts – $9.99