From the Scout Executive
As we move into a busy "Scouting" time of year, we wanted to let you know about some news updates pertaining to the council and Scouting in general.
Registration Fees: We have been informed that there will be a registration fee increase. Unfortunately, at this point we do not know the amount, only that we should know more by the end of the month. Once we receive more information, we will pass it along to you. As a reminder, registration fees are passed along to our National organization and are not kept locally.
Summer Camp: We are happy to say that our Camp Director from 2019, Tom Mayer will be returning in 2020. Tom has been on the staff for several years and we are looking forward to his leadership for the upcoming summer.
Before year end, interviewing for camp staff will begin. If you know of someone who may be interested, have them download and submit an application at www.scoutsiowa.org/cskstaff/.
Webelos to Scout Transition: The Webelos to Scout transition committee has been working on some tools for units leaders and parents to promote better crossover rates. Keep on the lookout for more info in the coming months.
As stated earlier, it is a busy time of year. In this issue you will see several Scouting activities happening over the next few months. We hope to see you at these exciting events!
Recruitment season!
September has been a busy time in Scouting. Throughout September we welcomed 274 new Cub Scouts to the Scouting Family. Council staff have been visiting schools almost daily to share the Scouting fun message.
Peer-To-Peer Recruiting: Now we need your help to share the fun! Invite your friends to try Cub Scouts. Scouts who recruit two friends to join Scouting get a fun gift (think soft bow/arrows, Firetek Rocket, or Lightsaber), earn a Recruiter Patch AND have more friends in Scouting with you!
To claim your fun gift:
Have your friend turn in an application with your name as the recruiter (or attach a peer card with your name on it).
The application must be newly filled out (between 10/9 – 11/21).
If your friend applies online (BeAScout.org) – please send a note to your Cubmaster that you referred the Scout to sign up.
All applications need to be turned in by 11/21.
More ways for new Scouts to join:
Dubuque City-Wide Open House
October 24 | 6-7:00 PM
Holy Trinity Lutheran Church in Dubuque
This is a great opportunity to learn more about Cub Scouting – especially if a family was not able to make it to an initial recruitment night.
Find Packs at BeAScout.org
Search by zip code and program to find a pack that is close to you and works with your schedule. You may even be able to register online.
Call the Scout Office at 563.556.4343
We can provide unit information so new Scouts can get started right away!
Exploring Programs
There are many programs that have opened registration. Check out the below programs and go to www.exploringdubuque.org/programs to register!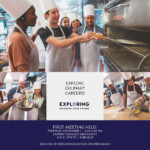 CULINARY ARTS PROGRAM
Who likes to eat food? How about cooking? Enjoy both during the Culinary Arts Exploring program.
Discover what it may be like to be in a culinary career field. Work with the head chef of Catfish Charlie's Restaurant to plan a menu and try your hand at preparing some appetizers and other dishes.
First meeting is Thursday, November 7 at 4:00 pm. See you at Catfish Charlie's!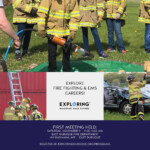 FIREFIGHTING AND EMS PROGRAM
Interested in a hot career…? Check out the Firefghting and EMT Exploring program. There's no better way to explore your interest in fire fighting or emergency services than by participating in an Exploring program!
First meeting is Saturday, November 9th at 9am. We'll meet you at the East Dubuque Fire station!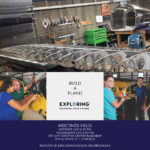 AVIONICS PROGRAM
At first, you may think building an aircraft is a crazy plan. But with leaders to guide you, you will develop skills in something few people get the opportunity to do.
Each meeting, you will be learning and using skills in metal work, reading drafting plans, engineering, and so much more. The skills are applicable to many professions – they are not limited to a career in aviation.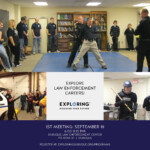 LAW ENFORCEMENT PROGRAM
The Law Enforcement Exploring program provides you with information about careers in all types of law enforcement, answers questions you may have regarding the profession, and demonstrates law enforcement principles through hands-on projects.
Activities include: crime scene investigation, patrol techniques, fingerprinting, K-9 handling, and how to conduct traffic stops.
Important Dates
October 21 | Popcorn & Prize Order Due to the Council
November 2 | Popcorn Distribution
November 25 | Payment due to the Council
Super Saturday Sales
Our top Cub Scout salesperson for the Super Saturday weekend was Julien D. from Pack 7 in the Dubuque District!!!!! Julien sold $2,402 over the weekend. Way to go Julien!!! Julien will receive an Amazon Fire HD10.
Our top Scouts BSA salesperson for the Super Saturday weekend was Jayden B. from Troop 7 in the Dubuque District!!!!! Jayden sold $2,062 over the weekend. Congratulations Jayden!!! Jayden will also receive an Amazon Fire HD10.
We also wanted to send a special thank you to all the youth that participated in this weekend's sales:
• Pack 68 had a youth sell $1,660
• Pack 55 had a youth sell $1,304
• Pack 13 had a youth sell $1,282
• Pack 5 had a youth sell $948
• Pack 38 had a youth sell $930
• Pack 35 had a youth sell $914
• Pack 60 had a youth sell $826
• Pack 64 had a youth sell $800
• Pack 20 had a youth sell $780
• Pack 100 had a youth sell $648
• Pack 65 had a youth sell $590
• Pack 14 had a youth sell $446
• Pack 53 had a youth sell $244
• Troop 70 had a youth sell $910
• Troop 34 had a youth sell $848
• Troop 91 had a youth sell $698
Thank you, Popcorn Kernels, and please thank your Scouts for the awesome job they did the first weekend!
Top Weekend Sellers
Thank you to all who entered the second weekend's contest!
Congratulations to our top seller over the weekend. Adeline W. from Pack 91 sold $772 worth of popcorn. She received a $50 gift card.
All our other contestants received a Lightsaber!
Ashlee D. | Pack 5 | $672
Elijah C. | Pack 15 | $654
John P. | Troop 86 | $456
Reed B. | Pack 30 | $440
Jayden B. | Troop 7 | $426
Gavin R. | Pack 15 | $406
Wes B. | Pack 30 | $362
Liam S. | Pack 14 | $296
Joey P. | Troop 86 | $236
Emmett S. | Pack 13 | $216
Will R. | Troop 94 | $188
Camp Reservations
Now is the time to get your camp reservations in! Reservation forms can be found at: http://www.scoutsiowa.org/scout-camp/
Scoutbook Training
If you are unsure how to fully utilize Scoutbook, be sure to make it the Dubuque November roundtable. During the Cub Scout breakout, a Scoutbook training will be held. So bring your questions and be prepared to learn what the site can do for your unit!
Date: Thursday, November 7 | 7:00 PM
Location: Holy Trinity Lutheran Church | Dubuque
Den Leader Training Recap
Four new Den Leaders were trained on September 26 at St. Joseph the Worker. Thank you to the trainers – Byron Lange and Mark Bodensteiner – for helping our Scouters get comfortable in their new roles.
Zip-A-Rama Recap
Holy cow! Who had an amazingly exciting time at this year's Zip-A-Rama event? Well, over 150 of our Scouts and their families – that's who! We had such an overwhelming response of attendees this year, we had to keep the Zipline open for another hour!
Thank you to SkyLine Tours for hosting our group and zipping all our attendees across the lines! Thank you also to Mark Kilgore and Ann Greenlee and Andy King for helping Scouts shoot arrows and do some crate climbing!
We are working on next year's event to make sure everyone gets a chance to zoom through the sky. Got some ideas? Let us know!

Science of Levers Recap
Over 18 Cub Scouts rotated through lever stations including 1st, 2nd, and 3rd class lever demonstrations, multiple samples, and everyday object levers. The Scouts also enjoyed playing bean bags, kickball and horseshoes to demonstrate how their bodies can be levers. A special lever device had Scouts putting bottle caps on and off, and pictures were drawn of playground equipment levers.
Thank you to Eagle Point Park for hosting the STEM pack event. And thank you to all the Scouts who braved the cold to discover how fun levers can be!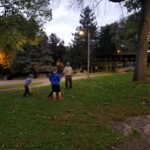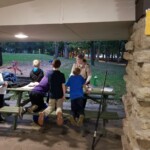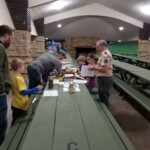 Dubuque Camporee Recap
Fifty Scouts from Troop 7, 94 and 86 gathered at Bellevue State Park for the Dubuque District Camporee on October 11-13.
Thank you to Loras College for talking about constellations. Thank you to our Owl Caller, Bob Walton, for showing us how to call owls. Thank you to the Iowa Natural Resources Conservation Service for providing a rainfall simulator. And thank you to Bellevue State Park for hosting us at the park and allowing us to explore the Nature Center.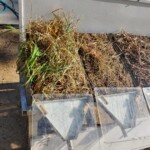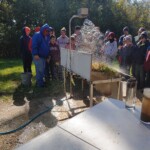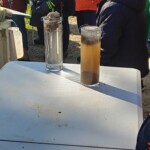 Top Trained Units: (Highest Percentage of fully trained leaders)
Packs:
Pack 60 Dubuque 91%
Pack 40 Dellaykee 90%
Pack 14 Dubuque 82%
Troops:
Troop 86 Dubuque 95%
Troop 5 Dubuque 83%
Troop 38 Dellaykee 82%
Top Crew: Crew 48 80%
Contact your district executive to see how your unit stacks up!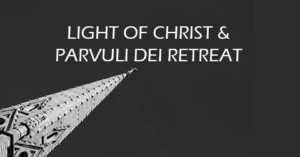 Cub Scout Catholic Awards Work Day: Light of Christ & Parvuli Dei
This retreat will offer an opportunity for our Cub Scouts to learn how our Catholic beliefs relate to our daily life in Cub Scouting.
Light of Christ Emblem: Any Catholic Cub Scout who has not received his/her First Holy Communion. (Typically 2nd Graders/Wolf Scouts)
Parvuli Dei Emblem: Any Catholic Cub Scout who has received his/her first communion up through 5th grade. (Typically 4th Graders/Webelos1)
Date: Saturday, November 9
Time: Noon – 5:00 PM (Check-in 11:30-11:50 AM)
Location: St. Joseph the Worker in Dubuque
Cost: $8.00 (Emblem $14.00)
More information and registration available at: https://scoutingevent.com/178-28639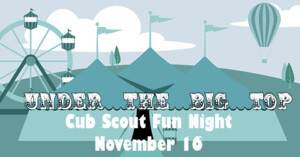 Cub Scout Fun Night
Goof around at Cub Scout Fun Night! This year we are "Under the Big Top" and your Scout will be participating in circus activities in addition to playing lots of fun games, movies, and pizza!
Date: November 16
Time: 5:00 – 9:00 p.m. Check-in begins at 4:30 p.m.
Fee: $8.00 ($13.00 after 4:00 PM 11/8/18) OR recruit a friend to join Scouting, bring your friend to the event, and you both get in FREE!
Day of Registration: $15.00
**Lions & Tigers must have parent attend.
More information and registration available at: https://scoutingevent.com/178-funnight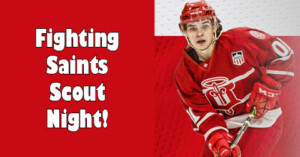 Scout Night with Fighting Saints
It's Teddy Bear Toss night at the Fighting Saints game so don't forget to bring a new stuffed animal to toss onto the ice after the Saints score their first goal. All stuffed animals go to Toys 4 Tots.
This event is open to the entire Scout family and all their family members!
Date: Saturday, December 7
Location: Mystique Ice Arena in Dubuque
Scout Package: $20 (on-ice skate, gift, ticket, early Kids Zone)
Game Only: $15 (ticket & gift)
(3 and Under Free)
More information and registration available at: https://scoutingevent.com/178-31305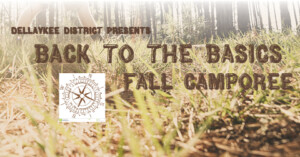 Dellaykee District Camporee
The Back to Basics Dellaykee District Camporee is not to be missed with activities that get Scouts the basics outdoor survival skills. Activities include dutch oven cooking, fire safety, knife demonstrations, tent and backpack care, and picking wild garlic mustard.
Dates: October 25-27
Check In: 6:00 PM
Location: Backbone State Park
Cost: $9/participant
Who: All Scouts BSA members. Webelos can camp with a Troop or come for Saturday activities. Cub Scouts can come for Saturday activities.
More information and registration available at: https://scoutingevent.com/178-31102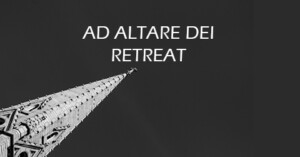 Ad Altare Dei Retreat
Ad Altare Dei emblem (To the Altar of God) is a religious Emblem program for Catholic Scouts designed to help them find out and learn more about their faith.
We're having an Ad Altare Dei (AAD) retreat in October and we'd like you to come!
Date: Saturday, October 26
Time: 10:00 AM – 5:00 PM (registration 9:30-9:50 AM)
Location: St. Joseph the Worker in Dubuque
Cost: $10.00 (Emblem: $16.00)
Who: All Scouts BSA members
More information and registration available at: https://scoutingevent.com/178-28640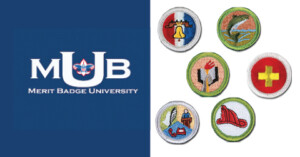 Merit Badge University
Take a day to earn a badge! Merit badges offered include Citizenship in the Nation, Communication, Fire Safety, First Aid, and Fishing/Scholarship.
Date: Saturday, November 9
Time: 9:00 AM – 3:00 PM (registration 8:00 AM)
Location: St. Mary's School in Guttenberg
Cost: $5.00
Who: All Scouts BSA members
More information and registration available at: https://scoutingevent.com/178-MBU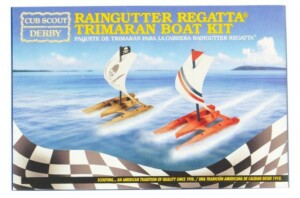 Raingutter Regatta Racing Trimaran Kit – $5.99
It's the exciting next step in raingutter racing. BSA introduces an exclusive alternative to the original Raingutter Regatta single-hull design-the NEW Trimaran Boat Kit! Built for stability and speed in the water, the trimaran hull is specially designed to prevent your boat from tipping over during the race. Kit includes exclusive BSA trimaran hull, two balsa wood outriggers, sail, mast, screws, sanding stick, and instructions.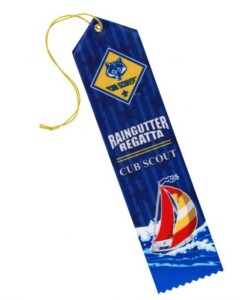 Raingutter Regatta Participation Ribbons, 10 pk – $6.99
Award ribbon features a bold new design signifying participation in a Raingutter Regatta event. Ribbon is sublimation printed with the Cub Scout logo, regatta graphics, and "Raingutter Regatta"Cub Scout lettering on a blue star-scattered background. Each piece is pointed, strung with a tassel, and includes an event card on the back. Each ribbon measures 2" – 8". Sold in packages of 10.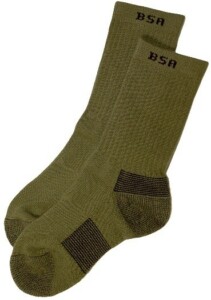 Scouts BSA Uniform Coolmax Crew Socks – $7.99
These Coolmax™ crew socks are approved for official uniform wear for Scouts BSA participants. They are uniform green and feature "BSA" on the sock top.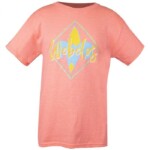 Cub Scout Webelos Youth T-Shirt, Pink – $9.99
Time to take your Cub Scout pride to a whole new level with this t-shirt! It is perfect to wear on all Webelos adventures!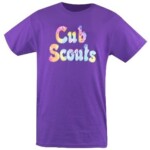 Cub Scout Tie-Dye Youth T-Shirt, Purple – $12.99
Peace, Love and Cub Scouts! This fun t-shirt is the perfect way for Scouts to represent their love for all things adventure.