Over the last several months, the Scouting program has undergone some changes. The most significant being welcoming girls to become members of Cub Scouts. At this point nearly 130 girls have joined the program in our council.
This February, the program name "Boy Scouts" will change to "Scouts BSA". Young ladies will now have the opportunity to join a program that will allow them to work towards the rank of Eagle.
If you are an adult who is interested in leading a group of female Scouts, please let the council know as soon as possible. Our goal is to have these programs ready for girls crossing over this winter/spring, and for any additional ladies wanting to join.
Anyone wanting to keep informed of Scouts BSA updates and news should enter their information at: https://www.scouting.org/scoutsbsa/. When asked questions about the program, please feel free to share this link so they can receive the most accurate information straight from national.
A Scouts BSA Leader Meeting is being planned tentatively for early winter. This will be an informational session on how Scouts BSA works and how to start a troop, in addition to answering any questions.
One of the highlights for a Cub Scout is to receive a badge at a monthly pack meeting. If a new Scout joined this Fall, they should have already earned their Bobcat Badge (unless they are a Lion).
Please remember that the closest you can come to "immediate recognition", the better. Cub Scouts especially want to be recognized for their hard work and don't want to wait several months before receiving their first badge.
If you haven't already, let's make sure we recognize those new Scouts!
Nominations wanted!
We know you've had an amazing year in Scouting and probably owe at least one leader a thank you for their commitment, planning, time, and energy. Now is your chance to nominate that Scouter for one of several awards:
Scouting Spirit Award – 1 award per unit
Cub Scouter of the Year – 1 award per district
Boy Scouter of the Year – 1 award per district
Venturer of the Year – 1 award
District Award of Merit – 2 awards per district
Silver Beaver Award – 2 awards
Nominations are due by February 1 – so don't delay! Nomination forms can be found on the event calendar: https://www.scoutingevent.com/178-appreciationdinner.
The Northeast Iowa Council has long had a history and a goal of financial success and sustainability.
As costs continue to rise, the council does its best to ensure fees are affordable for families. As you know, registration fees do not support the local council. They are both set and collected by our National organization. An area that the council has provided financially for leaders and youth, has been accident insurance. Registered individuals are covered under a secondary accident insurance when participating in Scouting activities. Most councils in the country charge a fee to cover this insurance. In the past our council was able to absorb this fee.
Due to rising costs and decreases in United Way funding, the Northeast Iowa Council is no longer able to cover this expense. Starting with this re-charter period, there will be an additional $2 insurance fee for all registered youth and adults to be paid at the time of rechartering. This calculation fee will be automatic when using the online rechartering system.
While we understand that rising costs are usually not something that brings delight, when put into perspective, Scouting continues to be a bargain. When comparing costs to other youth organizations and add in the ability to fund most of the year with fundraisers, most costs paid directly by families are lower in comparison.
Thank you for your understanding and for your commitment to the Scouts of the Northeast Iowa Council.
Meet your 2019 Camp Director: Tom Mayer, 21, out of Milford, IA.
An Eagle Scout out of Milford Troop 170 of the Mid-America Council, Tom came to Camp C.S. Klaus in the summer of 2015 with his troop and fell in love with Klaus. After beginning his studies at Iowa State University that fall, he decided to apply for camp staff the next summer and was hired on as the BASE Camp director.
For the past three summers, Tom has worked as BASE Camp director, interacting with Klaus' greatest group of campers — the first years. Since being involved with Klaus, he has become an active member of the Northeast Iowa Council's Order of the Arrow and actively works to promote participation from both adults and youth.
Now a senior studying mathematics at Iowa State, Tom is working to become a secondary educator in math, in no small part influenced by his work at Klaus. When not studying or Scouting, Tom also enjoys hiking, photography, all things weather, playing tuba and video games.
"Without Scouting, I wouldn't be me. I wouldn't have the dreams and passion or education that I do. I wouldn't have my positive attitude."
McCoy Jewelers Jewelry Contest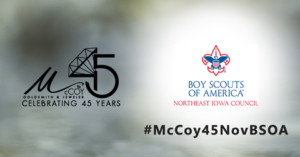 We need your votes! The Northeast Iowa Council is competing against 10 other area nonprofits for an amazing piece of jewelry from McCoy Jewelers as part of their $45K for 45 Years celebration. If we succeed in being the top voted non-profit, we will auction the jewelry off at our annual Boy Scout Golf Classic dinner and auction.
To help us – we are asking you to vote for us as your favorite non-profit during the week of November 6-10.
There are several ways to vote.
Vote online once a day, per IP address. This means you can vote multiple times per day when you are different Wi-Fi sources (home, work, coffee shop, friends house, etc.) (Vote here: https://woobox.com/qwwexf
Vote using our hashtag: #McCoy45NovBSOA. For these votes to count a user MUST have their post set to PUBLIC.
Stop by McCoy Jewelers at 261 Main St in Dubuque and take your picture with the prize. This vote is worth 5 VOTES per person (only 1 time per person). They are open Tuesday – Saturday 9-6.
Any way you choose to vote, please know we greatly appreciate you taking the time to help support the Northeast Iowa Council!
---
Giving Tuesday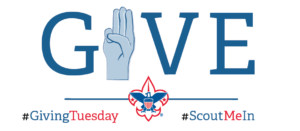 We have Thanksgiving, a day for giving thanks … Black Friday and Cyber Monday, two days for getting deals … and we have #GivingTuesday, a global day dedicated to giving back.
On the Tuesday after Thanksgiving, people around the world will come together for one common purpose: to celebrate generosity and to give.
How can you get involved? Spread the word about Scouting this #GivingTuesday! Post, share, tweet, give, and invite others to do the same. We look forward to celebrating #GivingTuesday with you on November 27!
Learn More about Giving Tuesday at https://www.givingtuesday.org/
Donate Now at https://scouting.org/giving-tuesday (please note: if you would like to designate your Giving Tuesday gift to support local Scouting, please indicate Northeast Iowa Council in the note box.)
---
Applications Now Accepted for Camp Klaus Summer Camp Staff

Thinking about a summer job? How about working in the great outdoors?
The Northeast Iowa Council is looking for individuals who have an interest in working at our beautiful Camp C.S. Klaus this upcoming summer (2019).
Many positions start mid-June and are finished by late July/early August. Several management positions are available. Available positions and their descriptions are available at: www.scoutsiowa.org/cskstaff/.
Air conditioned residence and meals are included, in addition to a seasonal employee salary. Scouting experience is a plus, but not mandatory.
Contact Matt Klutzaritz at 563.556.4343 or matt.klutzaritz@scouting.org for more information.
Camp Klaus is located in Colesburg, Iowa. For more information on the Northeast Iowa Council, Boy Scouts of America, please visit our website: www.scoutsiowa.org.
---
Spook O'Ree Round-Up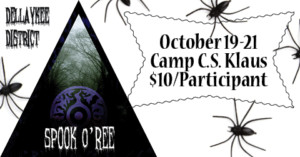 The Dellaykee District Camporee was a spookastic success! We had over 130 Scouts come out to Camp C.S Klaus and brave the high winds and freezing temps. Over the course of the weekend, the Scouts and Leaders participated in a haunted Munter Lodge, climbing, low COPE, riffle, blow guns, welding, branding, pumpkin throwing, pumpkin carving/painting, making caramel apples, camp-wide capture the flag, and a camp-wide scavenger hunt.
Thank you to all 30 volunteers that made this weekend possible. And a thank you to all the apple orchards for their generous apple donations for our delicious caramel apples.
---
First Aid & Scout Skills Round-Up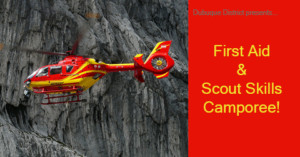 Leadership, teamwork, and first aid skills were tested at the Dubuque Camporee. There were 177 Scouts and leaders that camped out, tested their memorization of the Scout law, and experienced AirCare 3.
Thank you to the EMS workers specifically AirCare 3, and East Dubuque Fire Department for your help with the event. Thank you to Troop 14 and their families for the work they put into planning, getting the event ready, and running the event. And a big thank you to Clark Wolff for the use of his property and getting the porta-potties during the event.
View photos of the events on our Facebook Page: facebook.com/pg/BSANEIC/photos/
---
Career Fairs Round-Up
The Exploring District was busy this past month helping put together 2 career fairs for area 8th grade students. On October 5, students from East Dubuque, St. Mary's, Cascade, Aquin, Seton, Beckman, and Drexler arrived at the Northeast Iowa Community College in Peosta. On October 23, students from Washington, Jefferson, Mazuchelli, and Hillcrest Lawler traveled the halls at Loras College's Hoffmann Hall. Over 1,000 8th-grade students participated in the two career fairs and now have an idea of which classes they should take as they progress towards a career of their choice.
At each fair students each visited 5 different sessions sharing information and doing activities in different careers. Represented careers include Law Enforcement, Travel & Tourism, Respiratory Therapy, Advanced Manufacturing, Agriculture, Information Technology, Banking/Finance, Nursing, Human Services, Diesel Mechanic, Military, Teacher, Engineer, Attorney, STEM, Construction, and Advertising.
---
Exploring Programs
Exploring is a career exploration program that gets youth connected with area businesses so they can experience hands-on what you actually do in different careers. And many of our 2018/2019 programs are currently accepting applications! Check them out at ExploringDubuque.org and share the information with friends!
Conservation & Wildlife Management
Swiss Valley Nature Center
Register | More Info
Nursing
Mercy Hospital/Northeast Iowa Community College/Hawkeye Care Center/Hills & Dales
Register | More Info
Sports Marketing
Dubuque Fighting Saints
Apply | More Info
Culinary Arts – Available soon

Please contact Melissa at melissa.neuhaus@scouting.org or 563.556.4343 for more information.
---
Popcorn Success
What an amazing year for popcorn sales!
Popcorn Top Selling Units
Please help us in congratulating the Council's top popcorn selling Pack & Troop in each district! Big thank you to everyone!!!
Dubuque District
Pack 7 with $38,044 in retail sales
Troop 7 with $9,638 in retail sales
Dellaykee District
Pack 64 with $22,114 in retail sales
Troop 39 with $9,972 in retail sales
Popcorn Drawing Ticket Winners
Our drawing ticket winners for the Classic Trio – Pack 10, Emmet S.; Cheese Lovers 4-way – Pack 35, Landon S.; Chocolate Covered Pretzels – Troop 7, Owen S.; and Chocolate Lovers – Troop 91, Will V. These four winners have won an Amazon Echo Spot.
Congratulations!!!
---
2018 James E. West Fellowship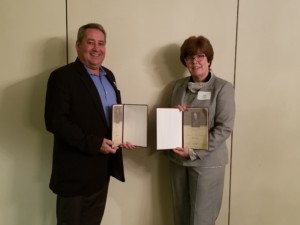 Thank you to the two newest James E. West Fellows: Bruce Hallahan and Jean Leute! Bruce and Jean were recognized at the Troop 1 Banquet held October 30, 2018 at the Dubuque Golf & Country Club. The James E. West Fellowship Award is a national recognition for individuals who contribute $1,000 or more in cash or securities to their local council endowment trust fund.
---
Introducing Iowa Boy Scouts of America and Eagle Scout License Plate Decals
The state of Iowa has introduced an alternative to specialty license plates, "decal plates". After purchasing a $5 decal plate from your county treasurer, you can support a non-profit by purchasing a decal to affix on the plate. (Personalize plates are also available, see your county treasurer for more info) The $25 cost per decal supports the Northeast Iowa Council.
The councils located in Iowa have been approved to participate and will sell the decals at their headquarters. There will be a choice of one with a BSA logo and one with an Eagle Award.
However, before the program moves forward, we want to ensure there is interest from Scouting families and individuals to participate. If you would be interested in taking part in this program, please go HERE to let us know which decal you are interested in.
With rechartering just a few months away, the "window" to get trained is getting smaller. Once again, all leaders who are serving in the following positions must be fully trained before the charter can be completed.
Cubmaster
Den Leader
Tiger Den Leader
Webelos Den Leader
Scoutmaster
Venturing Advisor
Top Trained Units: (Highest Percentage of fully trained leaders)
Packs:
Pack 32 Dellaykee 100%
Pack 40 Dellaykee 80%
Pack 50 Dubuque 64.3%
Troops:
Troop 94 Dubuque 79.5%
Troop 14 Dubuque 76.9%
Troop 39 Dellaykee 66.7%
Troop 5 Dubuque 66.7%
Top Crew: Crew 61 100%
Contact your district executive to see how your unit stacks up!
November 6-10 | McCoy Jewelers Contest
Do you have 10 seconds to help us win a piece of jewelry that we will auction off at the Boy Scout Golf Classic dinner?
READ MORE
November 9 | Big BRASS Brothers on the Battlefield Concert
Enjoy a steep discount at a great concert at the University of Dubuque Heritage Center!
READ MORE
November 10 | Light of Christ & Parvuli Dei Retreat
This retreat offers an opportunity for our Cub Scouts to learn how our Catholic beliefs relate to our daily life in Cub Scouting.
READ MORE
November 10 Troop 48 Chili Feed Crafts & Bake Sale
Enjoy a great meal while supporting Troop 48!
READ MORE
November 10 & 23 | Hawkeye Football Scout Days
Enjoy discounted tickets to the Iowa vs. Northwestern or Iowa vs. Nebraska games.
READ MORE
November 14 | Youth Protection Training
Join us at Wahlert's computer lab to take the youth protection training online.
READ MORE
November 15 | Nursing Exploring Program Kick-Off
Nursing and other health-related professions are among the fastest growing in the country! Join us to learn about a variety of nursing careers.
READ MORE
November 17 | Space Out: Cub Scout Fun Night & Boy Scout Lock-In
This year we are "spacing out" and your Scout will be building/launching their own rocket, stargazing in addition to playing lots of fun games, movies, and pizza!
READ MORE
November 19 | My Tiger Jungle Adventure at Swiss Valley
Participants will take a hike, identify two species of native birds, make a bird feeder, and learn the sounds of the forest.
READ MORE
November 27 | Giving Tuesday
On the Tuesday after Thanksgiving, people around the world will come together for one common purpose: to celebrate generosity and to give.
READ MORE
December 1 | Saints Scout Night
This is a wonderful event for the whole family! Choose between a skate package (with patch) or game only!
READ MORE
December 4 | Sports Marketing Exploring Program Kick-Off
Promotional nights such as "Who-Ville at Our House!", "4 Months to Mother's Day", and "Teddy Bear Toss" don't just happen. Learn how these events are created and other careers available in the sports marketing career arena.
READ MORE
15% Off Shorts & Ankle Socks
Cold weather means hot deals in the Council Trading Post on summer items. This month we are offering 15% off on all shorts and ankle socks in stock at the Northeast Iowa Council Trading Post only! You know you will need them for this summer, so save now! Great Christmas gifts for Grandma who is looking for a new idea!
---
Pinewood Derby
THE FIRST SHIPMENT HAS ARRIVED!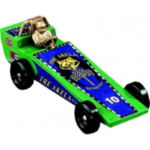 The first shipment of Pinewood Derby cars has arrived at the council trading post. The price is the same as last year – $4.49 each. If you need to have the cars sent to roundtable just email or call Dee at the council trading post – dee.heim@scouting.org or 563-556-4343.
---
NEW – Pinewood Derby Items
LED HEAD/TAIL LIGHTS – Easy to install, fully assembled LED light kit that features 2 white headlights and 2 red tail lights. Total weight of the light kit is 0.35 oz. (thicker designs are preferred for installation) – $9.99
LED UNDER GLOW KIT – Under Glow Kit is an easy to install, fully assembled LED light kit that features 2 LED light strips of 5 blue and white lights and 3 display modes: Fast, Blink/Slow, Blink/Solid Total weight of the kit is only 0.3 oz. (thicker designs are preferred for installation) – $9.99
---
GLOW IN THE DARK, PHOSPHORESCENTES & FLUORESCENTS
These three words describe the hot trends in Pinewood for 2018.
Glow Acrylic Craft Paint is a luminous paint that creates a glowing effect 4-8 hours in the dark after being charged by natural or artificial light. It is a high quality, water based paint that is quick drying, permanent and non-toxic and cleans up easily with soap & water – $7.99 for a set of three colors – Rockstar, Toucan and Alien Green.
Fluorescent Acrylic Craft Paint is a high quality water base paint that glows brightly under a black light making it FUN for everyone. Permanent, with soap & water cleanup – $7.99 for a set of three colors – Pink/Rose, Orange and Green.
---
NEW GLOW IN THE DARK DECALS
Stop in and check out the Glow in the Dark large selection of decals now at the Trading Post. We have:
Accessory Decals
Splatter Paint Decals
Eyelashes Decals
Green Flames Decals
Doodle Decal Kits
Purple Power Decals
Bat Man & Superman Decals
Howling Hot Rod Decals
Black Widow Spider Decals
---
WEIGHTS FOR PINEWOOD CARS
On hand in the council trading post we carry – Flat Weights, Pro Tungsten Weight Kits, Polished Tungsten Canopy, Flexible Cylinder Weights, Flexible Tape Weights.