September 2020 Nor'Easter
How to Recruit New Scouts to your Unit
The Northeast Iowa Council is busy promoting packs across the council as they are going through an intense recruitment season. We have provided many items including flyers, bookmarks, and mobile displays. Facebook events have been created and ads have been run.
We continue to help all recruitment efforts, but want to share ways units can build on the council's efforts.
Own your unit messages—don't only rely on the council to get the word out about your pack/troop/crew. Share the Facebook event on your personal page, add a note about your unit on NextDoor, create your own digital ads, encourage your Scouts to participate in Scout Spirit Week.
Reach out to your PTA/PTO—These are the groups that already have contacts with your target audience. Ask them to share information on social media, in e-mail, and/or in the newsletter.
School Follow-up—Follow-up with the principal to thank them for helping spread the word about Scouting.
Embrace Digital—Consider public facing digital spaces. Use digital spaces as your unit billboards. Have a public Facebook and/or Instagram account. Websites are great for sharing information about your unit. Create a Google listing so you show up when people Google "Scouting near me".
To help in your efforts there are many resources you can access for great images/videos/templates.
Unit Restart Guide
The Unit Restart Guidelines are available for units to use during conversations of planning meetings and activities during the Coronavirus pandemic. The Unit Restart Guidelines can be found at http://www.scoutsiowa.org/covid-19-camp-communication/. These do not replace or supersede State or local Guidelines or the Guide to Safe Scouting. As part of the local guidelines that units need to consider, units should contact their Charter Organization to learn what requirements they have in place. Even if a unit is not planning to meet at their Charter Organization, they must follow their guidelines as well. It is important to use the following checklist for all Scouting meetings and events:
Ask- Is it legal?
Ask- Is it safe?
Make a plan.
Communicate with families.
Have a fun and safe meeting.
Review and adjust
Scout Spirit Week
Show off your Scout Spirit! This year we want to celebrate all our Scouts during Scout Spirit Week! Each day of the week has something you can wear, an activity, or digital spirit item. We ask you choose what fits for you, take a photo and share it on your social media with the hashtag #NEIowaScoutSpirit.
Popcorn Time!
We are getting really excited for the kick-off of the popcorn sale! Scouts should have received their selling sheets in the mail and Popcorn Kernels are getting trained this week! There are many resources available to help you achieve your sales goals. They are available at: www.scoutsiowa.org/popcorn.
New Prize Contests! | In addition, to sales level prizes, the council is holding 5 different contests.
1. Super Saturday Contest: Held the first weekend of the popcorn sale (Sept 19 & 20). The top Cub Scout wins a Pirates at Barracuda Bay LEGO set and Scouts BSA Scout seller wins Apple AirPods with wireless charging!
2. Online Sales Contest: Held throughout the sale. The top Cub Scout and Scouts BSA Scout seller wins a Yoda LEGO set!
3. Hometown Heroes Contest: Held throughout the sale. The top Cub Scout and Scouts BSA youth per district (on the Hometown Heroes Tin) will win an Amazon Echo.
4. Mystery House Contest: Held starting September 26. We will be releasing clues to "Mystery" houses throughout the council. The first Scout to find a mystery house will be given a gift card!
5. Winner's Circle Contest: Each Scout selling over $2,000 in popcorn wins an additional prize from the Winner's Circle.
Exploring Programs
Three exciting Exploring programs have just opened registration for the year. Each of the programs is designed for young men and women ages 14-20 (after 8th grade). They provide an overview of different jobs in the career fields, plus hands-on activities and tours for Explorers to understand some of the tasks a job in that field entails.
Program details and registration can be found at www.ExploringDubuque.org/programs.

Health Careers | Hosted by UnityPoint Health, Finley Hospital
Monthly virtual meetings starting October 5 | 4:00-5:00 PM
From pharmacy, to surgery, radiology, and more; this Exploring program provides students a chance to virtually tour various departments, meet professionals, and ask questions!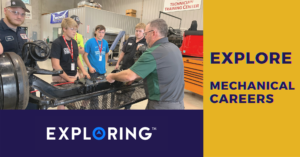 Large Engine Mechanics | Hosted by Truck Country Technical Institute
Monthly meetings starting October 14 | 4:00-5:30 PM
Do you like taking things apart and putting them back together? Thinking about a career that isn't behind a desk? A Diesel Mechanic or Auto Technician career may the right choice for you!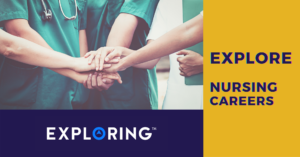 Nursing Careers | Hosted by Northeast Iowa Community College
Weekly meetings starting October 15 | 4:30-5:30 PM
During this program you will practice nursing skills and medical math, check out the state-of-the-art simulation lab, and discover the path to a successful nursing career
Scouts in Action!
You can't keep our Scouts from Scouting On! Check out some of the cool things our Scouts have been up to! Be sure to follow our Facebook Page (BSANEIC) to see all the action!
Troop 94 went on a camping trip to Wildcat Den State Park.
Pack 13 performed service to their church and school (chalked the walk, teacher goodies, blessing box).
Troop 86 completed a hike for the Hiking merit badge.
Pack 5 hosted an outdoor fun Day!
Troop 14 & 114 worked to create a new space for meetings.
---
Boy Scout Golf Classic Recap!
The Boy Scout Golf Classic was held on July 13th at Thunder Hills Golf & Country Club in Peosta and we couldn't have had a more perfect golf day!
The 25 teams swung through 18 rounds of golf. With added flag games, hole-in-one contests, and the GOLF CANNON, it's safe to say everyone had a blast supporting Scouts!
Thank you to all the volunteers who helped put the event together, including the Scouts who conducted a short flag ceremony before tee-off. The committee (including Mike Portzen Jr, Leo Hickie, Matt Giese, Tom Flynn, Creed Waelchli, and Michele Malone) made sure we had a full course of golfers. Thank you to all of our sponsors, especially our event sponsor – Truck Country, and our corporate sponsors – Portzen Construction and J&R Supply.
---
Grant Updates
We are so thankful for the support of all our grantors. Below are some recent grants we have been awarded.
Delaware County Community Chest provided funds for promotional materials. This includes our summer camp brochures as well as our fall promotional materials.
The McDonough Foundation provided funds to support and expand our STEM programs.