Scouting at Home
Cub Scouting has a strong tradition of bringing families together. In the age of social-distancing, this tradition has not changed. In fact, now is the perfect time to do some Scout activities as a family.
We will be sharing bite-sized Scouting activities that can fulfill some of the Cub Scout requirements, get your family moving, and are really fun! Make sure you don't miss any of the activities by following our Facebook page!
Outdoor challenges
Service project ideas
Religious opportunities
STEM missions
Community videos
And more!
---
Fearful Symmetry
You have the opportunity to earn the Fearful Symmetry Cub Scout Nova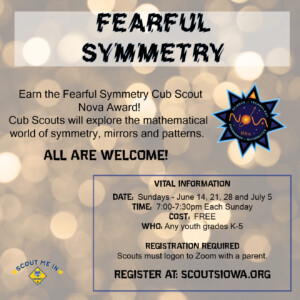 award! The STEM Committee is offering their Fearful Symmetry event online – and for FREE! During the program, Cub Scouts will explore the mathematical world of symmetry, mirrors and patterns.
Dates: Sundays, June 14, 21, 28 and July 5
Zoom sessions: 7:00-7:30 PM
Cost: FREE
Who: Any youth grades K-5
Registration Required at scoutsiowa.org
Participating Scouts will receive assignments for each segment ahead of the meeting and are expected to do parts at home and then share/discuss what they have done in the Zoom sessions.
Meeting information will be e-mailed ahead to registrants only. This will be a series of four half-hour sessions using Zoom Meeting online to completed the entire Fearful Symmetry event. We will send you all 4 meetings when you register.
---
Scouting On!
Our units have been busy completing requirements – all from their homes! Check out some of the ways the Packs and Troops have continued to "Scout at Home".
Pack 5 – Handed out and celebrated Scouts awards while maintaining social distancing. A leader (with mask) taped awards to the door before ringing the bell and stepping back. The leaders kids (also masked) held flags and cheered from the curb.
Pack 15 – Each week, the Cubmaster has put together a virtual meeting to finish the rank requirements. So far Lions and Tigers are completed!
Pack 68 – Scouts are continuing to do some Scouting projects at home with their parents. Check out the cool science experiment that was shared: https://www.facebook.com/sagevillepack68/videos/963661180715888/
Troop 5 – Meets virtually each week, with older Scouts doing learning
presentations for the younger Scouts. The Patrol Leader Committee meets every 2 weeks to plan meetings. Plus each Scout was given a personal lesson plan to work on and give to the Scoutmaster, and the entire Troop is working on family cooking for the cooking merit badge.
Troop 29 – Scouts continue to work on merit badges. Check out the video of one of their Scouts teaching us all how to wash our hands: https://www.facebook.com/pdiller007/videos/10158012587775482/.
Troop 40 – Scouts are working on Personal Fitness, Environmental Science, and Family Life requirements that can be done at home. These include the charting and site observation as well as tenderfoot through first class requirements that require charting and family discussion.
Troop 138 – Meets virtually two times a week while continuing to work on
merit badges. They all completed their cyber chip (so important since we are all online more often these days). One of their meetings they held a house scavenger hunt, and another one, they learned fire building skills with each Scout building a fire at their home.
What is your unit doing during this time? We want to hear! Send a note to Sarah at sarah.brimeyer@scouting.org or Melissa at melissa.neuhaus@scouting.org.
Great Give Day – May 14
Northeast Iowa Council, Boy Scouts of America is excited to be participating in this year's Great Give Day – an event to show off our community's generosity! This day is special to us because Great Give Day offers a chance to raise awareness, raise money and celebrate coming together to make our community better for everyone!
We need your help! On May 14, we ask that you donate to us at GreatGiveDay.org/BoyScouts. Throughout the day, prizes will be given out to local nonprofits based on donations received during that hour. In fact, the 2:00 hour is a Money Match period where all donations are matched proportionally by that period's match pool.
This year is more important than ever for giving to the Northeast Iowa Council, as the loss of United Way funding and negative impacts from COVID-19 adds additional stress to our financial position.
How you can help Northeast Iowa Council during Great Give Day?
Donate to us on May 14 at greatgiveday.com!
Spread the word. Tell  your friends that you gave to Northeast Iowa Council during Great Give Day and that you need their help.
Post about Scouting on your social media pages using #GreatGiveDay. Let your friends and followers know how they can give and how their donations can help us win prize funds.
Cheer us on. On May 14, watch the leaderboard on GreatGiveDay.org and stay up to date on our progress via social media.
Thank you for your ongoing support of the Northeast Iowa Council. It means a lot to us and we're excited to be part of our community coming together to give!
2021 National Jamboree
Experience the best of Scouting from across the country in one really cool place.  From stadium shows to merit badges, adventure sports like whitewater rafting and mountain biking to patch trading, you'll want to be at the Summit Bechtel Reserve in 2021.
Northeast Iowa Council is filling up our Council contingent, to learn more visit http://www.scoutsiowa.org/2021-jamboree/ or contact Jamboree Chairman Bill Strauss at ws8323@att.com or 319.573.4195.
Council-Wide Virtual Roundtable
A council-wide virtual roundtable is being held May 21 7-8:30 PM on Zoom. Join us for a discussion and share information about Scouting On in a pandemic. After the general announcement, Cub Scouts will talk about virtual meeting ideas and social distance award ceremonies. Scouts BSA will talk about virtual meetings and virtual Scoutmaster/Board of Review meetings.
Please look for more information in your email. Register to attend roundtable at: https://bit.ly/2zwFXo9.
Support Scouting – Get a Shirt!
We are participating in a "Here For Good" campaign hosted by Envision Tees. Through the campaign, you can show support for your favorite businesses (including Scouts—yay!) by purchasing a tee-shirt. Envision ships the shirt to you, and $10 from the sale goes to that business.
Check them out at: https://shop.envisiontees.com/hereforgood_2020/shop/home
Where to find National Resources
---
Expiring Youth Protection Training
The Boy Scouts of America places the greatest importance on creating the most secure environment possible for our youth members. One aspect is having our leaders trained in youth protection.
Many leaders took the updated Youth Protection Training when it came out in February 2018 or in the months after. Those who did, now need to renew their training.
You do not need to wait until your training is expired. Go ahead and re-train yourself at My.Scouting.org
---
Virtual ScoutFest 2020
The Great Smoky Mountain Council, Cherokee Area Council, and Blue Grass Council is hosting a Virtual ScoutFest for Scouts and their families the weekend of May 15 and you are invited!
Participate in the live sessions with all four high adventure bases, advancement opportunities, virtual hikes, instructional sessions, and a virtual campfire, all while "camping out" in your own backyard or house.
Dates: May 15-16
Cost: FREE
More Info and Registration : www.ScoutFest2020.org
---
Camp Klaus Welcomes Brook Trout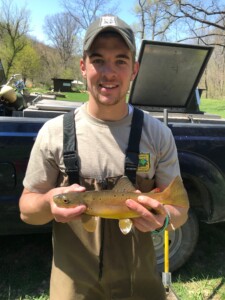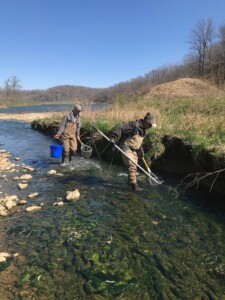 Northeast Iowa Council is delighted to share that we have partnered with the Iowa Department of Natural Resources to help increase the Brook Trout population which is native to the region.  Over the next few months at Camp C. S. Klaus, Brown Trout will be safely moved to the section of the stream below the dam, and Brook Trout will be reintroduced into Brownfield Creek.
In the years to come, this will create wonderful fishing stories and varieties for our Scouts to experience.  Camp Klaus will be the 3rd stream in the state to have a population of naturally reproducing native Iowa brook trout!