As we begin 2020, we know there are many things that steal our focus. So right now we wanted to share some of the highlights and stats from 2019.
More Girls Welcomed into Scouting
February 2019 was when the BSA opened the Scouts BSA program up to girls. Throughout the year, we started three female Scouts BSA troops with a total of 15 girls. More girls also continued to be welcomed into Cub Scout Packs, with 183 girls participating in Cub Scouts in 2019.
With more female troops on the horizon, and the positive experiences our leaders and Scouts have been providing, we look forward to what 2020 brings.
Council Support
We were all shell-shocked by the timing of the membership registration fee increase. Thanks to the NEIC Executive Board for voting to help subsidy the increase for this year.
Training
We know the success of the programs is largely determined by our leaders. And we know that trained leaders keep kids engaged. That's why we're excited to say the number of trained direct contact leaders went up to 69% from 58%. Keep up the great work!
Stats
Here are some other things we found interested in 2019!
Events
Events hosted: 33
Total participants: 2,408
Youth Served
Cub Scouts: 1,301
Scouts: 521
Explorers: 256
Venturers: 5
Scoutreach: 274
Advancement
Merit Badges earned: 1450
Scouts BSA Ranks: 321
Cub Scout Ranks: 923
Eagle Scouts: 39
New Units
Packs: 1
Troops: 4
Posts: 2
We are excited to see all the progress on the new cabin at Camp Burton. We are even more excited to announce the small cabin is now available to use!
A reservation form and $20 fee is due to secure your weekend. The form can be filled out at the Scout Service Center or found on our website: www.scoutsiowa.org/camping/.
Pack 15 went to Luther Manor on December 6. They did fun activities with the residents and helped them setup and decorate their Christmas trees.
Want to share your unit's service? Send your information to your district executive or to Melissa at melissa.neuhaus@scouting.org. You can also tag us on Facebook!
Announcing an NEIC Council Contingent to OKPIK in 2020!
– Would you like to learn how to cross-country ski? Snowshoe? Dogsled? Icefish? Build Snow Shelters?
– Would you like to learn how to enjoy life in extreme weather conditions and temperatures?
Then OKPIK is for you! Time is of the essence though! A $100 deposit is due by February 10, 2020 to the Scout Service Center to secure your spot.
The total trip cost will be $650-700 and final payments will be due by May 10. Spots are limited to 24 attendees so DO NOT WAIT!
The 2020 Eagle Scout Recognition Lunch is scheduled for February 23, 2020 at the Grand River Center in the Port of Dubuque. The Eagle Scout Recognition Lunch celebrates the achievements of the Eagle Scout Class of 2019. More information on how you can be involved in this event is available online: https://scoutingevent.com/178-EagleLunch.
Let's go to the Beach! That's right – this year's theme for
summer camp is the Beach!
Cub Scouts – Mark your calendars for this year's camps that will have you splashing in the water, setting sail, and avoiding sharks!
Cub Scout Beachy Day Camps
June 6 @ Osborne Park, Elkader
August 1 @ Grandview United Methodist Church, Dubuque
Beyond the Beach: Cub Scout Overnight Adventures
June 13-14 @ Camp C.S. Klaus
July 18-19 @ Camp C.S. Klaus
Set Sail Webelos Weekend
June 27-29 @ Camp C.S. Klaus
Scouts BSA Troops – We can't wait to see you when you make it to camp!
We also want everyone to save the date for the Fishing Derby that will be held at Camp C.S. Klaus on August 14-15! We are expanding last year's event to include a fishing clinic Friday night before a movie!
New Trading Post Manager!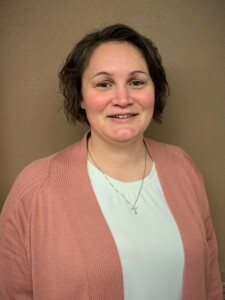 Nettie brings with her 10+ years' experience working in accounting, customer service, and warehouse experience. She grew up in a Scouting family, and was excited to marry into one, too. Nettie has served as a volunteer with Pack 5 since 2016 and has served on various committees with the council since 2017.
She is looking forward to meeting and assisting our Scouts, volunteers, and their parents.
Are you or do you know an avid golfer? Be sure to have
any golfer you know mark their calendars for either of the Northeast Iowa Council's Golf fundraisers.
The Camp C.S. Klaus Golf Outing will be held on June 15,
2020 at the Lone Pine Country Club in Colesburg, IA. It is
a 9-hole golf course that is full of fun games. Golf is followed by a delicious steak dinner and lively auction.
The Boy Scout Golf Classic is held on July 13, 2020 at the
Thunder Hills Country Club in Peosta, IA. It is an event that is not to be missed – featuring a GOLF CANNON! Play 18-holes before enjoying a great steak dinner and auction. Don't miss out!
What could be better than a night with fellow Scouters looking back at the great year of Scouting and honoring those very generous and dedicated volunteers? To prepare for the evening, be sure to do these three things:
»» Register! The Annual Meeting & Appreciation Dinner will be held on March 14,2020 inside the Harbor Room at the Diamond Jo Casino in Dubuque.
Registration can be done at the Scout Service Center (10601 Military Rd, Dubuque) over the phone at 563.556.4343 or online: https://scoutingevent.com/178-appreciationdinner
»» Nominate some great deserving Scouters. Be sure to nominate your top choices for awards such as Award of Merit, Cub Scout/Scouts BSA Scouter/Venturer of the Year, and Silver Beaver.
You know who deserves these awards, so be sure to nominate them to ensure they get the recognition they deserve! Nomination forms are found on the Council website (click the banner on the home page).
»» Send in Photos. Gather any Scouting photos you have of the last year (such as: camp, camporees, meetings, service projects, go-sees, pinewood derbies, crossovers, etc.) and send them to Melissa at melissa.neuhaus@scouting.org.
A Year in Review video is one of the highlights of the dinner; submitting photos is the best way to make sure your unit is represented!
Exploring has career experience program for high schools that focuses on hands-on activity. Many programs are currently accepting registration. Check out the below programs and go to www.exploringdubuque.org/programs to register!
ENGINEERING, ARCHITECTURE & SURVEYING PROGRAM
With so many kinds of careers in the Architectural/Engineering industry – how can you choose one that is right for you? Check out the careers with IIW!
In this program you will explore structural engineering, transportation engineering, municipal engineering, land development, environmental engineering, architecture, land surveying, and construction observation and testing.
COMPUTER SCIENCE PROGRAM
Check out careers in computer programming, coding and app design!
Learn how to write an app for an android device, design and create a computer game to show your friends and family, and use RAPTOR – a programming tool designed at the U.S. Air Force Academy.
AVIONICS PROGRAM
Ever thought of building your own plane – like the Wright brothers? Now is your chance!
With leaders to guide you, you will develop skills in something few people get the opportunity to do. Each meeting, you will be learning and using skills in metalwork, drafting plans reading, engineering and so much more. The skills are applicable to many professions – they are not limited to a career in aviation. Adult mentors are pilots and several are engineers.
STORYTELLERS: PHILMONT BACKCOUNTRY
Written By: Tim Riedl, OA Lodge Advisor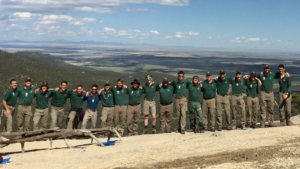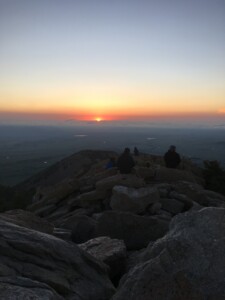 Driving across the New Mexican plains while following the same ridges that early Santa Fe settlers meandered, and seeing the Tooth of Time peek over the ridge truly never gets old. Making your way through basecamp with your crew is nothing short of structured chaos mixed with nervous excitement. The trail not only challenges you, but changes you.
My time at Philmont produced searing images that I will not soon forget! Sunrises and sunsets from its iconic mountains: Tooth of Time, Mt. Baldy, and Mt. Phillips; breathtaking green expanses of Bonito Meadow in front of the backdrop of Rayado Peak; and abundant wildlife in the form of elk, mule deer, black bear, and cougar. The quiet stillness and majesty of the aspen, fir, and spruce forests parallel an empty cathedral.
Philmont, appropriately nick-named "God's Country," is a special pile of rocks that has captivated Scouts and Scouters for generations. It has been touted as the pinnacle of high adventure. I can attest, it certainly is. After five participant treks and eight summers on staff, I have hiked the trails, participated in the programs, and even contributed to Philmont's legacy. It is a place and trial that every Scout should experience in their time. It is a place that brings friendships to another level; it strengthens bonds among blood.
Philmont provides an opportunity to actually USE the skills you've developed over years as a Scout: knot-tying, fire-building, land navigation, physical fitness, cooking, and camping. It is a place to experience things not readily available to most Scouts: gold panning, mine tours, burro racing, spar-pole climbing, Mexican homestead (living history), chuckwagon dinners, and live music campfires! Philmont has inspired awe, helped shape my professional career, given me opportunities to lead, and pushed me past limits I didn't know I had. I've laughed, cried, motivated others, felt pain, and euphoria!
When asked to write a story for this newsletter, thousands of anecdotes raced through my mind. With over 315 nights logged in Philmont's backcountry, it was hard to choose just one. I wanted to take the time and print-space to do two things: 1) share a glimpse of my perspective of Philmont with those who have not been, and in doing so, encapsulate the magnificence of a gem in Cimarron, NM; and 2) encourage those who are thinking about earning a Philmont Arrowhead to go after that peak, and provide information regarding the many avenues to make that happen! I have a deep love and gratitude for Philmont and the opportunities it has provided to me.
Know that a 12-day trek is not the ONLY way to experience the Ranch. There are individual opportunities where you can sign-up to hike the trails and bond with others. Visit https://www.philmontscoutranch.org/philmonttreks/ to learn more about multitude of ways to hike the Sangre de Cristo mountain range that Philmont calls home. E-mail me at tim.riedl87@gmail.com with any questions. As us staff members often say when we leave the Ranch, IWGBTP! (I want to go back to Philmont!) Happy Trails!
CAMP HIRING
The Northeast Iowa Council is looking for individuals who have an interest in working at our beautiful Camp C.S. Klaus this upcoming summer (2020).
Many positions start mid-June and are finished by late July/early August. Several management positions are available. Available positions and their descriptions are available at: www.scoutsiowa.org/cskstaff/.
Air conditioned residence and meals are included, in addition to a seasonal employee salary. Scouting experience is a plus, but not mandatory.
Interviews have started. Please go to our website (http://www.scoutsiowa.org/cskstaff/ ) to print off a paper app or to apply online!
ANNUAL MEETING NOTICE
On Saturday March 14th, 2020, the NEIC will hold its Annual Meeting in conjunction with the Scouter Appreciation Dinner. This meeting is open to all Scouters.
Those eligible to vote are all currently registered Chartered Organization Representatives (representing chartered organization within the Council geographic boundaries) and registered duly elected Council Member-at-Large.
All recommendations for board membership should be made to the council office by February 1, 2020. Recommendations will be forwarded to Council Nominating Chair, Kevin Eipperle.
HIGH ADVENTURE SCHOLARSHIP
Don't forget! If you are going on a high adventure trip – be sure to check out this scholarship!
Applications for the High Adventure Scholarship are now being accepted. The High Adventure Scholarship provides two $250 scholarships to Scouts who exemplify the Scout Oath and Law. Applicants can be Scouts or Venturers participating in a high adventure in 2020. High Adventure trips include Philmont, Northern Tier, Sea Base or a unit's own trip.
Applications are due January 31, 2020 and can be found at: http://www.scoutsiowa.org/youth-resources/.
ORDER OF THE ARROW: WINTER BANQUET RECAP
We'd like to give a big thank you to all who attended our annual Winter Banquet on Saturday, January 4th at Lone Pine Country Club in Colesburg! With around 80 Scouts, Scouters, and family present, it was a wonderful night to celebrate Timmeu lodge. A highlight of the evening was County Sheriff Joe Kennedy giving the keynote address.
Congratulations to all Arrowmen and their achievements over the past year, and here's to another year of service for Timmeu! See below for a list of some of the award winners!
Jacob Adam – Founder's Award
Steve Sheston – Founder's Award
Joe Schmelzer- Arrowman of the Year
Vigil Class of 2019
Vincent Schmelzer | Joe Sheston | Steve Sheston
Ryan Lange | Jacob Adam
It's Pinewood Derby season!
We have your awards covered with medals, ribbons, patches, and trophies!
Gold, silver, and bronze medals – $3.99 each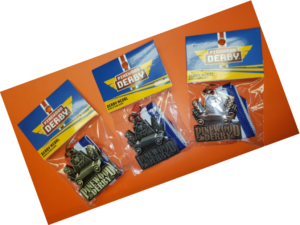 2020 Racer Patch – $1.79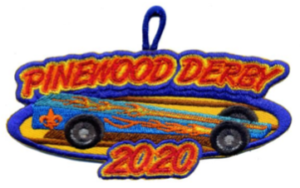 12 pk of Ribbons – $8.49
Check out all of our pinewood derby items sure to enhance your design.  Weights, paints, decals, and more!
BSA approved colored wheels – $1.99 each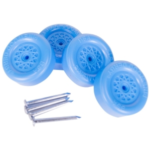 Assorted Decals- $4.49 each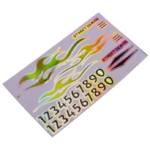 Weights, axle guards, and light kits