Recruitment Game Plan: Step 2
It is time to start inviting families to join in the Scouting adventure! Now is the time to turn in your recruitment night information to Sarah! With that information, the council will get started on your unit's promotional materials!
Steps to having a successful recruitment event:
Hold a Parent/Committee Meeting
Turn in the Pack Contact Sheet/Calendar Sheet: This was sent to you via email.
Update your Pack's BeAScout Pin
Learn how to utilize the online registration process
How to Run a Virtual Recruitment Night
Follow the steps below to run a successful virtual Recruitment Night. For more specifics checkout the article at https://scoutingwire.org/use-this-virtual-rally-plan-to-recruit-scouts-during-covid-19/.
Step 1: Organization Meeting
Step 2: Plan the Join Night and Agenda
Step 3: Send out the invitation for Join Night
Step 4: Hold the virtual Join Night
Step 5: Accept new members online
Mark Your Calendars: Recruitment Training Sessions
Tuesday August 25th National Recruitment Webinar 7pm
It's Not Too Late: Five Things You Should be Doing Now
Thursday September 3rd Virtual Roundtable 7pm
Traditional Recruitments, Popcorn, Leader Training and CS Den Meeting Resources
Past National Recruitment Webinars are recorded and ready to view on https://scoutingwire.org/marketing-and-membership-hub/. These include:
Fall Recruitment
School Access and Peer-to-Peer Recruiting
Tech Edition—BeAScout.org, Invitation Manager
Scoutbook 101, "Who's Zooming Who?"
Geofencing, Search, Social Media, Peer-to-Peer Recruiting
2020 Popcorn Sale
Popcorn sales are a great way to fund your entire year of Scouting! Last year, 50 units averaged $2,350 each in profits and prizes for their program expenses.
The Northeast Iowa Council is committed to supporting your unit to maximize your popcorn fundraising campaign.
Sale Officially begins Saturday, September 19!
New this Year!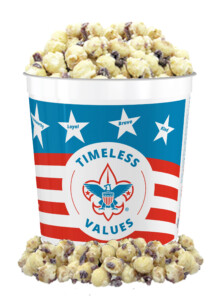 New Popcorn! White Ruby | A tantalizing blend of sweet popcorn & tart cranberries in white fudge. (10 oz)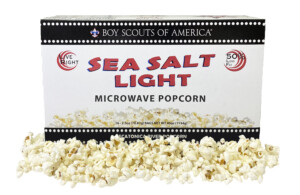 New Popcorn! Sea Salt Light Microwave | Half the fat and 0 grams of trans fats. Tender popcorn with a sprinkle of sea salt. (16 pack)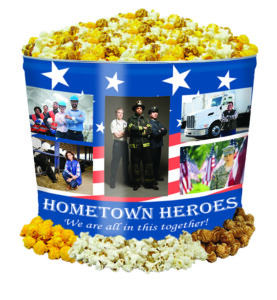 New Tin! Hometown Heroes Trio Tin | Pecatonica River Popcorn took our council's suggestion and created a tin celebrating the hometown heroes (truck drivers, farmers, teachers, manufacturers, scientists, healthcare workers, emergency personnel, and grocery clerks, and more). Inside are 3 bags of popcorn: cheddar cheese, caramel corn, and natural. We recommend you sell them by suggesting the buyer gift them to a hometown hero.
New Tin! Chicago Bears Tin | Filled with Milk Chocolaty Pretzels, this tin is perfect for the Chicago Bears fans. (16 oz)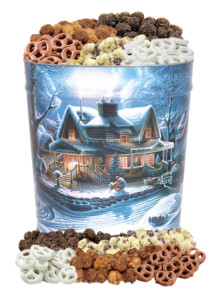 New Mix! Chocolate Lover's Tin | The Chocolate Lover's tin has removed the candies and added both Milk Chocolaty and White Chocolaty Pretzels! This is the only way to get your White Chocolate pretzel fix!
New Ordering Tools! Door Hanger order forms | To assist in taking socially distant orders, each Scout will be provided with door hanger order forms. Just add your Scout's information (we'll provide a template) and use strategically.
New Form Distribution! Direct to Scout homes | To support social distancing, each Scout of a popcorn selling unit will have their forms sent directly to their home.
New Popcorn Kernel Gifts! | This year each unit will receive a special edition kerchief for the Popcorn Kernel. Remember—don't judge a hero by the size of their cape!
New Prize Contests! | In addition, to sales level prizes, the council is holding 5 different contests.
1. Super Saturday Contest: Held the first weekend of the popcorn sale (Sept 19 & 20). The top Cub Scout and Scouts BSA Scout seller wins a great prize!
2. Online Sales Contest: Held throughout the sale. The top Cub Scout and Scouts BSA Scout seller wins a great prize!
3. Hometown Heroes Contest: Held throughout the sale. The top Cub Scout and Scouts BSA youth per district (on the Hometown Heroes Tin) will win an Amazon Echo.
4. Mystery House Contest: Held starting September 26. We will be releasing clues to "Mystery" houses throughout the council. The first Scout to find a mystery house will be given a gift card!
5. Winner's Circle Contest: Each Scout selling over $2,000 in popcorn wins an additional prize from the Winner's Circle.
Scouting For Food
What a great turnout for Scouting for Food! We loved seeing the community come together and support the Dubuque Food Pantry. Together, you collected over 9,457 pounds of food and $8,589 to support the Dubuque Food Pantry.
A big thank you to all the Scouts, Scouters, and their families for gathering and sorting through all the donations! Thank you to the committee for putting the event together.
We could not do this without our sponsors! Thank you to Mercy Dubuque, the Telegraph Herald, Union-Hoermann Press, the Community Foundation of Greater Dubuque, Radio Dubuque , Selco, Hy-Vee Food Stores, and Dubuque Area Labor Mgmt.
GrantUpdates
We are so thankful for the support of all our grantors. Below are some recent grants we have been awarded.
Alliant Energy Foundation provided funding for an AED for Camp Klaus. This is a wonderful item to have at camp for us to be prepared.
Dupaco R. W. Hoefer Foundation provided funding for summer camp supplies as well as program support for advancement, STEM and Exploring.
September 3—Council-Wide Virtual Roundtable
September 15 & 17—Popcorn Dinners
September 19—Popcorn Sale Kick-Off
September 21—Camp C.S. Klaus Golf Outing
October 19—Popcorn & Prize Order Due to the Council
October 31—Popcorn Distribution
November 23—Popcorn Payment due to the Council
Trading Post
Fall recruitment and the start of school means you need to be ready for the Scout year ahead! We have all of your leader handbook needs covered.
We didn't forget about the Scouts!
We have all handbooks ready for them, too!
Email Nettie with your order today!
nettie.elliott@scouting.org