It is once again that time to start thinking about summer camp.
While we had a long winter, the properties team is putting the finishing touches on a couple projects around camp. This year handicapped accessible toilets will be available in the trading post area. Also, changes have been made to the changing rooms at the waterfront to provide more privacy.
Unfortunately, there are Scouts, from time to time that miss out on a camping experience because the dates their Troop is attending conflicts with a family commitment. If you have Scouts who would love to go to camp, but just can't go when the Troop is going, let us know. We will do our best to match those Scouts of up with another group. Right now, there are opening in weeks 1 and 4 that ensures all our Scouts can get a summer camp experience.
Also, don't forget about Cub Camping. Over the summer, opportunities for overnights and day camps are still available.
Our camp director, Tom Mayer and his team have been working hard on programming since last year and we expect it to be another great summer!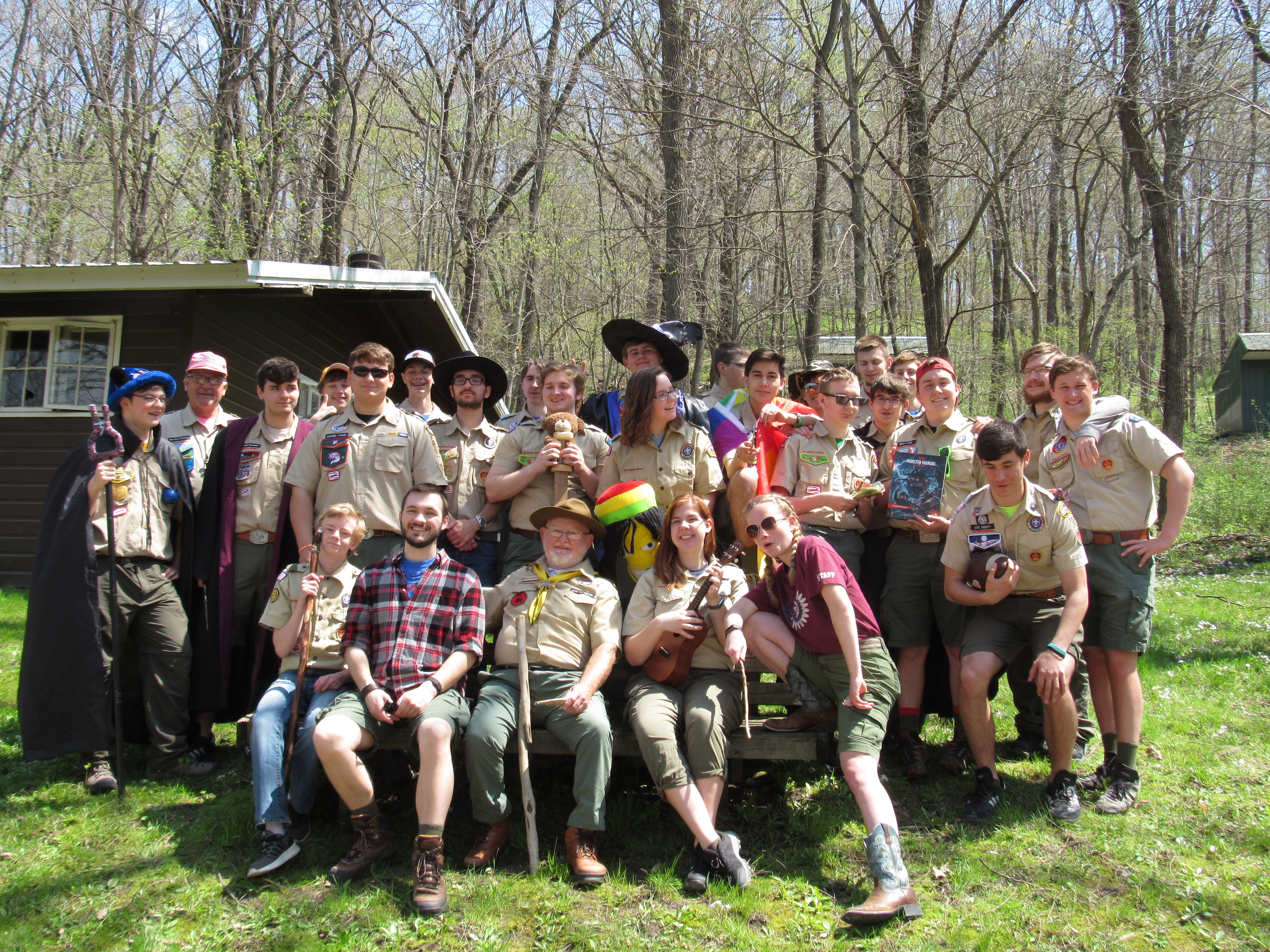 SERVICE PROJECTS
Below are some of the amazing service projects that our units have been doing. Want to share the service your unit is doing? Send a quick summary of the project and up to 5 photos to melissa.neuhaus@scouting.org.
Pack 10's Earth Day Service Project | They made a trip to Ochs Christmas Tree Farm in Galena, IL to learn about trees and helped plant 15 new trees on Earth Day.
Pack 14's Service Project | They met at Dunleith Park in East Dubuque, IL to pick up the park from garbage.
Troop 14 & 114's Service Project | They met at Dunleith Park in East Dubuque, IL where they painted tables, scrubbed the pool,installed the diving boards, and cleaned the pavillions.
PREP FOR FALL
Is your Pack leadership ready for next year? Taking time now to ensure you have leaders and getting them trained over the summer can pay off big in the fall. Here are some basic tips:
Make sure you have a Cubmaster, Committee Chair, and Den Leaders for each boy and girl dens, along with a Pack Committee. All these positions have training on my.scouting.org to help them succeed in their roles for the Pack.
Start preparing as a committee for the fall Pack and Den meetings.
Make sure everyone knows the expectations of their roles and who is planning what events.
Have new leaders take Youth Protection Training and fill out an adult application.
SUMMERTIME PACK AWARD: Earn an Award for Having Fun!
Cub Scout packs that have activities over the summer hold onto their Scouts and leaders longer because they keep fun going all year long! A light schedule of activities over the summer is also a great tool to recruit new Cub Scouts. To get more participation in your summer activities – try using the National Summertime Pack Award.
The award is available for packs, dens, and individual Cub Scouts who complete the corresponding requirements.
Packs: plan and conduct one activity each month (June, July, August)
Dens: at least half of the den attends the three events
Cub Scouts: participate in all three events
Make your activities fun and simple. Try planning family picnics, sport outings, and ice cream parties to keep Scouts active. District day camps and overnight camps count towards this award. More information on this award available on the National website: https://www.scouting.org/awards/awards-central/national-summertime/.
CAMP C.S. KLAUS GOLF OUTING
Only a few spaces are still available! Don't miss out on your chance to enjoy 9-holes of golf (no experience necessary), a filling steak dinner, and a lively auction. The proceeds from this golf outing go to fund improvements at Camp C.S. Klaus.
June 17 | 1:30 shotgun start
Lone Pine Country Club | Colesburg
Register: scoutsiowa.org/KlausOpen
BOY SCOUT GOLF CLASSIC
This exciting outing is full of fun! We are working on some exciting additions to this year's event that you definitely don't want to miss out on. Grab a team and get registered today so you can experience the one-of-a-kind golf outing while supporting Scouts throughout Northeast Iowa!
July 15 | 12:00 shotgun start
Thunder Hills Country Club | Peosta
Register: scoutsiowa.org/BsaGolfClassic
Not a golfer, but want to help out? There are many other ways to support either golf outing including hole sponsorships, attending dinner, securing auction items, or helping the day of the event. Contact Melissa at melissa.neuhaus@scouting.org or 563.556.4343 to let her know how you want to help!
SCOUTS BSA CAMP TIPS
Schedule the doctor visit. A signed physical form (parts A, B, and C) is required for Scouts BSA Summer camp. The physical must have been completed within the last 12 months; a chiropractor exam is not accepted.
Follow the packing list. Now is the time to get any new/borrowed gear prepped for your camping experience. A packing list is available at http://www.scoutsiowa.org/wp-content/uploads/2018/04/Summer-Camp-Packing-List.pdf
Like the Camp C.S. Klaus Facebook page. Stay up to date with photos throughout the week by following the camp Facebook page. This is also where information regarding any inclement weather is shared – although we hope not to have any bad weather!
Label all things. As your Scout gets packed, make sure all items are labeled so they return home. Fancy labels aren't needed – duct tape and a permanent marker work well too!
Check the prerequisites for your merit badges. Make sure you can complete your merit badges at summer camp by getting the prerequisites finished before arrival.
CAMP MERIT BADGES
Thank you to everyone who submitted their Merit Badge preferences for Summer Camp. We are currently plugging those preferences into the schedule, and will distribute those schedules to the Unit Contact Leader by May 17.
At that point, units can go into the schedule, add Scouts, and make changes to the schedule.
As noted in the Leader's Guide, some merit badges have additional material fees associated. Payment for these merit badges should be made during check-in at camp (unless noted).
Rifle – $5
(covers for average ammo to cover merit badge; additional ammo can be purchased at the range)
Shotgun – $15
(covers for average ammo to cover merit badge; additional ammo can be purchased at the range)
Basketry – $5 kit available at the Camp Trading Post
Leatherworking – $5
Sculpture – $5
Welding – $10
***All prices are subject to change
MEET YOUR 2019 CAMP STAFF
Tom Mayer
Camp Director
Jake Vaassen
Program Director
Ben Smith
Commissioner & COPE
Steve Sheston
Ranger
Jacob Adam
Medic
Anderson King
PE@K
Wayne Miller
Kitchen Chef
Beau C.
BASE Camp Director
James R.
Ecology Director
Catherine T.
Handicraft Director
Colin S.
Scoutcraft Director
Cole H.
Eagle Quest Director
Dan S.
Aquatics Director
Daniel L.
Trading Post
Ty P.
Trading Post
Sam D.
BASE Camp Instructor
Dominic H.
Ecology Instructor
Harrison D.
Handicraft Instructor
Joe P.
Aquatics Instructor
David H.
Scoutcraft Instructor
Cam H.
PE@K
Hunter K.
Kitchen Assistant
Daniel F.
Welding Instructor
Jadon C.
Climbing Tower Instructor
Kaelyn L.
Aquatics Instructor
Joseph S.
Eagle Quest Instructor
Peter R.
Kitchen Staff
Canyon R.
Field Sports Instructor
Jackson H.
Kitchen Staff
Kaden W.
BASE Instructor
Reilly F.
Kitchen Staff
CUB SCOUT OVERNIGHT CAMPS
Cub Scouts get to experience everything Camp Klaus has to offer, plus stay overnight! Our program areas have geared up to make sure your Scouts don't have time to say "I'm Bored".
From making their own wands in the handicraft area and going on a scavenger hunt in ecology, to swimming in Lake John Deere and bouldering at the climbing tower, you're more likely to hear "I'm tired". And, of course, you can't experience camp without a great campfire before heading to your tents!
There are two great sessions you can fit into your schedule.
Session 1 | June 22-23
Session 2 | July 20-21
Check-in begins at 10:00 am
Register for either weekend at: https://scoutingevent.com/178-cubcamp
CUB SCOUT DAY CAMP
Can't get to Camp Klaus or unsure of staying overnight? Test out the fun activities at Cub Scout Day Camp! All youth, boy & girls going into Kindergarten-5th grade, are invited to attend.
Dellaykee Day Camp
Saturday, June 1
Osborne Conservation Center in Elkader
Dubuque Day Camp
Saturday, August 3
A.Y. McDonald Park in Dubuque
Registration begins at 9:00 am with activities starting at 9:30 am. Activities include: bb guns, archery, science experiments, tug-of-war, games and so much more. Register at: https://scoutingevent.com/178-DayCamp
WEBELOS WEEKEND
Scouts going into 4th or 5th grade are invited to a special "Webelos Only" weekend at Camp Klaus! During this fun-filled week, Webelos choose the activities they want to do!
They have the chance to work on up to 10 different Webelos pins. In addition there will be climbing, swimming, archery, bb guns, and a trip to the ice cave available to choose from.
Available Pins:
Art Explosion | Aquanaut | Cast Iron Chef | Castaway
First Responder | Game Design | Into the Woods
Scouting Adventure | Stronger, Faster, Higher | Sportsman
July 5-7 | Check-in begins at 1:00 pm Friday
Register at: https://scoutingevent.com/178-webelosweekend
PACKING TIPS FOR CUB PARENTS
While a full packing list is available to you on the ScoutsIowa.org website, we wanted to share a few additional tips as you're preparing to visit Camp Klaus.
Bring comfortable walking shoes. The only mode of transportation at camp is your feet – make sure your shoes give you the support you need.
Leave the alcohol and tobacco products at home.
Allergies – make sure we are aware of any allergies prior to arrival.
Health Forms for Scouts and adults are required. Forms (parts A & B) need to be turn in during check-in. If you forget yours, you will need to fill one out upon arrival.
Bring a bag to carry with you. The camp sites are on a hill and you likely won't want to stop at it often.
Bring along spending money for souvenirs and snacks. Trust us – this will be a favorite spot for your Scout.
NEIC CAMPORALL REVIEW
Over 250 Scouts, parents, and leaders descended on the Northeast Iowa Community College Peosta Campus (despite the April snow shower) for this year's Camporall held April 26-28.
Scouts BSA members, Webelos, and Explorers each chose a career track to explore during Saturday's programs Each track included a rotation of hands-on activities in fields offered by the college. Tracks included:
Agriculture Safety
Construction
Computer Science & Design
Find Your Path
Health
Skilled Trades
Transportation
Cub Scouts (Lions through Bears) each chose four exciting activities to fill up their day. Activities included:
Frogs, Snakes, & Other Slimy Things
All About Weather
Bet You Can Build That
Fishing
To the Rescue
Osmo
Build a Bird House
Phone Photography
Virtual Reality/John Deere Forestry
Thank you to all the people who made this event possible. Thank you to Alena Toberman and Dave Scofield for working with NICC to ensure all the details were in place. Thank you to the host Troops – Troop 5 (Peosta) and Troop 34 (Manchester) for being the on-site contacts for question. Thank you to all the volunteers who helped run a class, watch over classes, directed Scouts or just braved the weather to attend this event.
And a very big thank you to the staff and volunteers from NICC for hosting all our Scouts and providing a fun and unique camping experience.
PANCAKE BREAKFAST REVIEW
The annual Order of the Arrows Mother's Day Pancake Breakfast was another success. Held on Sunday, May 12, thousands of people joined the Timmeu Lodge at Eagle Point Park for an All You Can Eat breakfast of pancakes, eggs, sausages, coffee, milk and orange juice.
More tickets that ever were sold ahead of time at the Dupaco branches. Thank you to Dupaco for providing posters and selling tickets prior to the event at two of their branches.
Thank you to the City of Dubuque for waiving the park entrance for all our attendees and hosting us at Eagle Point Park.
Thank you to all the pancake flippers, table runners servers and all the other roles involved in making the event such a success.
Finally, thank you to all those who joined us for breakfast with a beautiful view of the Mississippi. We hope this kicked your Mother's Day off right. As always, your continued support is greatly appreciated.
DUBUQUE PINEWOOD DERBY REVIEW
The Dubuque Pinewood Derby was fun for all. There was 44 Cub Scouts from all over Dubuque. Thank you to Pack 7 from St. Anthony's for hosting this year's Pinewood Derby. Also, thank you to St. Anthony's School for the use of space.
Congratulations to all our winners!
Lions
1st place: Wyatt H. Pack 14
2nd place: Caden H. Pack 100
3rd place: John K. Pack 10
Tigers
1st place: Ben V. Pack 100
2nd place: Bo S. Pack 7
3rd place: Harvey K. Pack 54
Wolves
1st place: Joey B. Pack 68
2nd place: Carson G. Pack 14
3rd place: Carter B. Pack 55
Bears
1st place: Jaxson E. Pack 68
2nd place: Jack K. Pack 14
3rd place: Mason B. Pack 7
Webelos 1
1st place: Joshua S. Pack 14
2nd place: Carter R. Pack 14
3rd place: Wyatt P. Pack 65
Webelos 2
1st place: Lane K. Pack 68
2nd place: Sam S. Pack 55
3rd place: Charlie K. Pack 14
Judges Awards
Scouts Choice: Jack G. and Will G. (brotherly tie) Pack 91
Best Use of Imagination: Joshua S. Pack 7
Most Patriotic: Tate S. Pack 68
DELLAYKEE PINEWOOD DERBY REVIEW
The Dellaykee Pinewood Derby was such a fun day! Top Cub Scouts racers from all trhoughout the district came to St. Johns Lutheran Church in Guttenberg to participate. I'd like to take a moment to say thank you to St. Johns for letting us use your facility and to Pack 35 for hosting!
Congratulations to all our winners!
Lions
1st place: Mason P. Pack 35
2nd place: Zayne G. Pack 35
3rd place: Parker H. Pack 38
Tigers
1st place: Ayden L. Pack 64
2nd place: Cole B. Pack 40
3rd place: Jaxon A. Pack 64
Wolves
1st place: Clayton S. Pack 35
2nd place: Colt H. Pack 39
3rd place: Trace M. Pack 38
Bears
1st place: Logan E. Pack 35
2nd place: Ryker P. Pack 41
3rd place: Caleb B. Pack 40
Webelos 1
1st place: Jeremiah L. Pack 35
2nd place: Darek L. Pack 64
3rd place: Sam M. Pack 35
Webelos 2
1st place: Stanley F. Pack 38
2nd place: Drake H. Pack 64
3rd place: Brent R. Pack 38
As like last year, Scoutmaster /Assistant Scoutmaster training will be held for leaders at resident camp. More information on days and times will be available when you arrive at camp.
Top Trained Units: (Highest Percentage of fully trained leaders)
Congratulations to our two 100% trained units!
Packs:
Pack 60 Dubuque 91%
Pack 40 Dellaykee 90%
Pack 35 Dellaykee 75%
Troops:
Troop 38 Dellaykee 100%
Troop 86 Dubuque 95%
Troop 14 Dubuque 89%
Top Crew: Crew 48 80%
Contact your district executive to see how your unit stacks up!
May 31 | Camp Cards Due 50%
May 31 | Natural Rock Climbing Instructor Training
June 1 | Cub Scout Day Camp – Elkader
Scouts will enjoy herbology, potions, transfiguration, and more!
READ MORE
June 3 | Aviation Night – Cub Scouts
Scouts will enjoy model planes, drone demonstrations, paper airplanes, bottle rockets and more!
READ MORE
June 7-9 | OA Spring Fellowship
Become a full Ordeal Member of the Order of the Arrow
READ MORE
June 16 | Camp C.S. Klaus Summer Camp Begins
June 17 | Camp C.S. Klaus Golf Outing
Help provide continuous improvements to Camp!
READ MORE
June 22-23 | Cub Scout Overnight Camp
Activities include climbing walls, swimming, and caring for magical creatures.
READ MORE
July 5-7 | Webelos Wizard Weekend
Scouts choose their own activities as they earn pins and enjoy all the magic of Camp Klaus!
READ MORE
July 15 | Boy Scout Golf Classic
Golf "fore" Scouts at Thunder Hills!
READ MORE
July 20-21 | Cub Scout Overnight Camp
Activities include climbing walls, swimming, and caring for magical creatures.
READ MORE
Getting Ready for Summer Camp?
When our youth members wear the correct uniform at a Scouting function, they are showing others – and reminding themselves – of their commitment to the ideals of Scouting: The Oath, the Law, duty to god and loyalty to country, and promise to help others at all times. Their uniform not only lets them show the world how they advanced in Scouting, it displays their Scout spirit and commitment to Scouting for all to see. Uniforms are available at the Council Trading post on Military Rd in Dubuque.
NEW! Americana Flag T-Shirt…$7.99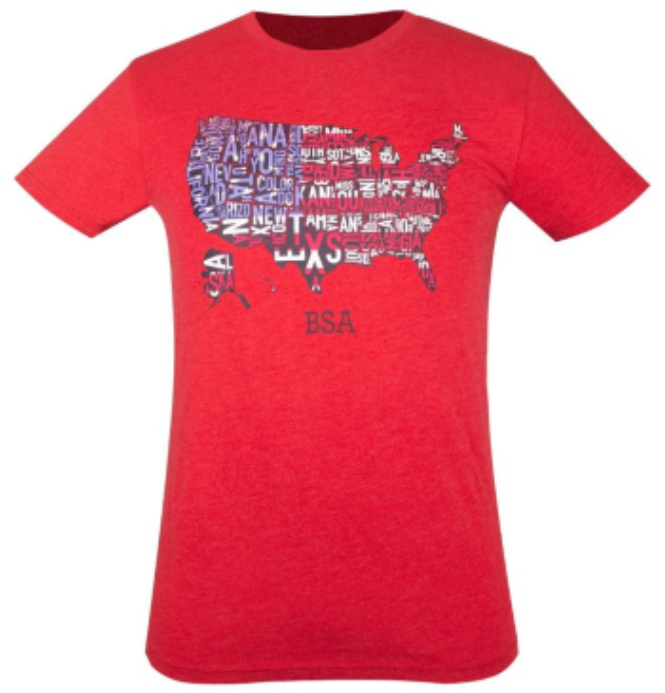 This t-shirt is red and features a full front screen print listing of all 50 states in the shape of the United States, with "BSA" printed below the graphic! It is made from a soft blend of 60% cotton and 40% polyester.
Protect Your Handbooks

You have invested in the ScoutsBSA handbook, now keep it in great shape with the newly designed cover. This is designed for the wire-bound edition of the Scouts BSA handbook. The entire cover zips closed for secure storage. It has a book marker and a mesh zipper pocket along with a pen holder and a name card pocket. A great buy at $9.99.
Uniform Shorts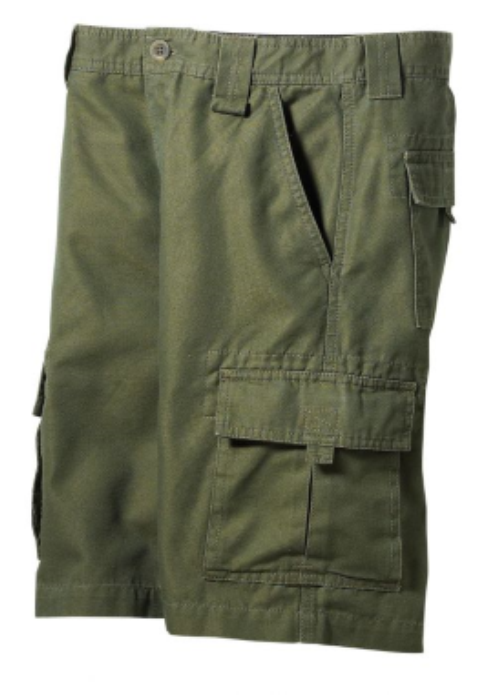 All our Scout pants unzip into shorts, but another great option is the canvas cargo shorts. The Scouts BSA Uniform Canvas Cargo Shorts are a brushed 100% cotton canvas short that are enzyme-washed for a softer feel.
Youth Sizes – $27.99
Adult Sizes – $29.99
Want a Good Night Sleep at Camp?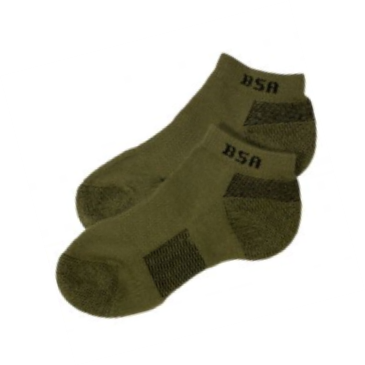 One of the most important summer camp items you can take to camp is SOCKS. Roll a pair of socks and stuff them in the bottom of the sleeping bag. You will have a nice dry warm covering for your feet during the cool evenings at camp. Socks are a fast selling item in the camp trading post. The Council Trading Post has a good inventory of socks on hand – ankle, crew and knee socks for $7.99 a pair.
Moose in the Raft Shirt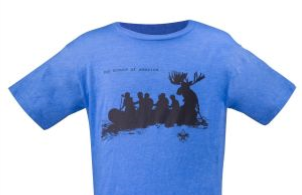 This light blue t-shirt with a canoe full of Scouts powered by a Moose in the back will bring a smile to your face when you see it. It is an extra soft blend of 50% cotton/50% polyester. We have youth and adult sizes on hand at the council trading post – $14.99.
Graduating Eagle Scouts!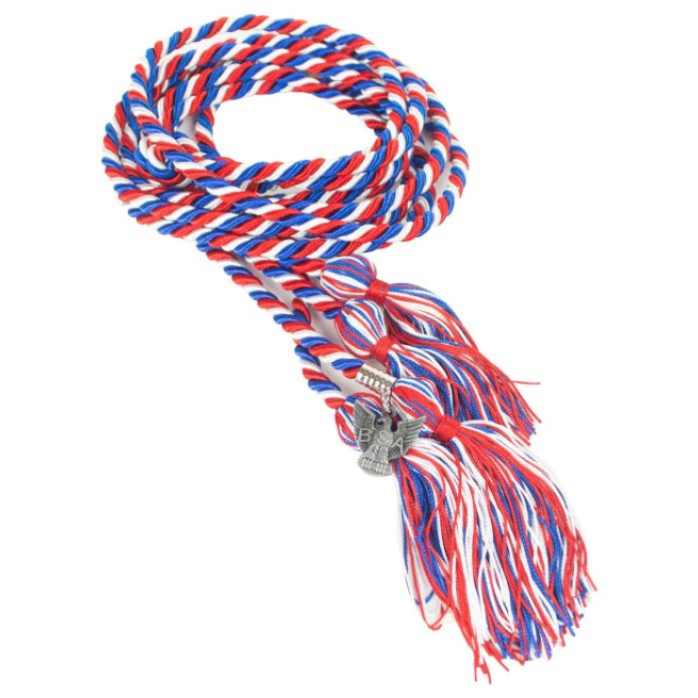 Wear the Eagle Scout Honor cords proudly on your graduation day, and let everyone see what an amazing accomplishment you have earned!
Available now in the Scout Shop!