District & Council Events
This past winter has been a rare one when it came to severe weather. There were many school cancellations and delays. When it comes to Scouting, we were also affected. Many Scouters shared that limited meetings were held in the months of January and February. Weather affected district events as well, causing cancellations or low attendance.
Because of this, it is an appropriate time to talk about how district activities affect the overall budget. District budgets are created in the fall for each upcoming year. They are shared with key volunteers and are then added into the overall council budget before year end. District activities are not large profit centers, but at the same time they can not lose money, as it would be irresponsible to do so. When one event fails financially, the difference needs to be made up in other events.
While some costs are very visible, such as patches, there are also other, sometimes hidden, costs such as site and participant fees charged by locations, facility fees such as portable bathrooms, credit card fees and many other incidentals. Obviously each event is unique, that is why prices change from year to year and event to event.
Overall the amount these events are budgeted to make up only 2% of the overall budget; unlike Friends of Scouting and popcorn sale revenues, which represent a much larger percentage of the budget.
While we are always looking for improvements, when it comes to district events, fiscal responsibility plays a big role in the financial health of the Northeast Iowa Council.
Details on upcoming events are available on the Event Details Tab. Be sure to check them out!
Friends of Scouting Season
Due to the difficult winter weather over the last few months, March is now in the middle of Friends of Scouting season. For those of you who don't know, Friends of Scouting is the annual appeal to families and friends of the Northeast Iowa Council. Thanks to the generosity of council families, over $140, 000 is raised annually to support Scouting.
At times, people ask why they should give? Ultimately, without the generosity of families and individuals who give, prices of events, activities and camp would all increase at a higher rate.
Friends of Scouting has become even more important in the last few years due to cuts from the United Way. Many already know, the fees Scouts pay to register for Scouting does not stay local. However, all the funds donated during the Friends of Scouting campaign, do stay local.
If your unit has yet to have its presentation, please consider a gift at that time. In order to continue to provide the best character education program out there, we need your help.
Meet the New Order of the Arrow Advisor
For nearly the last two years, Terry Flynn has served as Order of the Arrow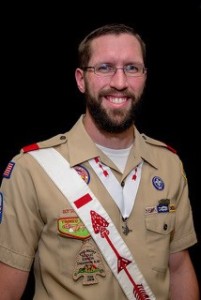 Advisor. This summer he will hand the reigns over to Tim Riedl.
Tim, an Eagle Scout, is a product of the Northeast Iowa Council. He has an impressive resume when it comes to both the OA and staffing at Camp C.S. Klaus and Philmont. He has spent a combined 14 summers serving as staff at both camps.
When it comes to the OA, he has held many leadership positions both locally and nationally since joining in 2000. He has also received several awards along the way, including the 2018 Order of the Arrow National Distinguished Service Award.
The council would like to thank Terry for all his work over the last two years and at the same time, welcome Tim to the position.
Former NEIC Eagle Scout Recognized
Jason Accola, an Eagle Scout formerly of Troop 14, and former Timmeu Lodge Chief was recognized recently by the Pathway to Adventure Council, based in Chicago. Accola was awarded the National Eagle Scout Association (NESA) Outstanding Eagle Scout Award.
The NESA Outstanding Eagle Scout Award (NOESA) is a distinguished service award of the BSA. It is awarded to an Eagle Scout by the National Eagle Scout Association for distinguished service to his profession and community upon the recommendation of his local BSA council NESA
committee, Scout executive and council president.
The award was created to recognize notable Eagle Scouts who had either performed their distinguished service closer to home (at the local, state, or regional level) or who were known nationally, but had not yet met the 25-year tenure as an Eagle requirement for the Distinguished Eagle Scout Award.
Camp Card Sale
A Scout is Thrifty…helps pay your own way! Your Magical
Adventure Camps costs could be covered by: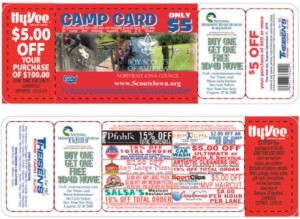 Cub Scout Magical Adventure Day Camp= 12 cards
Cub Scout Magical Overnight Adventure= 30 cards
Webelos Wizard Weekend= 40 cards
Scouts BSA Summer Camp= 102 cards
The Camp Card Sale allows units to raise funds to pay for their summer Scouting program. This includes purchasing camp equipment such as tents, backpacks, and sending Scouts to Cub Scout Camps and Scouts BSA Summer Camp.
The Council's goal is to replace the Munter Lodge tables with the proceeds from this years camp card sales.
This year's deals include:
$5 off at Hy-Vee (with your $100 purchase)
Buy one get one Free 3D/4D Movie at the National Mississippi River Museum & Aquarium
$5 off at Theisens (with your $50 purchase)
15% off at Catfish Charlie's
$2 off a Large Pizza at Casey's
$3 off a Large or $2 off a Medium Pizza at Happy Joe's
10% off at Salsa's Mexican Restaurant
15% off at Pfohl's
$2 off at Vertical Jump Park (Hour Jump or more)
$5 off at Miracle Car Wash (Ultimate or Rain X Service)
$5 off at Sport Clips (MVP Haircut)
15% Off at Artistic Cleaners Inc.
$8 per hour per lane at Creslanes
Pinewood Derby – Dubuque
Did your Cub Scout have a blast at Pinewood Derby for your Pack?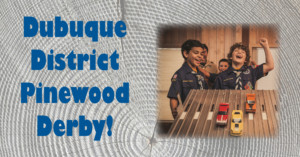 The Dubuque District Pinewood Derby is open to all Cub Scouts no matter where you placed at your Pack's Pinewood. A Cub Scout could race the same car as they did at their Pack Pinewood Derby or make a new one.
Come enjoy the fun of racing against Cub Scouts from all around Dubuque County on April 6th at St. Anthony School. Registration starts at 10:30am. Scouts Racing will begin at 11:30am. There is an open division, so any siblings and parents can also join in the fun.
Judges awards for design will be Scout's Choice, Most Patriotic, and Best Use of Imagination.
Registration and rules available at: https://scoutingevent.com/178-dbqpinewood
Pinewood Derby – Dellaykee
Each Dellaykee District Pack is invited to send 12 Scouts (2 from each rank)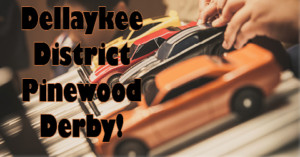 to the District Pinewood Derby held Saturday, April 13th at St. John's Lutheran Church in Guttenberg, IA.
The registration form needs to be completed and sent to the Council Service Center by 4:00 PM on Wednesday, April 10th, 2019 with payment of the registration fees in order for Scouts to be eligible to race.
There is a $6.00 entry fee for each Scout racing. Trophies will be awarded to the fastest cars in each rank division. Registration and race times are available on the council calendar: https://scoutingevent.com/178-dellpinewood
2019 Camporall – Make Things Happen
The 2019 Camporall is where you can Make Things Happen! The Camporall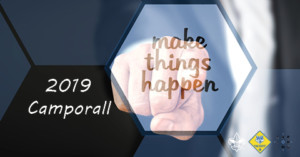 takes place on April 26-28 at the Northeast Iowa Community College, Peosta Campus.
Check out some different career paths. From Agriculture, construction, computers, health, trades, and transportation – there is a track for you! Each career track is filled with hands-on activities geared to give you a leg up in that career path.
For younger Scouts, enjoy some hands-on activities such as frogs, weather, building, fishing, photography and robotics.
Each participant will receive a Camporall medallion crafted by our host – Northeast Iowa Community College – for you to remember the event!
Information about the different activities and registration can be found on the council calendar: https://scoutingevent.com/178-camporall.
All Scouts are invited to attend this future focused camporall – Cub Scouts, Scouts BSA, Crew Members, and Explorers. Registration Opens at 9 AM March 21 and closes at midnight April 18. All registration must be done online. Optional lunch and t-shirt pre-orders will be available during registration.
Philmont
We have additional space now available for the NEIC Council Contingent to Philmont in 2020! Don't miss out on this life changing High Adventure experience!
– Are you tired of hearing stories from OTHERS about their trips to Philmont?
– Would you like to only take one shower in 11 days and not be criticized for it?
– Do you want to have the experience of a lifetime?
– Would you like to accomplish new and challenging feats like you've never even seen before?
Then Philmont is for you! The Northeast Iowa Council has landed an additional Council Contingents for 2020. Now up to 48 Scouts can visit Philmont! Treks depart Dubuque July 23, 2020 and arrive back in Dubuque August 6, 2020.
Not enough people want to go to Philmont in your troop? Not a problem. You can go with other Scouts from the all over the Council!
Time is of the essence though! A non-refundable $100 deposit is due by April 15, 2019 to the Scout Service Center to secure your spot. The total trip cost will be $1,575 and a payment plan will be made available. Spots are limited so DO NOT WAIT!
Need more info? Call the Scout Service Center (563) 556-4343. Or reach out to Bill Strauss at (563) 583-4658 or ws8323@att.com.
Money Smart Night
Calling all Wolf Scouts! Take a night an earn your Adventures in Coins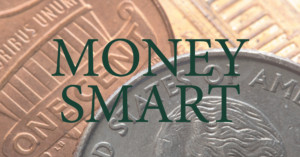 elective belt loop! Seven different stations will highlight money smart objectives.
Stations include: Identifying parts of a coin, Coin Rubbings, Play a Coin game, Create a Balance Scale, Conduct a Coin-Weight Investigation, Plan something you need/want and Making a Kite.
Register for this FREE event: https://scoutingevent.com/178-26993
Golf Outings – Registration Open
Are you or do you know an avid golfer? Be sure to have any golfer you know register for either of the Northeast Iowa Council's Golf fundraisers.
The Camp C.S. Klaus Golf Outing will be held on June 17, 2019 at the Lone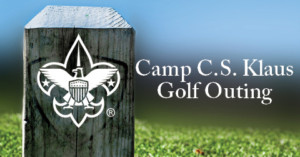 Pine Country Club in Colesburg, IA. It is a 9-hole golf course that is full of fun games. Golf is followed by a delicious steak dinner and lively
auction. Registration is available at: https://scoutingevent.com/178-klausopen.
The Boy Scout Golf Classic is held on July 15, 2019 at the Thunder Hills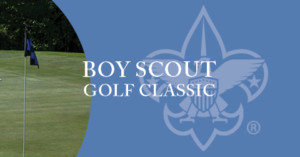 Country Club in Peosta, IA. It is a beautiful 18-hole course played by some serious golfers, and some not so serious golfers, and followed by a great steak dinner and auction. Don't miss out! Registration is available at: https://scoutingevent.com/178-golfclassic.
Magic School Bus Production
When the planetarium is closed and the field trip is ruined, Ms. Frizzle saves the day! The Magic School Bus blasts off into outer space to explore the solar system! Ms. Frizzle gets separated from the group and her class must travel through the planets and beyond to rescue her.
Hop on the Magic School Bus for a ride in Theatreworks USA's new musical adaptation based on the original book series published by Scholastic.
Scouts and families enjoy a discount to this show!
Regular Show Tickets: $9-15
Discounted Scout Tickets: $5
Discounted Adult Tickets: $10
Use discount code "BSARTS" to receive discount. Discount expires day before each show. Online and phone orders are subject to convenience fees.
*Please note: if using the promo code online, click "Choose Seats" so special pricing appears.
Purchase tickets by phone at 563.585.SHOW (7469), online at: http://www.dbq.edu/HeritageCenter/PurchaseTickets/, or in person at the Farber Box Office located in the University of Dubuque Heritage Center.
Enjoy a Magical Adventure
Each Cub Scout becomes a wizard during the Cub Scout camps. The Cub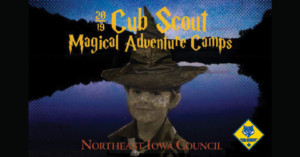 Scout Camping Committee is planning exciting activities that engage Scouts in magical games and STEM related experiments in addition to the traditional activities.
Engage in defense against the dark arts (archery & bb guns), herbology, potions, and transfiguration. During the overnight events at Camp Klaus, Scouts can also climb castle walls, learn how to care for magical creatures, and swim in a "Black Lake".
There are several opportunities for your Scout to participate in a great Cub Scout Camp!
Magical Day Camps | June 1 | Elkader, Iowa
August 3 | Dubuque, Iowa
Magical Overnight Camps | June 22-23 | Camp C.S. Klaus
July 20-21 | Camp C.S. Klaus
Webelos Wizard Weekend July 5-7 at Camp C.S. Klaus
Registration is open! Hurry, registration prices rise after April 15! Register through the Council Calendar or call the Council Service Center at 563.556.4343
Summer Camp Updates
We are very busy getting ready for this year's camp. The Leader's Guide is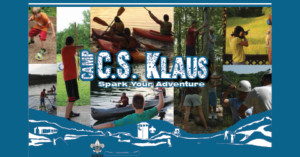 being filled with all sorts of useful information – it will be available soon.
As a reminder, all adults accompanying a Scouts BSA troop to a Scouting activity lasting 72 hours or more must be registered as a leader. This means if an adult is staying overnight during summer camp, they will need to be registered as a leader. The adult application and Youth Protection will need to be processed before the event. This includes the completion of a criminal background check, which cannot be expedited. Please plan ahead!
Itching to get your Scouts signed up for merit badges? This year we are requesting Scouts choose their top picks for merit badges. Your choices will then be placed into the schedule to accommodate as many Scouts' top choices as possible. Selection process will open April 1st.
Registrations for camp are now open! Be sure to register before prices go up April 30!
Cub Scout Bowling
Thank you to all Cub Scouts and families that braved the cold weather February 16th to enjoy some bowling and cookies.
The Cub Scouts and their families could bowl as many games as they could in two hours. Thank you to Dubuque Bowling Lanes for hosting the Cub Scouts and their families.
Pinewood Derby Workday
A great time was had by all the Cub Scouts and families that ventured into the cold weather February 23rd to work on their Pinewood Derby cars.
Thank you to the STEM committee for putting this great event together. And thank you to Westminster Presbyterian Church for hosting the event.
Dellaykee Klondike Derby
Scouts of the Dellaykee District were tired of spending their winter indoors. So they spent their Klondike Day building a survival structure so they could spend the night inside it. Scouts also participated in activities such as two-man sawing, rail splitting, snow snake racing, animal exhibits and wilderness survival.
Thank you to the committee who put this great winter event together! And thank you to Osborne County Conservation Center for being such a terrific host!
High Adventure Scholarship Winners
The Floor Show Furniture and Flooring of Dubuque (in memory of John Seier) grants youth scholarships of $250 each to two youth each year to help offset fees for the High Adventure experience. This is in honor of the example John set as a long time employee by living the Scout Oath and Law.
This year's scholarships were awarded to Josiah Christensen from Troop 60 and Beau Walgamuth from Troop 86. Josiah will put those funds toward his trip to Northern Tier. Beau will put his funds towards the 2019 World Scout Jamboree.
Congratulations Josiah and Beau!
Eagle Scout Recognition Lunch
The Eagle Scout Recognition Lunch was held on Sunday, February 24, 2019 at noon at the Grand River Center in Dubuque. Close to 150 people attended the Council's hallmark event to honor the 2018 Class of Eagles. The event would not have been successful without the support of so many wonderful individuals and businesses; for that we would like to say thank you!
Thank you to all the Table and Eagle sponsors who allowed the Eagle Scouts, parents and Scoutmaster to attend the event free of charge! Thank you to our Corporate Sponsor, Pecatonica River Popcorn, for providing the Eagles, Scoutmasters, and sponsors with a unique memento from the event. Thank you to our keynote speaker, Josh Jasper with Resources Unite for engaging and inspiring the audience. Thank you to the Grand River Center for being such a wonderful host to us. Other supporters of the event include: Linwood Cemetery, Artistic Cleaners, American Legion Post #6 and Auxillary. Thank you also to the Eagle Brunch Committee headed by Tom Sinclair.
Top Trained Units: (Highest Percentage of fully trained leaders)
Packs:
Pack 40 Dellaykee 90%
Pack 35 Dellaykee 70%
Pack 14 Dubuque 70%
Troops:
Troop 86 Dubuque 90%
Troop 5 Dubuque 83%
Troop 94 Dubuque 81%
Top Crew: Crew 48 80%
Contact your district executive to see how your unit stacks up!
SCOUTS BSA NEW UNIFORM FAQ'S
All uniform pieces are official BSA uniforms forever. For instance, a Scout can wear his/her grandfather's uniform and be able to pass a uniform inspection. This also applies to the different council strips.
Strips that say BSA will not be available for purchase, as the new embroidered wording is a permanent feature on all future shirts. All tan shirts will feature a BSA fleur-de-lis emblem and the letters "BSA" in red over the right pocket and will be available as sizes of the former style sell out. If you are fan of the former style we have a good supply of those on hand, so stop in.
There are no immediate plans to change the Cub Scout uniform shirt embroidery.
Girls may choose to wear any of our Scouts BSA uniform bottoms.
GIRLS GREEN ROLL-UP PANTS HAVE ARRIVED!
We now have the new green Scout BSA roll-up pants for girls in stock. They come in size 8, 10, 12, & 14 ($44.99). We will have the shorts in stock when the warm weather arrives, or you can go with any of our zip off pants that are very popular.
They come in the microfiber style ($44.99) and the canvas style ($34.99). The zip off pants come unhemmed. Three great pants to choose from.
Stop in and try a pair on and while you are here get a great pair of crew or ankle socks to complete the uniform($7.99).
Two Separate Versions of the Scouts BSA Handbook!
The difference between the two Scouts BSA Handbook are pictures! The content, requirements and page numbers are exactly the same. All that's different is the photos.
We have both versions (Scouts BSA handbook for Boys and Scouts BSA Handbook for Girls) on hand in the Council Trading Post for $17.99. To keep your book in great shape I highly recommend the book cover that will fit either of the handbooks. $9.99.
REMINDER: All Cub Scouts and Scouts BSA handbooks are available in the spiral form only!
Items Units Are Buying for Cross Over Ceremony:
Pack Graduation Certificate
Arrow of Light Certificate
Green Shoulder Loops
Scouts BSA Handbooks
Year Pins
Arrow of Light Patches (the only rank badge that stays on the uniform from Cub Scouts and Webelos).
2019 Requirement Book is a great resource for new Scouts.
Coins (Good Turn or the Oath Coin (each $4.99) are popular gifts for Scouts crossing over
EAGLE SCOUT GRADUATION CORDS – $9.99
Wear the Eagle Scout Honor cords proudly on your graduation day, and let everyone see what an amazing accomplishment you have earned!