As we get to the mid way point of 2019, camp is underway. Last year we began offering Scoutmaster training during camp. Because it was so well received, it will be offered again this summer. When leaders arrive at camp, they will be briefed on the schedule.
This provides the opportunity to discuss our Strategic plan pillars-Leadership and Governance. Our goals for the remainder of the year are:
Training Chairs in each district
Family engagement plan
Leader training ticketing system
At this point, leaders have been up to the challenge and the number of trained leaders in our council are approximately double compared to last year. However, we have more work to do.
Training Chairs: Each district has a training chair, but as more specialized trainings are sought, our teams need to grow. If you are unsure who your district training chair is, contact your District Executive.
Family Engagement Plan: This is an area where we still need work. By bringing girls into the program in 2018, more family members are eligible to participate. However, there is still work to be done to fully energize parents and get youth.
Leader Training Tickets System: A lot of progress has been made when it comes to a leader training "ticketing" system. Right now, this plan is available for both Scoutmaster and BALOO training.
We still have more work ahead of us, but we are off to a great start. Thank you to all of you who took the time to become trained leaders in 2019!
Service Projects
Below are some of the amazing service projects that our units have been doing. Want to share the service your unit is doing? Send a quick summary of the project and up to 5 photos to
melissa.neuhaus@scouting.org.
Troop 48's Veteran's Memorial Service Project | They clean the Veteran's Memorial Plaza in Dubuque 3 times a year (before Memorial Day, Independence Day and Labor Day) to ensure it looks respectable for those important times of remembrance.
Pack 7's Meal Service Project | They helped Clare Cares serve over 100 people with Café Meal at First Congregational Church of Christ.
Philmont: Change of Plans
In 2018, all schedule Philmont trips were cancelled due to the Ute Park Fire. Several of the Northeast Iowa Council Troops were affected by the change. Hear how some of those Troops pivoted and made new plans.
Troop 91 | By Tim Parks
Troop 91 was scheduled to go to Philmont, but because of the Ute Park Fire, we could not go. The crew had been planning it for 2 years.
When it was cancelled, different families headed in different directions. However as a group, the troop did a 1-day canoe trip down the Mississippi River to get the boys out and get them on a high-adventure trip.
In a fit of frustration, one of the leaders signed up for a 2019 Philmont trek slot. We were waiting list position 725 and we were number 58 for our first choice date. We started making plans to go to Philmont in 2020.
On January 10, 2019, we received an e-mail stating that we were eligible for a 2019 trek, and it was our first choice. We had a meeting the next week to talk with boys and parents. There was enough interest to field a 2019 crew and a 2020 crew!
Since that time, we've elected our crew leader, been on numerous training hikes and even a shakedown weekend. In the shakedown weekend, we packed our gear on Friday night, practiced setting up camp the Philmont way, including hanging bear bags and then took it all with us on Saturday. Luckily, we live in a nice, hilly part of Iowa, so we can train hiking up hills.
Camp Klaus Photos!
We are always adding photos to our camp Facebook page! Be sure to follow "Camp C.S. Klaus" to see some familiar faces!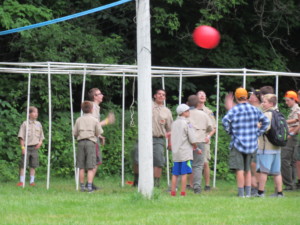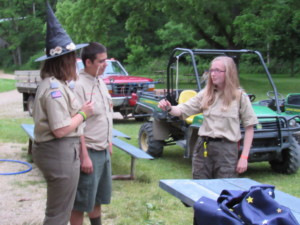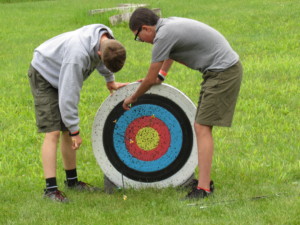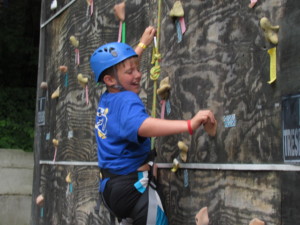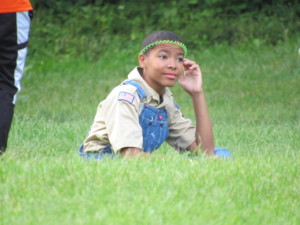 Storytellers Wanted
The Marketing committee has a great opportunity for Scouts, Scout leaders, or parents to tell great Scouting stories. Official "Storytellers" have no additional meetings to attend, your only commitment is to write one story in a 12-month time frame.
Not sure what you could write about? Here are some story ideas:
A fun activity at a campout/meeting
A "lesson learned" experience
A "Scouts view" of a meeting
"Tales of a Den Meeting"
Scout trying something for first time
Favorite camping recipes
Family involvement in activities
Scout overcoming a challenge
How a Scout made a new friend
Parents connecting over Scouting events
Interested in becoming a Storyteller? Contact Melissa Neuhaus at 563.556.4343 or melissa.neuhaus@scouting.org.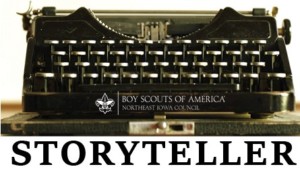 The Boy Scout Golf Classic is a big fundraiser for the Northeast Iowa Council. However, to ensure that everything runs smoothly for the event, we are asking for some help.
Below are the tasks we need help with. Please check which one(s) you are available to help with and fill in your contact information below.
Sign up at: http://www.scoutsiowa.org/golfvolunteer/
Or contact Melissa at melissa.neuhaus@scouting.org.
Golf Registration Table
10:30 am – 12:15 pm
Check in golfers, sell game items
On Course Help
11:30 am – 5:00 pm
Challenge golfers to a betting game, or take photos of teams
Dinner Registration Table
4:00-5:30 pm
Check-in golfers/dinner attendees, provide auction paddles, send online auction texts
Raffle Ticket Sellers
4:00-6:00 pm
Sell raffle tickets, draw raffle winners
100 Board Sellers
4:00-6:00 pm
Sell squares on 100 board
Auction Watchers
5:30-8:00 pm
Watch for bids on auction floor
Auction Tracking
5:30-8:00 pm
Track winning numbers for auctions and fund a need
Check-out
6:00-8:30 pm
Process credit cards, receive payments for items
Runner
6:30-8:30 pm
Grab paid items for guests
Cub Scout Overnight Camps
Cub Scouts get to experience everything Camp Klaus has to offer, plus stay overnight! Our program areas have geared up to make sure your Scouts don't have time to say "I'm Bored".
From making their own wands in the handicraft area and going on a scavenger hunt in ecology, to swimming in Lake John Deere and bouldering at the climbing tower, you're more likely to hear "I'm tired". And, of course, you can't experience camp without a great campfire before heading to your tents!
There are two great sessions you can fit into your schedule.
Session 1 | June 22-23
Session 2 | July 20-21
Check-in begins at 10:00 am
Register for either weekend at: https://scoutingevent.com/178-cubcamp or at the Council Service Center.
Cub Scout Day Camp
Can't get to Camp Klaus or unsure of staying overnight? Test out the fun activities at Cub Scout Day Camp! All youth, boy & girls going into Kindergarten-5th grade, are invited to attend.
Dubuque Day Camp
Saturday, August 3
A.Y. McDonald Park in Dubuque
Registration begins at 9:00 am with activities starting at 9:30 am. Activities include: bb guns, archery, science experiments, tug-of-war, games and so much more.
Register at: https://scoutingevent.com/178-DayCamp
Webelos Weekend
Scouts going into 4th or 5th grade are invited to a special "Webelos Only" weekend at Camp Klaus! During this fun-filled week, Webelos choose the activities they want to do!
They have the chance to work on up to 10 different Webelos pins. In addition there will be climbing, swimming, archery, bb guns, and a trip to the ice cave available to choose from.
Available Pins:
Art Explosion | Aquanaut | Cast Iron Chef | Castaway
First Responder | Game Design | Into the Woods
Scouting Adventure | Stronger, Faster, Higher | Sportsman
July 5-7 | Check-in begins at 1:00 pm Friday
Register at: https://scoutingevent.com/178-webelosweekend
NYLT
NYLT stands for National Youth Leadership Training. NYLT is a 6-day training course that provides youth leaders with an opportunity to enhance their leadership skills while living the Scout Oath, Scout Law, and Venturing Oath in an exciting outdoor environment. Scouts who complete the NYLT course are prepared to meet the challenges ahead and are better prepared to work with adult leaders.
Orientation Meeting: TBD
1st Course Weekend:
Friday, September 27 – Sunday, September 29, 2019
Camp Klaus
2nd Course Weekend:
Friday, October 4 – Sunday, October 6, 2019
Camp Klaus
Any Scout interested must be 13 years of age, be a First Class Scout, have completed the Introduction to Leadership Skills for Troops, and be recommended by their Scoutmaster. For 2019 ONLY: an exception will be granted for girls registered in Scouts BSA to attend NYLT without first achieving the First Class rank.
More information and registration forms are found at:
https://scoutingevent.com/178-NYLT
Wood Badge Training
Wood Badge is the peak adult training program. By earning the Wood Badge, a Scouter has the opportunity to:
Understand the entirety of the Scouting system & be able to provide age-appropriate activities for youth.
Adopt contemporary leadership concepts & learn to apply them to Scouting.
Apply the skills learned as a member of a successful working team.
Revitalize their commitment to Scouting by sharing in an inspirational experience that renews ideas of leadership.
This training course consists of a participant pre-meeting and two weekend sessions:
Orientation Meeting: TBD
1st Weekend:
Friday, September 20, 2019 at 7:30 a.m.
to Sunday, September 22, 2019 at 5 p.m.
2nd Weekend:
Friday, October 18, 2019 at 7:00 a.m.
to Sunday, October 20, 2019 at 5 p.m.
More information and registration available at:
https://scoutingevent.com/178-woodbadge
New Camp Trading Post Items!
Get ready for some new items at the Camp C.S. Klaus Trading Post! Check out all the items when you're at camp this summer!
Metal Dog Tags – $2.95    
These neat metal dog tags have you showing off your Scouting pride with different designs including Cub Scout, Eagle, Fox, Bear and many others!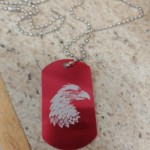 Eagle Walking Stick – $21.95
Have ever wanted to use a walking stick with an Eagle carved into it? We have you covered!
Water Bottle – $10
Forget your water bottle? Want your water bottle to stand out? Check out the orange Camp C.S. Klaus water bottle!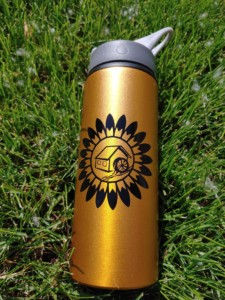 Water Misters – $5 or $9
We all know camp gets hot in the summer! Be sure to pick up one of these great misters. With 2 sizes, you are sure to keep your cool this summer!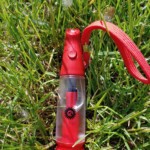 Camp Klaus T-Shirts – $14 ($16 extended sizes)
Be sure to snag a metallic printed Camp Klaus t-shirt. They make great souvenirs to remember your time at camp! Also available in hooded sweatshirts for $30 ($32 extended sizes)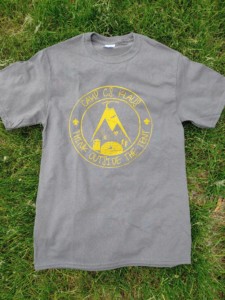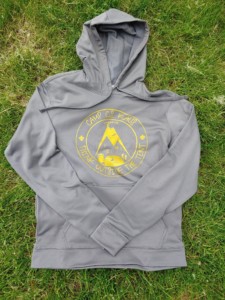 New Snacks!
Fruit Puree – $0.75
Try out the new fruit purees in squeeze tubes! It's a great way to get some fruit on the go!
Root Beer
Also new this year is fountain root beer! Brought in by popular demand – be sure to grab some!
STEM Aviation Night Review
What a great time all of our Cub Scouts had at the Aviation Night put on by the NE Iowa Council STEM committee! On June 3rd, over 45 Cub Scouts descended on Loras College. The Scouts checked out large scale model planes, saw drone demonstrations, conducted paper airplane experiments, created balloon powered boat, and launched plastic bottle rockets.
Thank you to all the STEM committee members for putting on the kick-off to the STEM pack. Thank you also to Loras College for hosting the excited Cub Scouts!
Find photos of the event at: https://www.facebook.com/pg/BSANEIC/photos/?tab=album&album_id=2585373924806198.
Order Of The Arrow Fellowship Weekend Review
The weekend of June 7-9 was a busy one at Camp Klaus! Forty-three Order of the Arrow members participated in the Spring Fellowship weekend. Members helped clean up the camp we all love and helped get it ready for all the campers arriving this summer.
During the Spring Fellowship, 10 Scouts completed their induction into the Order of the Arrow by going through the Ordeal process.
Thank you to all who helped make this weekend a success!
Camp Klaus Golf Outing Review
The weather was beautiful for the 7th annual Camp C.S. Klaus Golf Outing held June 17 at the Lone Pine Country Club in Colesburg, Iowa.
Fun was had by all 17 teams who joined us on the greens for a relaxing and fun 9-holes of golf. Games on the course such as flamingo drive, choose an "alternative putter", and spin the wheel kept the excitement high. After golf, a delicious steak dinner was had by all attendees while bids for live and silent auction items were placed.
Thank you to our event sponsor: Country Bancorporation. We enjoyed having you join us for the day, and really appreciate your generous support of Camp Klaus. You make a huge impact on the success of the event.
Thank you also goes out to our corporate sponsors: the Bonnet Family, Dell EMC, Farmer's Savings Bank, Klaus-Engler Insurance, Peerless Well & Pump, Inc., and Roeder Outdoor Power. Your support is greatly appreciated!
Thank you to all the teams for joining us to fund improvements at Camp Klaus. Thank you to all the auction and raffle donors – all the attendees enjoyed bidding on your generous donations. Finally, thank you to the golf committee – Aaron Seier, Tom Klaus, Tyler Runde, John Bernau, and Dan Paris.
See photos at: https://www.facebook.com/pg/CampKlaus/photos/?tab=album&album_id=2908308022545256
As like last year, Scoutmaster /Assistant Scoutmaster training will be held for leaders at resident camp. More information on days and times will be available when you arrive at camp.
Top Trained Units: (Highest Percentage of fully trained leaders)
Packs:
Pack 60 Dubuque 91%
Pack 40 Dellaykee 90%
Pack 14 Dubuque 82%
Troops:
Troop 38 Dellaykee 100%
Troop 86 Dubuque 95%
Troop 5 Dubuque 83%
Top Crew: Crew 48 80%
Contact your district executive to see how your unit stacks up!
July 5-7 | Webelos Wizard Weekend
Scouts choose their own activities as they earn pins and enjoy all the magic of Camp Klaus!
READ MORE
July 15 | Boy Scout Golf Classic
Golf "fore" Scouts at Thunder Hills!
READ MORE
July 20-21 | Cub Scout Overnight Camp
Activities include climbing walls, swimming, and caring for magical creatures.
READ MORE
August 3 | Dubuque Day Camp
Have fun doing activities such as magical games, herbology,
potions, transfiguration, and much, much more!
READ MORE
Save the Dates
Dellaykee Roundtable – 1st Tuesday of the month August – May
Dubuque Roundtable – 1st Thursday of the month August – June
August 3 | OA Vigil
August 9-11 | OA Fellowship Weekend
September 17 & 19 | Popcorn Dinners
September 21 | Popcorn Kickoff
October 8 or 10 | Zip-A-Rama
October 21 | Popcorn Orders Due
October 26 | Ad Altare Dei
November 2 | Popcorn Distribution
November 9 | Catholic Cub Scout Retreat
November 16 | Cub Scout Fun Night
December 7 or 8 | Saints Scout Night
Gearing Up For The Fall
Start thinking about outfitting your Cub Scout for the Fall school year.
Lions: T-shirt, belt and Lions/Leader Packet
Wolf: Blue shirt with the council shoulder emblem, unit numbers, world crest and rocker, scarf (red or yellow) and slide, belt and Wolf book. (optional hat, capri or zip off pants or skorts are available).
Bear: Blue shirt with the council shoulder emblem, unit numbers, world crest and rocker, blue scarf and slide, belt, and Bear book. optional hat, capri or zip off pants or skorts are available).
Webelos: Tan shirt with the council shoulder emblem, unit numbers, world crest and rocker, blue loops and Webelos color, belt Webelos scarf and slide and the Webelos book. (optional hat, shorts, capri pants and zipoff pants are available).
Wolf Scarf and Hat Transitions to Red!
This year you will notice that the Wolf Scout may have a red or yellow scarf or hat. National has just released the new color of red for Wolf Scouts. It is never wrong to wear the yellow scarf and hat (the same one your dad or grandpa would have worn – so if you already have the yellow scarf or hat, wear it with pride!)
Scouts BSA
Did you earn merit badges at camp, we can help you display them with a merit badge sash and merit badge pin. The sashes come in two different lengths – 30" and 36"($10.99) The merit badge pin ($3.99) on the right is worn on the shoulder to secure your merit badge sash to your shirt.
We also carry Badge Magic ($8.99) precut for the merit badges. Put all your merit badges on the sash in just a few minutes using Badge Magic.
Summer is going fast…
Has your unit completed the requirements for the summertime pack award?
Who Can Earn This Award?
This is an individual recognition for Scouts.
The pack can qualify for the certificate and streamer by planning and conducting three pack activities—one each in June, July, and August.
Dens with an average attendance of at least half their members at the three summer pack events are eligible for a colorful den participation ribbon.
Scouts who participate in all three pack events are eligible to receive the National Summertime Pack Award pin ($1.39), which they can wear on the right pocket flap of their uniform. Tiger-Orange, Wolf Red, Bear Green, Webelos Blue. (Lions roll over into Tigers in June)
Program Planning
Program Planning is essential in a well run Pack or Troop.
Summer is a great time to plan your program for the fall. (Be Prepared is a great motto to run your unit on.) Pre-planning your meetings are made easy with the Cub Scout Leaders Books for each grade level and the three Program Planning Features for Scouts BSA troops. Contact the Council Trading Post for these and other great resources.