END OF THE YEAR REMINDERS
As the year comes to a close, don't forget about some of the things that can get your Unit to the "Gold" level in Journey to Excellence.
Charters: Charter paperwork was due to the Scout Service Center by December 16 (for December charters) to take advantage of the council-funded financial assistance. January charters must have their paperwork in to the Scout Service Center by January 15. For any questions regarding the re-chartering process or for setting up a rechartering meeting (5-15 minutes), please contact the office at 563.556.4343.
Applications: If you have any new applications still in your possession for youth or adults, please turn them in!
Advancement: As a reminder, the Council Trading Post and office will be closed from December 24 through January 1 for the Holidays and Store Inventory. Please get all your advancements in before this date.
Service Hours: Be sure to enter your service hours. These hours help the unit, district, and council for Journey to Excellence.
Training: Remember Scoutmasters, Cubmasters, and Den Leaders must be fully trained before the charter can be completed. We are seeing Hazardous Weather training is holding back some leaders from being marked "Trained".
In addition, all leaders must have Youth Protection Training up-to-date and an Additional Disclosure & Background Check Authorization form completed for every registered position. For information on your training, please contact the office at 563.556.4343.
Winter Weather Reminder: It is our policy that when the Dubuque School District cancels because of unsafe driving conditions (ice &snow) the Council Service Center and Trading Post will also be closed. This is due to our driveway and the rural conditions. If the weather turns bad during the day, please call to make sure we have not closed early.
APPRECIATION DINNER
Registration for the Annual Meeting and Appreciation Dinner will open January 2nd! To prepare for the evening, be sure to do these three things:
»» Mark your calendar for March 14, 2020. The Annual Meeting & Appreciation Dinner will be held on March 14, 2020 inside the Harbor Room at the Diamond Jo Casino in Dubuque.
What could be better than a night with fellow Scouters looking back at the great year of Scouting and honoring those very generous and dedicated volunteers?
»» Nominate some great deserving Scouters. Be sure to nominate your top choices for awards such as Award of Merit, Cub Scout/Scouts BSA Scouter/Venturer of the Year, and Silver Beaver.
You know who deserves these awards, so be sure to nominate them to ensure they get the recognition they deserve! Nomination forms are found on the Council website (click the banner on the home page).
»» Send in Photos. Gather any Scouting photos you have of the last year (such as: camp, camporees, meetings, service projects, go-sees, pinewood derbies, crossovers, etc.) and send them to Melissa at Melissa.Neuhaus@
scouting.org.
A Year in Review video is one of the highlights of the dinner; submitting photos is the best way to make sure your unit is represented!
ANNUAL MEETING NOTICE
On Saturday March 14th, 2020, the NEIC will hold its Annual Meeting in conjunction with the Scouter Appreciation Dinner. This meeting is open to all Scouters.
Those eligible to vote are all currently registered Chartered Organization Representatives (representing chartered organization within the Council geographic boundaries) and registered duly elected Council Member-at-Large.
All recommendations for board membership should be made to the council office by February 1, 2020. Recommendations will be forwarded to Council Nominating Chair, Kevin Eipperle.
EXPLORING PROGRAMS
Exploring has career experience program for high schools that focuses on hands-on activity. Many programs are currently accepting registration. Check out the below programs and go to www.exploringdubuque.org/programs to register!
ENGINEERING, ARCHITECTURE & SURVEYING PROGRAM
With so many kinds of careers in the Architectural/Engineering industry – how can you choose one that is right for you? Check out the careers with IIW!
In this program you will explore structural engineering, transportation engineering, municipal engineering, land development, environmental engineering, architecture, land surveying, and construction observation and testing.
AVIATION PROGRAM
Get your career to take flight! Careers in aviation are booming! Find out what careers exist in the aviation field beyond (and including) pilot.
Through this program you will learn about multiple careers in the aviation field including air traffic control, airport operations and the air traffic control tower (provided you are a vetted US citizen). You will get the chance to be up close to real planes, and tour the airport grounds for a behind the scenes look at the airport and airline operations. On top of that you will fly high-tech flight simulators in the new, beautiful Babka Flight Center.
COMPUTER SCIENCE PROGRAM
Check out careers in computer programming, coding and app design!
Learn how to write an app for an android device, design and create a computer game to show your friends and family, and use RAPTOR – a programming tool designed at the U.S. Air Force Academy.
AVIONICS PROGRAM
Ever thought of building your own plane – like the Wright brothers? Now is your chance!
With leaders to guide you, you will develop skills in something few people get the opportunity to do. Each meeting, you will be learning and using skills in metalwork, drafting plans reading, engineering and so much more. The skills are applicable to many professions – they are not limited to a career in aviation. Adult mentors are pilots and several are engineers.
Pack 68 had lots of helpful Scouts putting smiles on people's faces at the Camp Albrecht Acres Waffle Breakfast in December. Scouts cleaned tables, carried trays, and were overall helpful!
Scouts from Troop 48 shopped for Thanksgiving baskets and delivered them Sunday before Thanksgiving.
The Bear Den from Pack 13 completed service work cutting and raking hostas at St. Columbkille School in November. This was to complete one of their requirements for Paws in Action belt loop.
Troop 14 and 114 rang bells for the Salvation Army in December.
Want to share your unit's service? Send your information to your district executive or to Melissa at melissa.neuhaus@scouting.org. You can also tag us on Facebook!
HIGH ADVENTURE SCHOLARSHIP
Applications for the High Adventure Scholarship are now being accepted. The High Adventure Scholarship provides two $250 scholarships to Scouts who exemplify the Scout Oath and Law. Applicants can be Scouts or Venturers participating in a high adventure in 2020. High Adventure trips include Philmont, Northern Tier, Sea Base or a unit's own trip.
Applications are due January 31, 2020 and can be found at: http://www.scoutsiowa.org/youth-resources/.
NEW PHYSICAL FORMS
Every few years, the BSA updates its Annual Health and Medical Record (AHMR) after consulting with health care professionals, Scout executives, council and camp health officers and other experts to ensure it is up-to-date and helpful.
This was one of those years, meaning a new form is available for everyone to use for 2020. Your AHMR is valid through the end of the 12th month after the date it was administered by your medical provider. For example, if you got your physical on Nov. 3, 2019, it's valid until Nov. 30, 2020.
Next year will be a transition year, so you can use either the old or new form, but everyone in all Scouting programs must use the updated AHMR form starting Jan. 1, 2021. The old form will be obsolete at that date. So, the BSA recommends using the new form on your next physical exam or if you're a new participant in 2020.
Find out all the information about physical forms at: https://blog.scoutingmagazine.org/2019/12/10/theres-an-updated-annual-health-and-medical-record-to-use-for-2020/.
WOOD BADGE WRAP-UP
Twenty-eight amazing Scouters answered the call to take on the Wood Badge course that was held on the weekends of September 20-22 and October 18-20. Throughout the 2 weekends they participated in patrol activities and deepened their sense of leadership through putting together projects and participating in a variety of activities.
The hard work of Wood Badge began after the course instruction. Each of the participants is now working on completing their "tickets". (Tickets are projects that help units, districts, or council – for those of us who didn't know.) We are looking forward to seeing all the tickets getting completed as each project helps make our council stronger.
Thank you to the twenty staffers who planned Wood Badge, pushed for people to register for Wood Badge, and showed up to make Wood Badge fun, engaging, and helpful for all involved.
The Wood Badge Course C3-178-19 participants are:
Brenda Brock | Pack 342
Jason Burds | Troop 5
John Caldwell | Troop 51
John Chesterman | Pack 50
Shane Cline | Troop 40
Graham Dahler | Pack 5
Marc Demotta | Pack 14
Mike Feldmann | Pack/Troop 30
Mark Guenther | Troop 86
Amy Henry | Pack 41
Mike Henry | Troop 48
Aaron Howard | Winnebago Pack 3044
Joe Kaalberg | Troop 29
Robert Kies | Pack 40
Scott Kilgore | Troop 114
Travis King | Pack 13
Joe Kingsley | Troop 14
Steven Kocourek | Pack 14
Bill Kramer | Troop 29
Joey Lueck | Pack 68
Travis Mensen | Troop 34
Katherine O'Brien | Troop 91
Ken Roepsch | Pack 14
Jim Rolling | Troop 14
Amy Russell | Troop 64
Scott Scherer | Pack 40
Robin Westphal | Illowa Council
Becky Zieman | Troop 41
CAMP HIRING
The Northeast Iowa Council is looking for individuals who have an interest in working at our beautiful Camp C.S. Klaus this upcoming summer (2020).
Many positions start mid-June and are finished by late July/early August. Several management positions are available. Available positions and their descriptions are available at:
www.scoutsiowa.org/cskstaff/.
Air conditioned residence and meals are included, in addition to a seasonal employee salary. Scouting experience is a plus, but not mandatory.
Interviews will start mid-December. Please go to our website (http://www.scoutsiowa.org/cskstaff/ ) to print off a paper app or to apply online!
ALLIANT ENERGY GRANT
Thank you to Alliant Energy Foundation for their grant toward  education in Scouting!
CRAWFORD CARES GRANT
Thank you to Crawford Company for providing their grant toward
education in Scouting!
STEM EVENT: Archaeology: Uncovering the Past Recap
What an amazing turnout for the STEM committee's Archaeology: Uncovering the Past event! Scouts learned what ecofacts and artifacts are (and what people might discover about themselves), what archaeologists do (beyond uncovering dead people), how to preserve artifacts and ecofacts, and why trash from previous civilizations gets archaeologists excited. They also got to see and touch real fossils.
A thank you to all those who helped at the STEM event. Between Scouts and parents, about 150 people enjoyed this event. Check out the photos on Facebook.
UNDER THE BIG TOP: CUB SCOUT FUN NIGHT RECAP
We had an fantastic group of 70 Cub Scouts attend this year's Fun Night! The Scouts enjoyed archery, games, computer games, gym games, scavenger hunt, and circus crafts!
The highlight was a "Trapeze" course. Scouts participated in a timed course competition as Packs. Congratulations to Pack 40 and Pack 10 for being the "Fastest Packs"!
Thank you to the Boys & Girls Club of Dubuque for hosting us. And thank you to all the Scouters who volunteered that evening to show the Cub Scouts such an amazing time!
Check out the photos on Facebook.
CATHOLIC RETREAT RECAP
An energetic group of 3 Tigers and Wolves and 7 Bears and Webelos came together to earn Catholic emblems on November 9. The Tigers and Bears worked on the Light of Christ emblem and the Bears and Webelos worked on Parvuli Dei.
Once the Scouts finish the requirements for the Catholic Religious Emblems, they will receive recognition at their home parishes and at the Scout Recognition Mass with the Archbishop. The next Scout Recognition Mass will be held January 26th, 2020 at 2pm at the Cathedral of St. Raphael in Dubuque, Iowa.
Thank you to St. Joseph the Worker for letting us use the school. And thank you to the Scouters who planned and taught the religious emblems retreat.
WEBELOS TO SCOUTS BSA MEETING RECAP
Thank you to the volunteers who ran our first Webelos to Scout Parent Seminar, held in November. The meeting ensured our Webelos families have the tools to make an informed decision about choosing a Troop. This is one of the keys to a good Scouts BSA experience.
Top Trained Units: (Highest Percentage of fully trained leaders)
Packs:
Pack 60 Dubuque 91%
Pack 40 Dellaykee 91%
Pack 14 Dubuque 82%
Troops:
Troop 86 Dubuque 95%
Troop 5 Dubuque 83%
Troop 38 Dellaykee 82%
Top Crew: Crew 48 80%
Contact your district executive to see how your unit stacks up!
Pinewood Derby Workday – January 25
The Northeast Iowa STEM Committee invites you to join us for a workday for Scouts and parents who would like to work on their pinewood derby cars or just learn more about the science behind building one. Tools, supplies and help will be available on-site. Bring Your car kit if you have one OR drop by any time during this event to work and possibly earn some Cub Scout electives!
READ MORE
Eagle Scout Recognition Lunch – February 23
Eagle Scout is the highest rank a Boy Scout can achieve and signifies a consistent demonstration of leadership.The Annual Eagle Scout Lunch is a grand celebration of the 2019 Class of Eagle Scouts. Eagle Scouts, their parents, Scoutmasters, and sponsors attend the brunch and program to honor the leadership the Scouts have demonstrated.
READ MORE
Annual Meeting and Appreciation Dinner
Scout leaders and volunteers, this is your night! Scouting would not exist in the Northeast Iowa Council without the generosity of dedication from over 1200 volunteers! It is time to say thank you! Please join us for a fun night, with just the adults this time, as we look back at a great year of Scouting and honor those who gave so selflessly.
READ MORE
Dellaykee Roundtable
1st Tuesday of the month August – May
Dubuque Roundtables
1st Thursday of the month August – June
December 24-January 1 | Council Service Center & Trading
Post Closed for Holidays and Inventory
December 20 | Engineering, Architecture, & Surveying Exploring Program Applications Due
January 1, 21 | Scout Ski/Snowboard Nights – More Info
January 4 | Order of the Arrow Winter Banquet – More Info
January 8 | Aviation Exploring Program Kick-off – More Info
January 11 | Cub Scout Chilli Cook Off – More Info
January 14 | Troop 14 & 114 Open House – More Info
January 20 | Council Service Center Closed
Martin Luther King, Jr. Day
January 25 | Pinewood Derby Workday – More Info
January 26 | Scout Recognition Mass with the Archbishop – More Info
January 27 | Troop 11 Webelos Open House – More Info
February 5, 25 | Scout Ski/Snowboard Nights – More Info
February 7 | Award Nominations Due – More Info
February 17 | Council Service Center Closed
Presidents Day
February 23 | Eagle Scout Recognition Lunch – More Info
March 3 | Computer Science Exploring Program Kick-Off – More Info
March 14 | Annual Meeting & Scouter Appreciation Dinner – More Info
PINEWOOD DERBY
Need your Pack's Pinewood Derby cars? Call and place your order or have the cars sent to roundtable, please e-mail pam.klein@scouting.org or call 563-556-4343.
2020 PINEWOOD DERBY EMBLEM

Get ready for Pinewood Derby 2020 with this race car emblem!
KNOTS AND HOW TO TIE THEM – $1.49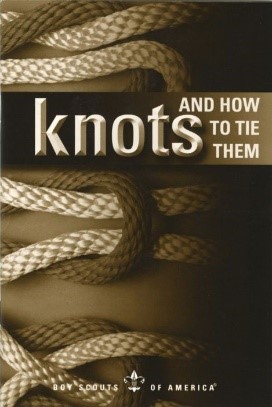 Tying knots is a skill that lasts a lifetime. This easy-to-follow, illustrated guide covers just about all of them. 32 pages.
BSA DELUXE POCKET KNIFE, 2 1/2" blade – $19.99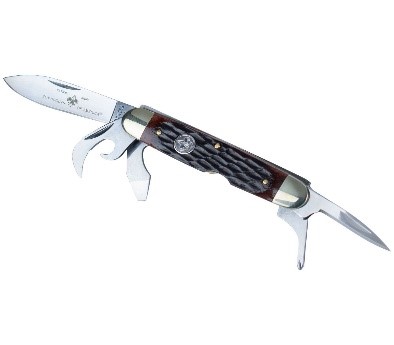 With multiple functions and a super strong Delrin stag handle, this multi tool pocket knife has everything a Scout needs to tackle all adventures.
KNIT BEANIE, ADULT-OLIVE GREEN – $19.99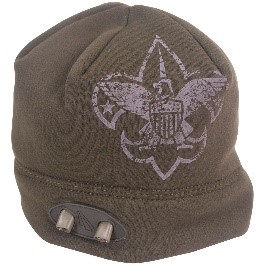 Don't let the shorter daylight hours slow you down! This fleece beanie combines the comfort of compression fleece with the technology of LED lighting to keep you going on every cold-weather adventure.
PULLOVER HOODIE, YOUTH – $24.99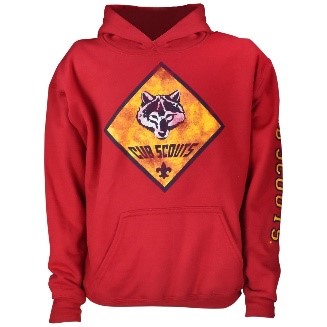 Be prepared for cool campfire nights with this Cub Scouts hoodie! Featuring a worn-in look for added comfort, this sweatshirt is sure to be a Scout favorite.
CUB SCOUT MULTI TOOL POCKET KNIFE, 2 3/4" Blade – $19.99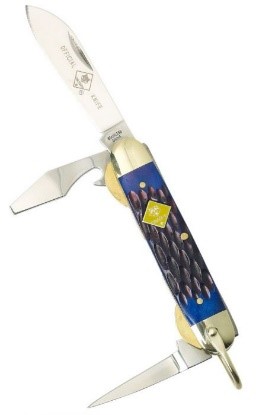 This classic Swiss Army knife features the long-lasting construction that Victorinox is known for, and this particular knife comes with every tool a Scout needs while out on the trail!
SURVIVAL BOTTLE – $15.00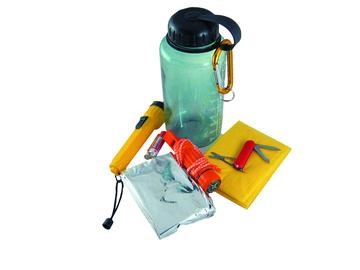 This 1 liter polycarbonate bottle is filled with the gear you need for unexpected events in the woods:
Emergency poncho, emergency blanket, small knife, flashlight with batteries, a bear whistle that includes a compass, and waterproof match container on a neck cord. BPA Free.
TRADING POST GIFT CERTIFICATES
Gift Certificates from the Northeast Iowa Council Trading Post are available in any denomination. Hard to fit Scouts or Scouters who need a pair of Scout pants or shorts will really appreciate your thoughtfulness. Has your Scout or Scouter outgrown their uniform or do you have a Webelos who will be crossing over this spring, then this is the perfect gift. Gift Certificates are good for one year from date of purchase.