Travis Mensen – Volunteer Spotlight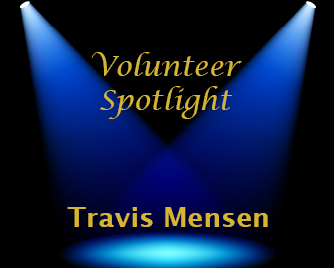 The Northeast Iowa Council is pleased to honor Travis Mensen as a Spotlight Volunteer! Travis received the Dellaykee District Award of Merit for 2017!
Travis Mensen started Scouting as a parent willing to help whenever he could, assisting at den meetings. He then joined as a committee member and within a year took the position of den leader for his youngest son's tiger den. He was a den leader from Tiger all the way to Webelos 2.
During this same time Travis was helping with Boy Scout Troop 34 after his oldest son crossed over. He volunteered to be an Assistant Scoutmaster while he was still serving as a Webelos Den leader. Travis currently serves as the Scoutmaster for Troop 34 with both of his sons in the troop.  His main goal is to train the boys on how to run a boy led troop.
Outside of Scouting Travis serves on the Ryan Fire Department as a volunteer Fireman and has helped in the Ryan Little League as a Coach, Board Member, and supportive parent. He also is active in the Men's group at the Manchester United Methodist Church.
In his free time Travis enjoys spending time with his wife Meghan, two daughters and two sons. He also enjoys any time spent outdoors including fishing, playing Frisbee golf and Bow Hunting.
On behalf of the Northeast Iowa Council, please help us say thank you to a very dedicated Scouter, Travis Mensen!