Travis King – Volunteer Spotlight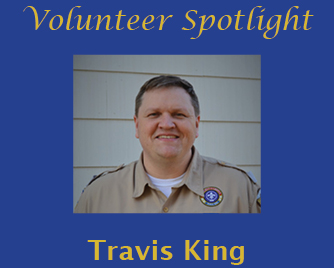 The Northeast Iowa Council is pleased to honor Travis King as a Spotlight Volunteer! Travis is currently the Charter Organization Representative for Pack & Troop 13 (Dubuque). He has been part of Scouting for 33 year, earning the Eagle Scout Award on 2/11/1997. During his time in Scouting, he has supported Cub Scout Packs as a Den Chief and Den Leader, Boy Scout Troops as an Assistant Scoutmaster, Merit Badge Counselor and OA & Brotherhood Teams. He is happy to be able to walk the trail to Eagle with his son, John, as he continues his current journey with Pack 13 with St. Columbkille.
Travis and his wife, Melissa, have been married for 13 year. They are blessed with three daughters: Erin, Anna, and Claire and one son: John. They also have a two-year-old black and tan dog they rescued from the Dubuque Humane Society name Guinness.
Outside of Scouting and being a full-time husband and father, Travis works for Prudential Financial, currently service as the Director of Full-Service Solutions-Office of Client Management. In July 2017 he was ordained as a permanent Deacon for the Archdiocese of Dubuque and was assigned to serve the people of God at St. Columbkille and St. Joseph the Worker in Dubuque. The ministry includes charity to those in need, sharing the Gospel with others and being present to lead or assist in liturgical rites such as baptisms, weddings, funerals & wake services. He is a 4th Degree member of the Knights of Columbus Rev. Aloysius Schmitt Assembly and Council #15813 – St. Columbkille. The Knights strive to bring charity to the local parish and surrounding community through food drives for the Local Men's Mission in Dubuque, serving meals to those in need at St. Patrick Church and many other need. Travis also serves as the V.P. of the Vocations Committee for the Serra Club of Dubuque that helps promote vocations to the Priesthood, Diaconate and Religious/Consecrated life.
Periodically, he also assists serving meals at the Men's Mission with his fellow colleagues at Prudential. In addition, he also supports his girls and their American Heritage Girls Troop in East Dubuque, IL. Travis enjoys spending time with family and friends, fishing, brewing beer, golfing and reading.
What motivates you to give your time to Scouting?
Scouting is one of the greatest gifts a parent can give to their children, because it is the gift of time to teach them the principles of Scouting in our Oath and Law. It helps to build character and leadership in our youth to properly prepare them to be good citizens that will give of themselves to God, country, others and to take care of themselves. What I have learned and received from Scouting motivates me to want to share that with others.
What aspects of Scouting do you enjoy the most?
The greatest aspect of Scouting I enjoy the most is learning while having fun. Scouting creates an adventure where you can find joy through imparting wisdom and leadership to others.
Share a favorite Scouting memory.
Most of my favorite memories of Scouting are from my days at Summer Camp. It was always a great experience, and I was able to learn and experience so much. Whether it was learning to care for and ride a horse, assisting with the Order of the Arrow/Brotherhood teams, to canoeing or rappelling it was life long memories and experiences that have shaped who I am today.
What advice can you give to new Scouting parents?
Scouting is one of the greatest gifts a parent can give to their child, because it is the gift of time spent together learning the principles of Scouting our Oath and Law. Scouting will help to form your child into an adult who will lead by example in helping other people at all times. Join Scouting and begin the adventure of having fun and learning together.