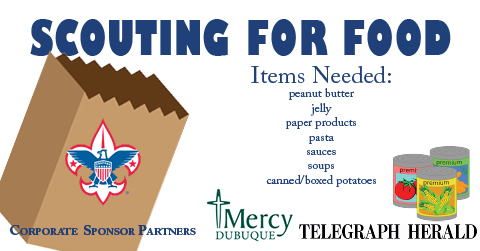 Scouting for Food takes place on Saturday, March 16, 2019 from 9 a.m. to 12 p.m. Scouts will collect food from their assigned neighborhoods and take it to the Hy-Vee Food Store at 2395 NW Arterial in Dubuque. The food is sorted and boxed there before being taken down to the Dubuque Food Pantry, and other neighboring food pantries.
This project is one of pride for Scouting in the community! The NEIC has been participating in this service project since 1990. Our food pantries are depending on us, as this drive alone supplies them with food for over three months!
What can be collected?
Scouting for Food can collect more than just food. It is a drive for non-perishable items and could also include toiletries. Another common gift to Scouting for Food is money. Anything collected (food, toiletries, money, etc.) should be turned in at a collection point.
What else can we do to help?
In addition to helping put out door hangers and doing the collecting, we want your help in promoting the event! Share the information with everyone you know! Share the event on social media!
Our Scouts love when they get to pick up bags of food for this food drive! Help spread the word so they won't be disappointed!
Dubuque
Hy-Vee
3500 Dodge St
2395 NW Arterial
400 S. Locust St.
Dubuque Food Pantry
1598 Jackson St.
East Dubuque
Food Pantry
100 School Road
Peosta
Food Pantry
8342 NICC Dr
Epworth
Silkers Grocery
101 E Main St
Food Pantry
(St. Patrick's Rectory, near the garages)
Dyersville
Food Pantry
350 1st Ave E (in alley)
Bellevue
Bellevue Breadbasket
1700 State St
Manchester
Delaware County Food Pantry
101 South Franklin
Cascade
Cascade Community Food Pantry
201 2nd Avenue SW
Peanut Butter & Jelly
Canned Fruit
Pastas and Sauces
Soups
Canned and Boxed Potatoes
Personal Care Items
Corporate Sponsor Partners
Mercy Medical Center
Telegraph Herald
Special Thanks To
Hy-Vee Stores
Union-Hoermann Press
Van Meter
92.9 KAT FM
KDTH AM-1370
101.1 The River
97.3 The ROCK