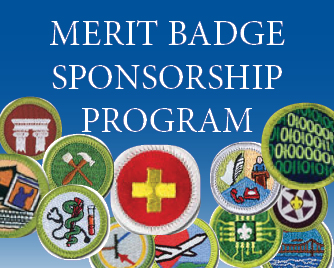 Merit Badge Sponsorship Program
The Merit Badge Sponsorship Program is designed to offer business and community supporters unique marketing benefits themed around the BSA merit badge program. Merit Badge Sponsors are highlighted throughout the year in communications with our nearly 2,500 youth and families and our over 1,000 volunteers.
Northeast Iowa Council, Boy Scouts of America Merit Badge Sponsors are special Friends of Scouting donors who provide opportunities for youth to benefit from Scouting's rich traditions of Adventure, Leadership, and Service. Unlike many other youth programs, Scouting is a year-round activity and is a model of positive youth development.
Scouting addresses the needs of youth through:
Ongoing adult mentoring relationships | Scouts are supported over many years by volunteer leaders who help provide a sustainable role model that can be critical in their development. This type of ongoing, multiyear mentorship is just not found in schools or sports.
The teaching of applicable real-life skills | Through Scouting, young people learn everything from swimming to cooking, public speaking to budgeting, and first aid to bird study. These skills are reinforced through the merit badge program and helps youth develop self-confidence and self-efficacy.
The opportunity for true leadership | Scouting is supported by adults, but lead by young people who plan and run the majority of meetings and
activities. These leadership roles help young people develop managerial skills that will set the stage for a successful life.
Scouting helps young people in five critical areas of positive youth development:
Connection | Scouts are part of a community – something bigger than themselves.
Competency | Scouts learn basic skills that help them every day and throughout life.
Confidence | Through leadership and experience, they gain self-confidence.
Caring | A Scout is a friend to all and through community service develops a sense of caring.
Character | A Scout lives by the Scout Oath and Law to be a person with strong values.
With your support as an annual Friends of Scouting Merit Badge Sponsor, the Northeast Iowa Council will be able to ensure that more youth will be able to participate in our unique Scouting programs.
Annual Sponsorship Program Benefits
Merit Badge Sponsorship ($500 each)
A complimentary copy of the Merit Badge pamphlet you sponsor
Signage recognition at the Northeast Iowa Council service center
Printed recognition during summer camp at Camp C.S. Klaus
Logo and name recognition on the Northeast Iowa Council website
Logo and name recognition in the Northeast Iowa Council online newsletter
Logo and name recognition on the Northeast Iowa Council Facebook page
A framed certificate for display in your office or home
Two dinner tickets for the Boy Scout Golf Classic Dinner held in July
Eagle Merit Badge Sponsorship ($1,000)
All of the merit badge sponsor recognition benefits, plus:
A special gift presented at our Boy Scout Golf Classic Dinner
Merit Badge Listing
The following is a list of all current merit badges, arranged into 14 fields of activity. Eagle required badges are noted in red.
Agribusiness | Animal Science, Farm Mechanics, Plant Science
Arts and Crafts | Art, Basketry, Bugling, Leatherwork, Metalwork, Music, Pottery, Sculpture, Theater, Wood Carving
Business and Industry | American Business, Digital Technology,Entrepreneurship, Inventing, Mining In Society, Pulp & Paper, Salesmanship, Textiles, Communications, Journalism, Moviemaking, Photography, Public Speaking, Radio, Reading
Conservation | Environmental Science, Fish and Wildlife Management, Forestry, Soil & Water Conservation, Sustainability
Hobbies and Outdoors | Backpacking, Camping, Chess, Coin Collecting, Collections, Cooking, Dog Care, Gardening, Genealogy, Hiking, Model Design & Building, Pets, Pioneering, Scouting Heritage, Stamp Collecting, Wilderness Survival
Natural Science | Archaeology, Astronomy, Bird Study, Geology, Insect Study, Mammal Study, Nature, Oceanography, Reptile & Amphibian Study, Weather
Personal Development | American Cultures, American Heritage, Citizenship in the Community, Citizenship in the Nation, Citizenship in the World, Disabilities Awareness, Family Life, Indian Lore, Personal Fitness, Personal Management, Scholarship
Physical Science | Chemistry, Electricity, Electronics, Energy, Nuclear Science, Space Exploration
Professions | Architecture, Dentistry, Engineering, Game Design, Landscape Architecture, Law, Medicine, Programming, Robotics, Surveying, Veterinary Medicine
Public Service | Crime Prevention, Emergency Preparedness, Fingerprinting, Fire Safety, First Aid, Lifesaving, Public Health, Safety, Search & Rescue
Sports | Archery, Athletics, Canoeing, Climbing, Cycling, Fishing, Fly Fishing, Geocaching, Golf, Horsemanship, Kayaking, Motorboating, Orienteering, Rifle Shooting, Rowing, Scuba Diving, Shotgun Shooting, Skating, Small-Boat Sailing, Snow Sports, Sports, Swimming, Water Sports, Whitewater
Trades | American Labor, Automotive Maintenance, Composite Materials, Drafting, Graphic Arts, Home Repairs, Painting, Plumbing, Welding, Woodwork
Transportation | Aviation, Railroading, Traffic Safety, Truck Transportation