Karla Weinschenk – Volunteer Spotlight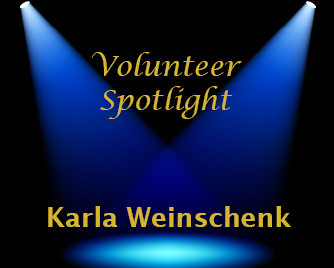 The Northeast Iowa Council is pleased to honor Karla Weinschenk as a Spotlight Volunteer! Sherry received the Jeanne Burkart Award for 2017!
Karla started her Scouting career when her sons joined Cub Scouts.   She served as a Den Leader, and Cubmaster. She earned the Cub Scouter of the Year award in 2000 and 2012 and the District Award of Merit in 2008. While her role with the Pack has been reduced, she does continue to help with Troop 86.
Karla has great pride in Camp C.S. Klaus and she frequently helps make improvements. She has helped paint steps and buildings (including the parade ground bathrooms), helped with construction projects including the Visitors Center and Trading Post projects in 2017.  She has trimmed the grounds at Camp Klaus all day long during the spring in order for the camp to be ready for campers. She has helped sew and repair tents during the off season, and frequently comes to camp with cookies for all the volunteers.
On behalf of the Northeast Iowa Council, please help us say thank you to a very dedicated Scouter, Karla Weinschenk!