Karen Heidenreich – Volunteer Spotlight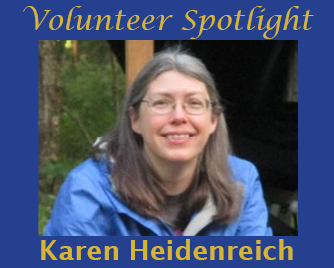 The Northeast Iowa Council is pleased to honor Karen Heidenreich as a Spotlight Volunteer! Karen current serves as the Treasurer for Pack 20 (Dubuque) and serves on the council STEM Committee. She has been involved in Scouting for 6 years and served as a committee chair, STEM Committee, Treasurer, and Den Leader.
Karen and her husband, Jacob, have a son (Zachary), daughter (Kaylee) and 2 cats (Lando & Ocelot). Outside of Scouting Karen is a math professor at Loras college; Treasurer & Game Club volunteer for Lincoln P.A.L.S. (Lincoln Elementary community organization); and serves as an Elder, Sunday School Teacher, and Bell Choir Member at Westminster Presbyterian Church. She also enjoys playing board games, reading, sewing, and traveling.
What motivates you to give your time to Scouting?
I love the opportunities that Scouting provides for parents and children to have meaningful experiences together. Being involved as an adult leader allows me to help enable those experiences for other families.
What aspects of Scouting do you enjoy the most?
I enjoy participating in activities that provide meaningful experiences for our family. Outdoor events, service projects, faith-based projects, and working toward badges and electives (not to mention building pinewood derby cars) have strengthened the relationship our family has with each other.
Share a favorite Scouting memory.
My favorite Scouting memory is when I took two boys from our Pack (including my son) to Camp Klaus for Webelos Camp in July 2017. I'm proud to say that I've survived Scout camp!
What advice can you give to new Scouting parents?
My advice: Be involved in your child's den/pack/troop! Come with your child to den meetings and get involved in whatever activity the den is doing that evening. You'll have great shared experiences with your child!