Jon Uzel – Volunteer Spotlight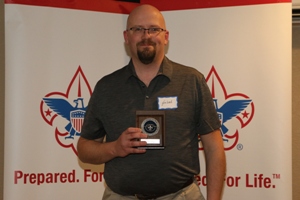 The Northeast Iowa Council is pleased to honor Jon Uzel as the Spotlight Volunteer of the month! Jon received the Dubuque District Award of Merit for 2017!
Jon's Scouting involvement begins in 2009 when his son became a Cub Scout. In his son's Pack, Jon not only served as a Den Leader for 3 years, he has spent the last 7 years as a Cubmaster. In addition to that, he served as a Troop 11 Assistant Scoutmaster for 3 years, and has spent the last 3 years as Assistant Scoutmaster for another troop.
In addition to his unit-level involvement, Jon has also served as Roundtable Commissioner since 2013. As a Timmeu lodge member, Jon has also given leadership to the Lodge Executive Committee, and has helped out with training activities.
Scouts have noticed and acknowledged past contributions of this Woodbadge-trained Scouter. In 2015, Jon was recognized with the Cub Scouter of the Year award for Dubuque District.
On behalf of the Northeast Iowa Council, please help us say thank you to a very dedicated Scouter, Jon Uzel!