Joe Kingsley – Volunteer Spotlight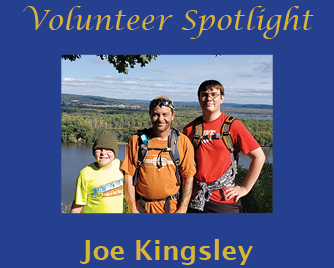 The Northeast Iowa Council is pleased to honor Joe Kingsley as a Spotlight Volunteer! This is his 12th year volunteering in Scouting and has served as a Tiger leader, Wolf leader, Bear leader, Webelos leader, Assistant Cubmaster, Assistant Scoutmaster, and Scoutmaster. He has also been part of a pack committee, troop committee and serves as a unit commissioner.
Joe and his wife Maria have three sons, Tanner, Charlie, and Jack. Outside of Scouting Joe enjoys hiking and camping.
What aspects of Scouting do you enjoy the most?
Scouting provides a structured environment where the youth can learn life skills.
What advice can you give to new Scouting parents?
Get involved, become a leader. Set no boundaries for your Scouts.
What have you learned from Scouting?
I learned Scouting isn't just for the youth; it can also change and benefit an adult as well.
On behalf of the Northeast Iowa Council, please help us say thank you to a very dedicated Scouter, Joe Kingsley!