Jeff Smith – Volunteer Spotlight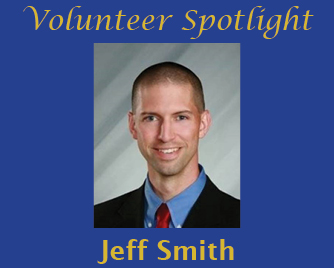 The Northeast Iowa Council is pleased to honor Jeff Smith as a Spotlight Volunteer! Jeff currently serves the Northeast Iowa Council in many ways including being a den leader to 3 dens for Pack 7, a council chairman, a Pack 7 committee member, Order of the Arrow Mother's Day Breakfast adult advisor, and sits on the Northeast Iowa Council Board of Directors. Jeff has been involved in Scouting over 34 years.
Jeff and his wife, Jess, have 5 children – Cooper, Bo, Duke, Estee, and Atley. Outside of Scouting Jeff works at Cummins Inc and is an officer in the United States Army – National Guard. In his free time, Jeff also enjoys camping, snow skiing, running, and watching his kids play hockey.
What motivates you to give your time to Scouting?
Developing youth into responsible young adults, ability to spend time with my own children, and helping children learn valuable life lessons.
What aspects of Scouting do you enjoy the most?
I like to teach, mentor and see Scouts grow and develop their skills.
What advice can you give to new Scouting parents?
Get involved. The best dens are those where parents are involved and engaged, as this encourages their kids to follow suit. Additionally, if you have questions or concerns, don't hesitate to ask. Scouting involves a lot of new terms, requirements and activities. Your leaders are there to help your Scout to succeed so if you are unsure, ask!
Can you share a favorite Scouting memory?
As a  young Boy Scout, I remember going to summer camp with my brothers (Tony and Bill) and competing against the staff in the Ironman competition and usually beating the staff. We would use our human slingshot to launch oranges from our campsite to the water front.
Other significant Scouting memories:
Achieving the rank of Eagle Scout
Going to Philmont with m y high school friends and Dick Elliott.
Working at Camp Klaus in Scoutcraft with Bob Frick
Working with my boys on their Pinewood Derby cars.
Conducting service projects with my boys and other boys in the den.
Attending the first ever OA Trail Crew with my brother Bill at Philmont and having to carry 2 backpacks up Mt. Baldy to assist another Scouter.
Earning our Red Flannel all while 6 Scouts sleep in a 2-man tent to stay warm.
As a Den Leader playing Capture the Flag with the parents and the Cub Scouts at Camp Burton.
On behalf of the Northeast Iowa Council, please help us say thank you to a very dedicated Scouter, Jeff Smith!