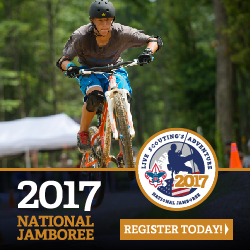 Hundreds of Adventures. One Experience of a Lifetime.
The National Jamboree is the best of Scouting rolled into 10 days of fun, friends, and adventure, and you can be there to be a part of it! Join the Northeast Iowa Council for the 2017 National Jamboree at the Summit Bechtel Family National Scout Reserve in West Virginia where a dull moment cannot be found. Once every four years, the national Scout jamboree brings generations together through Scouting's biggest showcase. You won't want to miss this amazing experience.
More than 40,000 Scouts and Scouters will explore all kinds of adventures—stadium shows, pioneer village, Garden Ground hikes, adventure sports, patch trading, and more—in the heart of one of nature's greatest playgrounds. Each jamboree grows in numbers and in adventure, adding more and more activities for Scouts to turn into memories.
Get more information on how to sign up for the 2017 National Jamboree!