Graham Dahler – Volunteer Spotlight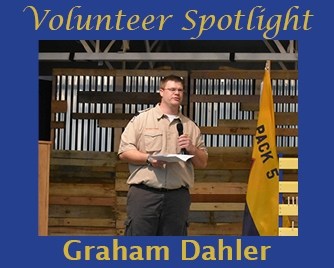 The Northeast Iowa Council is pleased to honor Graham Dahler as a Spotlight Volunteer! Graham currently serves as Cubmaster for Pack 5 (Peosta). As an Eagle Scout, he has been involved with Scouting for 18 years.
What motivates you to give your time to Scouting?
My motivation is for not just my own son but all our Scouts to receive the best possible Scouting experience. I grew up in a great Scouting program in the Bay Lakes Council in Wisconsin and had one of the most dedicated Scoutmasters I have ever seen! The values, ethics, leadership I learned from Scouting has made me the person I am today.
Share a favorite Scouting memory.
One of my favorite Scouting memories was a high adventure trip I took with my Troop when I was 16 to Isle Royale National Park, which is an island in Lake Superior. We hiked 50 miles for a week on the island, had to boil and filter our water from the lake, and bath in water that was a constant 38 degrees. This experience was not only physically but mentally challenging as well. The bonds and memories created with some people I am still close friends with today will stick with me forever.
What advice can you give to new Scouting parents?
With the exception of positions at the national and local council level the entire Scouting program is based on volunteerism. So like most things in life, you will only get out of a program what you put into it. Parental involvement and volunteerism is absolutely vital in providing a fun and well run Scouting program for our youth. Talk with your local Pack or Troop leadership about how you can help or what role you could play in creating a great Scouting experience for your child!