Giving Tuesday – November 28, 2017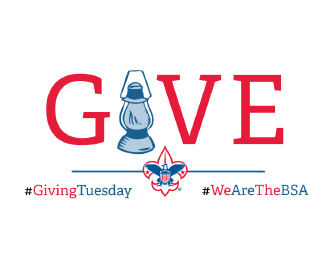 November 28, 2018 is Giving Tuesday, the global day of giving fueled by the power of social media and collaboration. Observed on the Tuesday following Thanksgiving and the widely recognized shopping events Black Friday and Cyber Monday, #GivingTuesday kicks off the charitable season, when many focus on their holiday and end-of-year giving.
Join us in celebrating #GivingTuesday and the true spirit of the season, by making a donation to support Scouting in our community, or by inviting your friends and family to do the same. (https://scoutingevent.com/178-GivingTuesday)
Through your support of Scouting this #GivingTuesday, you're helping young people grow to become citizens who are trustworthy, loyal, helpful, friendly, courteous, kind, obedient, cheerful, thrifty, brave, clean, and reverent.
Beyond supporting Scouting financially, there are many ways that you can give to Scouting.
Contact your Human Resources representative to see if they will match your Friends of Scouting donation
Volunteer some of your time with your Pack, Den, Troop, Crew, or Council.
Thank a leader, after all, all leaders are volunteers.
Share your love of Scouting on social media.
Ask another family or family member to join Scouting. (http://www.scoutsiowa.org/join/)
Fulfill your 2017 Friends of Scouting pledge.
Donate items to be used as auction or raffle items in the council's Golf fundraising events.
Assemble a team to participate in a council golf fundraiser.
Check with your employer if they donate to charities that you donate your time to.
Post a picture of your Scouts recent Scouting adventure.
Donate any old or used uniforms to your unit.
Congratulate an Eagle Scout. (http://www.scoutsiowa.org/eagle-scouts-corner/)
Nominate a volunteer for an award. (https://scoutingevent.com/178-AppreciationDinner)
Support local Scouting units fundraisers.