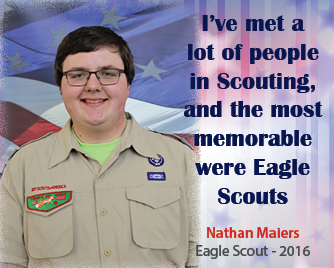 Name: Nathan Maiers
Hometown: New Vienna, Iowa
Unit: 88
Eagle Project Location: Oak Crest Nursing Home in Dyersville, Iowa
Eagle Project Description: Nathan renovated a four foot by eighty foot section of land at Oak Crest Nursing Home in Dyersville. He cleaned, decorated (using pumpkins and scarecrows and other fall decorations) the area and then planted perennials.
What does being an Eagle Scout mean to you?
Becoming an Eagle Scout is a huge honor. It stands for something in life that shows perseverance and work ethic. I've met a lot of people in Scouting, and the most memorable were Eagle Scouts.
How did earning the Eagle Scout rank prepare you for the future?
Earning the Eagle rank taught me leadership and time management. You have to have some planning to juggle Scouting, school, work, and home all at once.
What surprised you about the Eagle Scout path?
I was surprised by how much harder the path became when high school started. But, I'm glad I rose to the challenge.