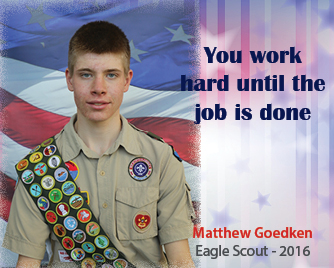 Name: Matthew Goedken
Hometown: New Vienna, Iowa
Unit: 60
Eagle Project Location: SS. Peter & Paul Cemetery near Petersburg, Iowa
Eagle Project Description: Matthew planted 26 trees, 22 Cemetery Arborvitae's and 4 Red Maple at the SS. Peter & Paul Cemetery near Petersburg. He also painted the 150-yard chain-link fence, the entryway and the arch.
What does being an Eagle Scout mean to you?
Being an Eagle Scout means following the Scout Oath, Law, Motto, Slogan and Outdoor code. It also means that you work hard until the job is done, and you don't give up.
How did earning the Eagle Scout rank prepare you for the future?
Earning the Eagle rank helped me learn more leadership skills, and helped me learn how to plan out a project. It will also help me with my career.
What surprised you about the Eagle Scout path?
The path to Eagle was a challenge, and it took a lot longer than I thought it would. It was also a lot more work than I thought it would be.