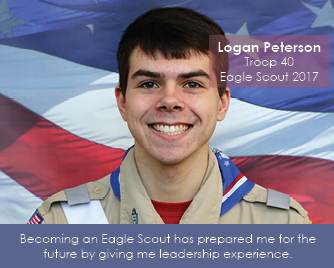 Name: Logan Peterson
Hometown: Guttenberg, Iowa
Unit: 40
Eagle Project Location: Guttenberg, Iowa
Eagle Project Description: Logan cleared the brush, widened the trail and laid gravel to improve the conditions of the Trail at Big Springs in Guttenberg, Iowa.
What does being an Eagle Scout mean to you?
The Eagle rank makes me feel proud to have accomplished it. To think of all who have and feel the connection between us.
How did earning the rank prepare you for the future?
It has prepared me by giving me leadership experience.
What advice would you give to younger Scouts who aspire to become Eagle Scouts?
Get your badges and your project done as soon as you can.
Please share a favorite Scouting memory.
Staying by the campfire late at night talking with my friends.