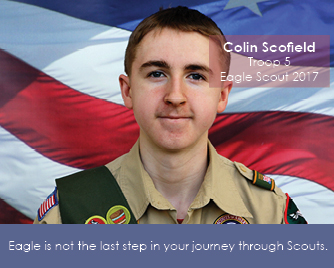 Name: Colin Scofield
Hometown: Peosta, Iowa
Unit: 5
Eagle Project Location: Peosta, Iowa
Eagle Project Description: Colin built 3 shadow boxes with a Plexiglas front for the Peosta Community Centre to display news and health related information.
What does being an Eagle Scout mean to you?
Being a leader and a teacher to younger Scouts.
How did earning the rank prepare you for the future?
All the merit badges taught me new skills for the future.
What advice would you give to younger Scouts who aspire to become Eagle Scouts?
Eagle is not the last step in your journey through Scouts.