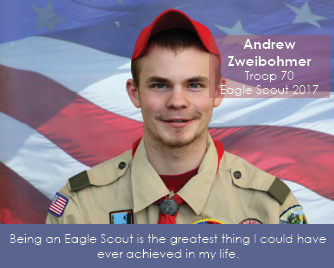 Name: Andrew Zweibohmer
Hometown: Farley, Iowa
Unit: 70
Eagle Project Location: City of Farley Park in Farley, Iowa
Eagle Project Description: Andrew built a slab concrete galvanized steel bike rack for the City of Farley Park by the baseball entrance. It is 63 feet long and will hold 7 bikes.
What does being an Eagle Scout mean to you?
The greatest thing I could have ever gotten in my life.
How did earning the rank prepare you for the future?
Earning the Eagle rank make me talk to people more that I don't know and get to know my business around me. I open to talk to businesses to people in Farley and Epworth.
What advice would you give to younger Scouts who aspire to become Eagle Scouts?
Get to know businesses around you and make sure everyone know you are working on your Eagle Scout stuff so they know you are a hard working man.
Please share a favorite Scouting memory.
I had a great time at Jamboree in West Virginia. I was out there for 2 weeks and I had a lot of fun shooting guns, riding bikes, and I got to work on the Boy Scout race car and there was also a monster truck. I had a fun time at Jamboree. I would love to go back.