Dustin Staade – Volunteer Spotlight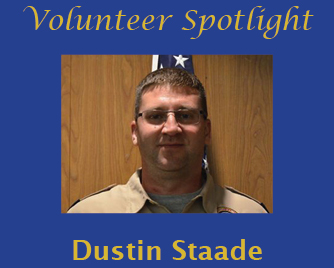 The Northeast Iowa Council is pleased to honor Dustin Staade as a Spotlight Volunteer! Dustin currently serves as the Tiger Den Leader for Pack 13 and was chose as the pack's Scouting Spirit Award recipient.
Outside of Scouting Dustin enjoys home projects, working on cars, tinkering with electronics, and spending time with family
What motivates you to give your time to Scouting?
WI am finally in a position to be able to give back to my community.
What aspects of Scouting do you enjoy the most?
I enjoy learning new skills and spending time outdoors.
What advice can you give to new Scouting parents?
If you are willing to take this journey with your Scout, it'll be something you both remember for a long time.
What have you learned through Scouting?
You don't have to do it by yourself, there's a strong network of people willing to help.
On behalf of the Northeast Iowa Council, please help us say thank you to a very dedicated Scouter, Dustin Staade!