Debra Kirkestue – Volunteer Spotlight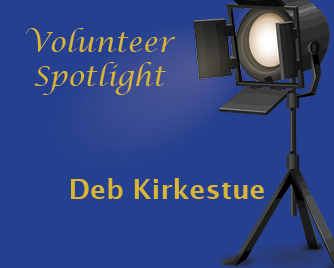 The Northeast Iowa Council is pleased to honor Debra Kirkestue as a Spotlight Volunteer! Debra currently serves as the Treasurer for Troop 41 in her 9th year of Scouting. She was awarded the Scouting Spirit Award for Troop 41 in 2020.
Debra and her husband Corey have three kids (Jacob, Adam and Trey). Outside of Scouts, Debra is a busy mom of 3 boys who keep her on her toes. When she is not working or chauffeuring kids around, she volunteers at St. Paul's Lutheran Church where she helps organize the spring church rummage sale and bakes a lot of goodies throughout the year. In her downtime, she likes to read, cross-stitch, and hang out with her friends.
What advice can you give to new Scouting parents?
At first it is overwhelming, but it does get easier, and you get to make a lot of great memories with your child.
Please share a favorite Scouting memory.
A few years ago, while I was Cubmaster, we took the kids to Pinters Pumpkin Patch in Decorah, IA as a reward for working hard at selling popcorn. The smiles & laughter from all of the Scouts was priceless, and I would take them all again!
On behalf of the Northeast Iowa Council, please help us say thank you to a very dedicated Scouter, Debra Kirkestue!