Dave Wagner – Volunteer Spotlight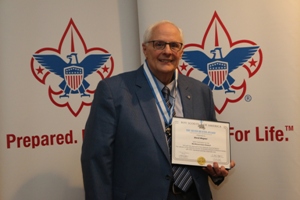 The Northeast Iowa Council is pleased to honor Dave Wagner as a Spotlight Volunteer! Dave received the Silver Beaver award for 2017!
Dave Wagner's Scouting journey in the Northeast Iowa Council began in the early 1960's. He earned his Eagle Scout rank in 1965. About a decade later, he served as an Assistant Scoutmaster and later as Scoutmaster for Troop 67. Since 2006, Dave has served as an active member of the Council Executive Board. His leadership includes serving as a committee chairman for 8 years. The lake dredging project was completed during one of his two terms as Council President. His leadership always models the Scout Oath and Scout Law.
Noteworthy community service include multiple leadership positions in the Jaycees organization: President, Dubuque Jaycees in 1978; District Director of the Iowa Jaycees in 1979; Director of the Regional Jaycees in 1980, and VP of the Iowa Jaycees in 1981. Dave also served the America Red Cross for 16 years. He has served 16 years on the Trust Committee, and 6 years as the Chapter Chairman.
On behalf of the Northeast Iowa Council, please help us say thank you to a very dedicated Scouter, Dave Wagner!