As in a previous issue, we will be highlighting specific pillars of the Strategic Plan. In this issue we will share some info when it comes to membership.
Led by VP of Membership, Kevin Eipperle, the membership pillar has identified three challenges to tackle in 2019.
Webelos to Scout Transition-determine how the transition is affecting Scouts BSA membership and begin the steps to ensure all Webelos have an opportunity to join a Troop
Leadership Succession Planning-creating a template/plan for units to use to ensure a plan is in place to recruit and train their next leader
Resources-ensuring youth are receiving a program that is run by trained and supported leaders.
By tackling the challenges, the group looks to achieve the following:
Increasing traditional membership to 2,100 youth by year end. (There were 2,025 youth in 2018.)
Achieving 80% Cub Retention (Cub Scout Retention was 72% in 2018.)
Start 4 New Girl Troops (one already started with two more near completion)
Increase Awareness of the Exploring program to parents
We are always interested in hearing how your unit keeps membership strong. If you have some "best practices", please share them with your District Executive so others can benefit from your creativity.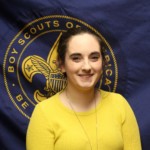 Meet the New Dellaykee District Executive: Morgan Heidenreich
Morgan is a December 2016 graduate of the University of Dubuque where she obtained her degree in Communication.
She came to Dubuque from Stockton, Illinois around six years ago for college and continues to live here with her son.
Please feel free to welcome Morgan to the Scouting family! You can reach Morgan on her cellphone 563.580.6671 or by e-mail morgan.heidenreich@scouting.org.
The Council's first female Troop is official! Troop 114, chartered by the Lions Club of East Dubuque is the first female Troop for the Northeast Iowa Council. They meet on Tuesdays at 7:00 PM above the East Dubuque, Illinois Police Station.
Interested in joining? Contact Joe Kingsley at 563.590.3287.
This February was the beginning of Scouts BSA and the welcoming of girls into what was known as Boy Scouts. While all the same great programming and activities are still available, it did bring a lot of questions.
A new Facebook group was created where volunteers and members can share their ideas, thoughts, and suggestions with each other – as well as promote fun activities and outings.
Check it out!
https://www.facebook.com/groups/552543835238852/
For some veteran leaders, this may sound elementary, but for newer leaders it can be confusing. Throughout your volunteer tenure, many of you have taken part in at least one committee meeting where a conversation has taken place debating a prospective method of fundraising. Hopefully some of those debates can be settled by using one sheet, the Unit Money Earning Application.
A unit's money-earning method should reflect Scouting's values. In basic terms, "Scouts earn their way" and "something of value should always be given in return for a gift". As it says on the Unit Money Earning Application, "At no time are units permitted to solicit contributions for unit programs".
This especially gets confusing for funds contributed in an employee/employer related partnership. Sometimes a company will dedicate funds to an employee who puts in a certain number of hours or match a gift given by the employee to the Council.
Whether it is a United Way work campaign or a donation made by a business, only a charitable organization (or as commonly known as a 501c(3)) can accept these type of gifts. In most cases, a unit is not independently registered as a "charitable organization" since it is part of a chartered organization (church, service club, etc.). The Council's charitable organization number also cannot be used to accept contributions for specific units.
What it comes down to is completing the Unit Money Earning Application and following the guidelines on the back. This will ensure your unit is "doing the right thing".
You can find the form by doing a simple search or at
https://filestore.scouting.org/filestore/pdf/34427.pdf.
HELP WANTED: Aquatics Director at Camp C.S. Klaus. Spend parts of your June and July at beautiful Camp C.S. Klaus' waterfront.
Interested individuals must be at least 21 years old by early June 2019. If not already Lifeguard certified, we will provide training along with a weeklong BSA training.
The position runs from early June until late July with a break in early July.
All meals and air-conditioned housing is provided. BSA experience or knowledge is not mandatory.Contact the Council Service Center at 563.556.4343 for more information.
On March 9, the council held the Annual Meeting and Volunteer Appreciation Dinner at Timberline Golf Course in Peosta, Iowa, where we celebrated the previous year's successes and recognized the outstanding leadership of fellow Scouters.
Please help us in recognizing the following Scouters for their outstanding achievements.
Silver Beaver: Shane Cline – Troop 40 – Dellaykee District
Silver Beaver: Byron Lange – Dubuque District
Dellaykee District Award of Merit: Kevin Toberman – Troop 38
Dubuque District Award of Merit: Mark Schreiber – Troop 48
Dubuque District Award of Merit: Steve Sheston – Troop 22
Dellaykee Boy Scouter of the Year: Michael Stocks – Troop 34
Dubuque Boy Scouter of the Year: Brian Preston – Troop 48
Dellaykee Cub Scouter of the Year: Ami Steil – Pack 39
Dubuque Cub Scouter of the Year: Lynette Elliott – Pack 5
Jeanne Burkart Award: Mike Roling – Troop 48
Dellaykee Scouting Spirit Awards
Pack 35 – Lisa Sifrits
Pack 38 – Danielle Friedlein
Pack 40 – John Kite
Pack 41 – Amy Henry
Troop 38 – Larry Kugel
Troop 40 – Erin Schmelzer
Dubuque Scouting Spirit Awards
Pack 5 – Graham Dahler
Pack 7 – Jeff Smith
Pack 10 – Travis King
Pack 14 – Steven Kocourek
Pack 20 – Karen Heidenreich
Pack 342 – James Olszewski
Troop 5 – Dave Scofield
Troop 7 – Ryan Graney
Troop 11 – Mike Gacioch
Troop 22 – Greg Ronek
Troop 48 – Kalyn Wernimont
Troop 60 – Sandra Feldmann
Troop 69 – Dave Branscomb
Troop 86 – Steve & Ruth Arlen
Troop 91 – Kristie Ostrander
Troop 94 – Ken Fonck
2019 Camporall – Make Things Happen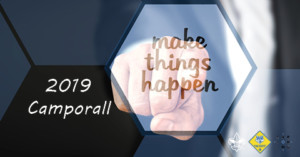 The 2019 Camporall is where you can Make Things Happen! The Camporall takes place on April 26-28 at the Northeast Iowa Community College, Peosta Campus.
Check out some different career paths. From Agriculture, construction, computers, health, trades, and transportation – there is a track for you! Each career track is filled with hands-on activities geared to give you a leg up in that career path.
For younger Scouts, enjoy some hands-on activities such as frogs, weather, building, fishing, photography and robotics.
Each participant will receive a Camporall medallion crafted by our host – Northeast Iowa Community College – for you to remember the event!
Information about the different activities and registration can be found on the council calendar: https://scoutingevent.com/178-camporall.
All Scouts are invited to attend this future focused camporall – Cub Scouts, Scouts BSA, Crew Members, and Explorers. Registration is open, but closes at midnight April 18. All registration must be done online. Optional lunch and t-shirt pre-orders will be available during registration.
OA Mother's Day Pancake Breakfast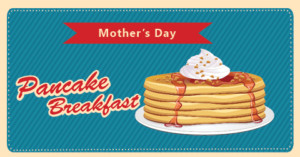 Show your Mother how much she means to you by inviting her to Eagle Point Park on Mother's Day – May 12, 2019. We are serving hot sausage, freshly made pancakes, hot scrambled eggs, steaming hot coffee, cold milk and juice. It has the best view of the Mississippi River and has been an annual event since 1958.
If interested in helping with the breakfast, we have several shifts available. May 11 starting at 9am, overnight and early morning crew. And on May 12: first shift; 7am-11am, second shift; 10am-2pm clean-up crew; noon to end.
If you are not able to work, please come show your support. Tickets can be purchased in advance at the JFK/Hillcrest and Locust St. Hy-Vee Dubuque Dupaco locations or at the Scout Office. Purchasing a ticket before the event will allow the ticket holder to go into the express line.
Date: May 12, 2019
Time: 8:00 AM – 1:00 PM
Location: Eagle Point Park Dubuque
Tickets: $8.00 (12-62), $5 (4-11 and 63+), under 4 are free
Entrance to the park is waived
Camp C.S. Klaus Golf Outing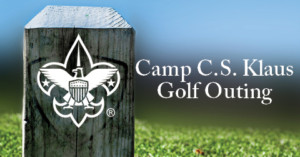 Registrations for this fun golf outing are coming in fast! Don't miss out on your chance to enjoy a day of golf (no experience necessary), a filling steak dinner, and a lively auction. The proceeds from this golf outing go to fund improvements to Camp C.S. Klaus.
June 17 | 1:30 shotgun start
Lone Pine Country Club | Colesburg
Register: scoutsiowa.org/KlausOpen
Boy Scout Golf Classic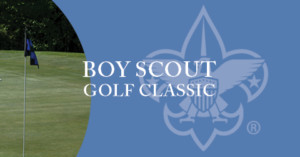 The early-bird registration deadline is coming up fast – registrations after May 1 are charged the full registration fee.
We are working on some exciting additions to this year's event that you definitely don't want to miss out on. Grab a team and get registered today so you can experience the one-of-a-kind golf outing while supporting Scouts throughout Northeast Iowa!
July 15 | 12:00 shotgun start
Thunder Hills Country Club | Peosta
Register: scoutsiowa.org/BsaGolfClassic
Enjoy a Magical Adventure!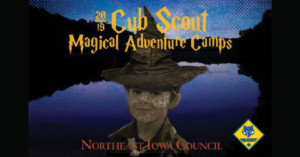 Each Cub Scout becomes a wizard during the Cub Scout camps. The Cub Scout Camping Committee is planning exciting activities that engage Scouts in magical games and STEM related experiments in addition to the traditional activities.
Engage in defense against the dark arts (archery & bb guns), herbology, potions, and transfiguration. During the overnight events at Camp Klaus, Scouts can also climb castle walls, learn how to care for magical creatures, and swim in a "Black Lake".
There are several opportunities for your Scout to participate in a great Cub Scout Camp!
Magical Day Camps June 1 in Elkader, Iowa
August 3 in Dubuque, Iowa
Magical Overnight Camps June 22-23 at Camp C.S. Klaus
July 20-21 at Camp C.S. Klaus Webelos Wizard Weekend July 5-7 at Camp C.S. Klaus
Registration is open! Hurry, registration prices rise after April 15! Register through the Council Calendar or call/stop by the Council Service Center at 563.556.4343.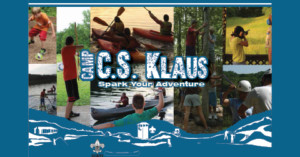 Summer Camp Updates
The Leader's Guide (filled with all sorts of useful information) – is now available. Be sure to look through it so your Troop is prepared for camp!
This year, merit badge registration is undergoing a bit of redesign in an effort to avoid many of the numerous conflicts Scouts have dealt with in the past.
Scouts or Scout leaders can go to the registration form on the council website. The registration opened April 1st. On the form, each Scout will be able to list his/her top 7 preferred merit badges, in order of most preferred to least.
The registration will close April 21st, and these preferences will be processed and a schedule created to accommodate as many of these preferences as possible. Once created, the merit badge registration process will open up once again on May 1, and any Scout who could not take some of their top 7 merit badges after the first registration window has passed will be notified. All Scouts will be able to make adjustments to their schedule at this time.
Registrations for camp are now open! Be sure to register before prices go up April 30!
Camp Projects
As the long winter has finally ended, the camping season is just around the corner. That means projects are once again starting on council properties.
At Camp C.S. Klaus volunteers are starting to get camp ready for the summer. Beside the normal startup procedures, the new handicapped bathroom project is scheduled to be ready for the opening of camp. The changing rooms at the waterfront are also being redone to provide more privacy. Lastly, don't forget about selling your camp cards as this year's proceeds go to new dining hall tables.
As you may know Camp Burton is closed for several months to allow work to be done on a new cabin. Recently, the old cabin was removed to allow the new construction to begin.
Money Smart Night Review
Thank you to all the Scouts that attended Money Smart Night on April 2nd. The Scouts learned about the differences of coins, where coins are minted, and how to budget and manage money.
A special thank you goes out to Iowa State University Extension and Outreach office and the local financial institutions (American Trust, Dupaco, DuTrac, US Bank) that help make this event happen every year.
Camp Card Reminder
Hope your Camp Card sales are all going well. Money and unsold Camp Cards are due on May 31st. Unsold cards must be in new condition with the pull off tabs. Remember the unit is responsible for any unreturned cards.
Scouting for Food Review
The numbers are in! Northeast Iowa Council raised 26,589 pounds during Scouting for Food this year.
Thank you to everyone who played a role in this project by planning, distributing door hangers, collecting food or contributing to the collection! Because of you, the food drive is able to help local food pantries provide food to families for over 3 months!
Thanks to our sponsors this year: Mercy One Dubuque, Radio Dubuque, TH Media, Hy-Vee, Union-Hoermann Press, Rainbo Oil Company, and Van Meter! And finally, thanks to all the committee members that work behind the scenes on all the logistics!
Exploring Statistics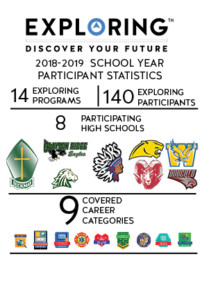 2018 Eagle Scout Project Statistics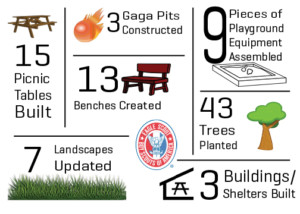 Top Trained Units: (Highest Percentage of fully trained leaders)
Congratulations to our two 100% trained units!
Packs:
Pack 60 Dubuque 91%
Pack 40 Dellaykee 90%
Pack 35 Dellaykee 70%
Pack 14 Dubuque 70%
Troops:
Troop 86 Dubuque 95%
Troop 114 Dubuque 88%
Troop 5 Dubuque 83%
Top Crew: Crew 48 80%
Contact your district executive to see how your unit stacks up!
April 24 | Earth Rocks! Webelos
Cover requirements 1,2,3,5,6 of the Earth Rocks belt loop
MORE INFO
April 26-28 | Make Things Happen Camporall
Scouts choose from a variety of career or activities!
MORE INFO
April 26 | COPE & Climbing Training
April 29 | Troop 11 BBQ Pork Dinner and Bake Sale
May 2 | Dubuque District Roundtable
May 7 | Dellaykee District Roundtable
May 9 | Great Give Day
May 12 | Mother's Day Pancake Breakfast
Give your mother breakfast with a view!
MORE INFO
May 31 | Camp Cards Due 50%
May 31 | Natural Rock Climbing Instructor Training
June 1 | Cub Scout Day Camp – Elkader
Scouts will enjoy herbology, potions, transfiguration, and more!
MORE INFO
June 7-9 | OA Spring Fellowship
Become a full Ordeal Member of the Order of the Arrow
MORE INFO
June 16 | Camp C.S. Klaus Summer Camp Begins
June 17 | Camp C.S. Klaus Golf Outing
Help provide continuous improvements to Camp!
MORE INFO
June 22-23 | Cub Scout Overnight Camp
Activities include climbing walls, swimming, and caring for magical creatures.
MORE INFO
EAGLE SCOUT GRADUATION CORDS – $9.99
Wear the Eagle Scout Honor cords proudly on your graduation day, and let everyone see what an amazing accomplishment you have earned!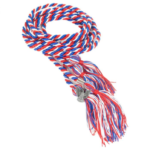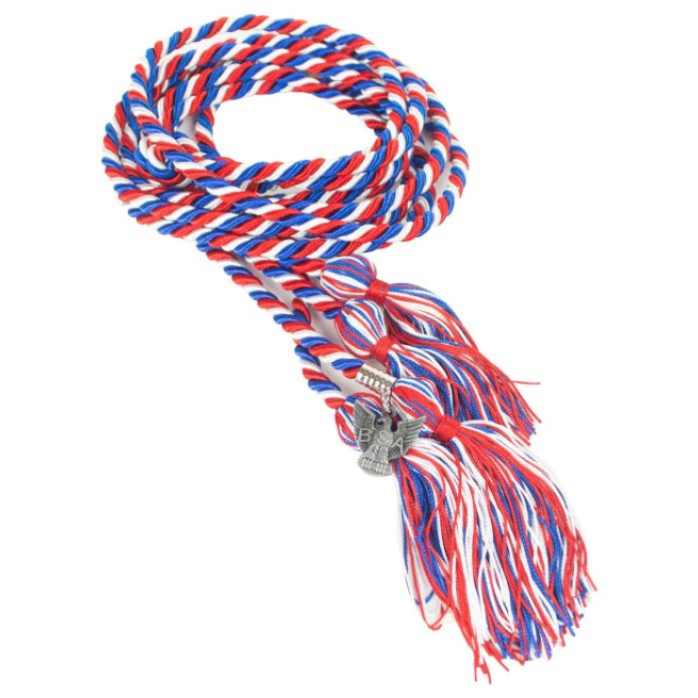 TWO NEW CAPS
2019 Collectors Cap – $14.99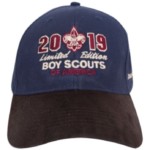 New Eagle Cap – $14.99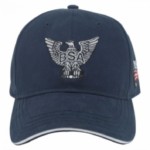 Class B Uniforms – $14.99 each
Size S-XL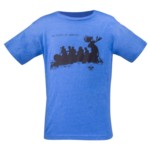 Scouts BSA 2019 Requirement Book – $5.99
All the requirements for all the merit badges in one place. A great resource book that is up-to-date with the latest changes.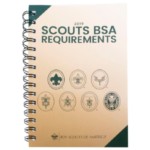 NEW STAINLESS STEEL MESS KIT – $19.99
This stainless steel mess kit is designed to be durable and lightweight. Each piece strategically nests together and fits in the included stuff sack for easy packing!
STOP IN! GRAB A BAG OF FRESHLY POPPED POPCORN APRIL 15 AND APRIL 30TH AT THE COUNCIL TRADING POST!
Early-bird deadline Reminder Early-bird camp fees for Cub Scouts are due by April 15th .
Early-bird Scouts BSA camp fees are due by April 30th.